It may seem that there are no more worlds left for Dublin to conquer, but there is still one final frontier that a few of this team have yet to cross.
Winning a Sam Maguire five in a row assures them of a place at the head of the table in terms of the GAA's greatest teams.
Saturday night's composed All-Ireland decider replay win over Kerry was an era-defining performance; with their backs to the wall following three absorbing halves of football they finally thought their way around the problems the Kingdom posed them and drove for home.
The Dubs now have seven All-Ireland titles in the last nine years. No football team has ever won seven in a decade before and the only counties to get a look-in over that ten-year period were Cork, Donegal and Kerry.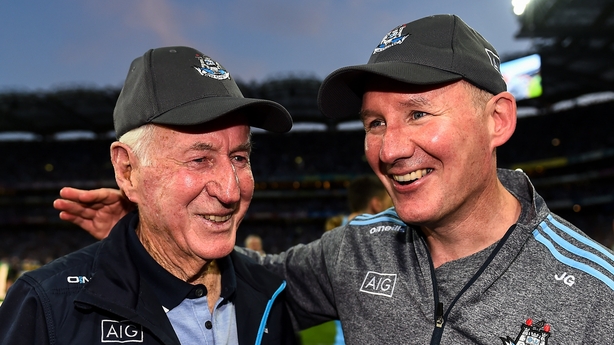 Five men have won all seven Celtic Cross medals on the field of play in 2011, '13, '15, '16, '17, '18 and '19 - Stephen Cluxton, Philly McMahon, Cian O'Sullivan, James McCarthy and Kevin McManamon.
Cluxton and McCarthy started every final, including draws and replays in 2016 and '19, O'Sullivan, McMahon and McManamon came off the bench on at least one occasion.
This famous five with their magnificent seven are the players who stand on step away from another piece of history.
Five members of Kerry's Golden Years team have eight All-Ireland medals won in 1975, '78-'81 and '84-'86. They are solid gold legends in the form of Paidí Ó Sé, Mikey Sheehy, Pat Spillane, Denis 'Ógie' Moran and Ger Power.
One more All-Ireland win is all that separates Dublin's greats from the most successful Gaelic footballers of all-time. At 37 years old goalkeeper Cluxton is the oldest of the group and all of them are in their thirties bar 29-year-old McCarthy.
There's a group of six players that started each of the seven finals in the current five in a row, including those two replays, with Jonny Cooper, Brian Fenton, Ciarán Kilkenny and Dean Rock joining Cluxton and McCarthy. Kilkenny and Fenton are the youngest of them at 26.
At this stage it seems inconceivable that this Dublin squad won't win at least one more All-Ireland, if not six in a row then another Sam Maguire in the very near future.
There may be retirements and the panel has shed big players like Paul Flynn and Denis Bastick over the seasons, though the core of them will remain together.
"I don't see any reason why not to," said manager Jim Gavin. "These are all players' choices. Each player needs to in the off-season make those choices, because it is a big commitment. But they're choices that people decide to make for their love of whatever sport it is."
Gavin has masterminded six of those seven All-Ireland wins since, the floodgates opened by his 1995 team mate Pat Gilroy in 2011. Whether he remains around in the seasons ahead is now a matter of open speculation.
There was certainly a different feel to his post-match manner on Saturday night. He strolled around the pitch, he showed emotion, opened up - though only ever so slightly - to the media, and he brought his father Jimmy, beaming with pride, into his media conference.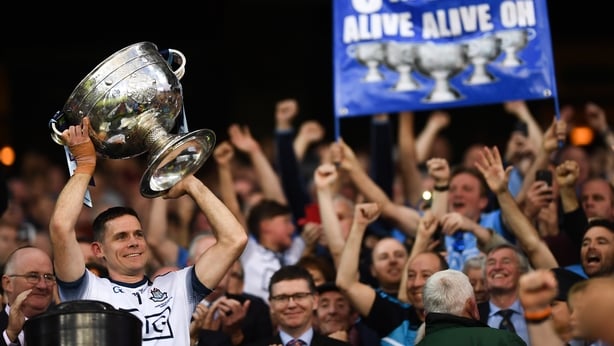 If he was to bow out, now would be the perfect time, and he was doing nothing to dampen down the speculation.
He said: "I'll sit down with the county board and obviously review it, I've a profession outside of this role that I've been asked to do for Dublin GAA and then obviously I've family commitments as well and it all goes into the mix but now isn't the time.
"I have committed to next year so we'll reflect on it in a couple of weeks' time."
Gavin's achievements will stand alongside those of the greatest men who have stood on Croke Park's sidelines, the likes of Brian Cody (11 All-Irelands), Mick O'Dwyer (eight) and Seán Boylan (four with two distinct Meath teams).
The team that Jim (and Pat) built have done something that may never be equalled. Gavin may or may not stay around for the next chapter, but there are more worlds that they look set to conquer into the future.