There's no doubt in Brendan Maher's mind that Seamus Callanan should be crowned Hurler of the Year.
The Drom & Inch man lifted the Liam MacCarthy Cup for Tipp on Sunday after setting up a goal and scoring 1-02 in the final demolition of Kilkenny.
That meant he finished the season with a tally of 8-18, and a goal in every Championship game Tipp played this summer. He also matched the great Eddie Keher's 
"It's unbelievable," Maher said of the achievement by Callanan, a team-mate since the minor-winning side of 2006.
"I don't think it has ever been done has it? We'll be waiting a while for it to be done again."
Callanan scored 0-13 (nine from play) in the 2016 final victory over Kilkenny but was beaten to the Hurler of the Year award that November by Waterford star Austin Gleeson.
Padraic Maher was the other unsuccessful nominee that year, which led to some suggestions the vote (by inter-county hurlers) had been split between the Tipperary team-mates.
That scenario could arise again as Noel McGrath, named Man of the Match on Sunday, Kilkenny's TJ Reid and Callanan are the likely nominees.
"He has to get it," stated Brendan of the forward. "But it's not our decision. The lads will put up the three players and the players will vote.
"Obviously, we're going to give him the vote in our camp but you don't know outside of that, it's out of your control. But I do think he deserves it."
Tipp manager Liam Sheedy added his praise for the captain: "To score a goal in every round of this championship, when he's being targeted and he is being marked, I think it is just exceptional."
"He gave the frees to Jason (Forde) and he took on his own mantle. Every time he raised the green flag it's nearly four points because he's such a character within the dressing-room."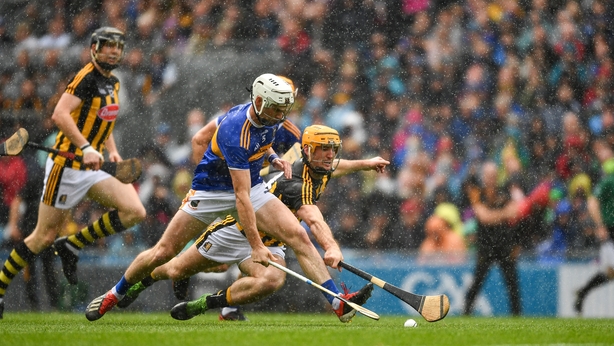 The victory over Kilkenny marked a incredible reversal of fortune for Maher and Tipperary.
Barely 14 months after damaging his cruciate ligament in Tipp's final Munster match of what was a miserable season, the 30-year-old held TJ Reid to one point from play and climbed the steps of the Hogan Stand as an All-Ireland final winner for the third time.
"When you get back hurling you kind of just forget about where you have come from," he reflected.
"This time last year, I was probably lying off on the couch. Post-surgery, I wasn't even back in the gym at this stage.
"It's great when you put it into perspective, it's a serious turnaround."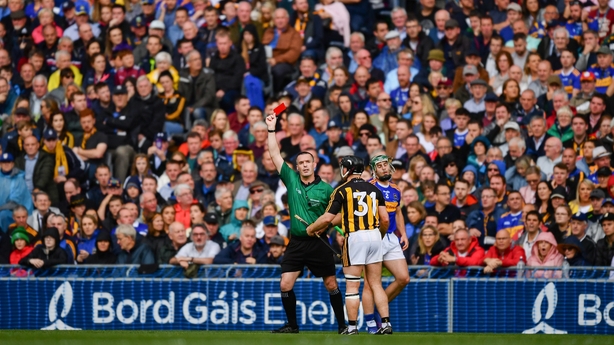 Many observers felt the 32nd-minute dismissal of Richie Hogan turned the game on Sunday.
Maher thought the red card was unfortunate - "I don't think the intent was there, he was more trying to hit him with his shoulder and the elbow ended up being the point of contact" - but also pointed out that Tipp had been down a man in their comeback victory over Wexford and it hadn't stopped them.
"Obviously it was a disadvantage but it is what it is," he said. "We showed you can win with 14 in the semi-final so you can take it whatever way you want.
"We felt that we would have the legs to push on in the second half and finish the stronger of the two teams.
"We were priding ourselves on how we were finishing strong this year and our fitness levels were very high.
"I don't think in the whole year we've had anyone that went down with cramp. That was something that we nailed down in November last year that we wanted to be the fittest panel in the country.
"It definitely did stand to us this year."