Tipperary's Brendan Maher says Richie Hogan's first-half dismissal in Kilkenny's All-Ireland final defeat was a "harsh" call by officials, while the RTÉ pundits were split over the call made by referee James Owens.
The Premier County held a one-point advantage in the 33rd minute when Hogan was given his marching orders for a high challenge on Tipperary defender Cathal Barrett.
From that point until the final while whistle Tipp outscored their rivals 2-17 to 10 points, with the Cats mustering just five points from play over the course of the following 40 minutes as Tipp roared to a 28th Liam MacCarthy success.
Tipperary's 2016 winning captain Maher says he has sympathy for the Danesfort attacker.
"I suppose it was a harsh red card. I'm not really sure what happened. The one thing we said at half-time was that Wexford [in the semi-final] changed their gameplan when we went a man down and we said we needed to learn lessons from that.
"We addressed it and said we would attack the game as if it was 15 on 15 and thankfully it worked out."
'It's a red card. James Owens did everything right' - former referee Barry Kelly gives his take on Richie Hogan's red card pic.twitter.com/kb071WaKO2

— RTÉ GAA (@RTEgaa) August 18, 2019
Brian Cody admitted he wasn't expecting such an outcome when the officials discussed what course of action to take, while his counterpart Liam Sheedy stated that while he didn't witness it first hand, conceded it was a "massive turning point".
In the Croke Park studio, Henry Shefflin reiterated his half-time stance that it was the wrong call by Owens, notwithstanding that it was the correct call by the letter of the law.
"Where is the common sense to this? I still don't think he [Hogan] hit him with his elbow in the face. For me it was a yellow card," he told viewers.
"This game was influenced majorly by that decision. I'm not saying it because I'm from Kilkenny, but the game was over. The atmosphere was sucked out and the life was gone out of it."
'Where is the common sense to this?... This game was influenced majorly by that decision' - Henry Shefflin argues the Richie Hogan sending off was harsh #KKvTipp pic.twitter.com/Oa573g78P5

— The Sunday Game (@TheSundayGame) August 18, 2019
Shefflin's fellow panellists took a different view to the 10-time All-Ireland winner. Anthony Daly argued that the replay showing the full impact on Barrett illustrated it was a "conclusive" red card.
"There was an element of elbow to head and for me it's a red."
Donal Óg Cusack conceded that the dismissal had a negative impact on the game as a contest, but was in little doubt regarding the decision.
"Nobody wants to see a player get sent off. It took the good out of the game, but in my mind, that's a red card. Non-negotiable. He has to go for it, anything above the neck."
Former Offaly player Brian Carroll and decorated Kilkenny forward and current Laois manager Eddie Brennan both strongly agreed with the dismissal on RTÉ Radio 1's Sunday Sport.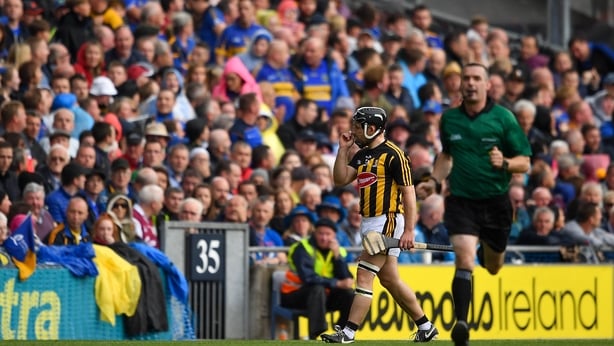 "Letter of the law, it's a red card," he told listeners. "James Owens won't be criticised by the referee's assessors. Here in lies the problem. The rules are coming in from above.
"As far as I'm concerned, it's going in the wrong direction when you see a red card for that. No one was hurt. He certainly deserved a yellow."
Once again the issue of consistency was raised during the debate.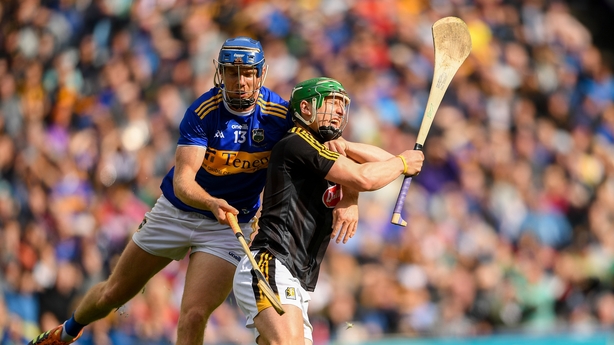 Owens booked Tipperary forward Jason Forde after he caught Kilkenny goalkeeper Eoin Murphy around the shoulder and Brennan insists that this should have warranted a more serious punishment given the crackdown on high tackles.
"It's the consistency of the rules is the problem. Part of coaching is telling lads to keep their hands down. You have to be clever about that. If we are going to apply the rules consistently, Jason Forde would have walked.
I'm not going to criticise Richie Hogan for it. He went into the tackle and wanted to put in a hard hit
"I don't think Jason Forde should ever have been sent off for that tackle, but either the rule is in or it's not."
Brennan did concede that the onus must be on the players not to get the referee a decision to make.
"Players have to keep their elbows down. I have been in that position Richie Hogan was in. I rose my elbows, I did it in Croke Park a few years ago, I was lucky that I missed. I would have walked.
"I'm not going to criticise Richie Hogan for it. He went into the tackle and wanted to put in a hard hit."