Kilkenny manager Brian Cody says his side will make no excuses following their All-Ireland final defeat, but suggested that referee James Owens needed to "very sure to issue a red card" in relation to the dismissal of Richie Hogan.
Owens sent the forward to the line shortly before half-time for a high challenge on Tipperary defender Cathal Barrett. It was a decision that seemed to divide opinion and was met with a chorus of boos among Kilkenny fans in Croke Park.
The Cats trailed by just one point at the break before Liam Sheedy's outgunned their opponents in the second half to pull away with a 14-point victory.
Cody accepts that the Premier County were the superior side, but stressed that losing Hogan was an important moment in the game.
"Richie was sent off and that obviously changed the complexity of the game in a serious way," he told RTÉ Sport after the game.
When asked if it was a harsh call, Cody replied:
"I wasn't expecting a red card, I was very close to it obviously. I can't definitively say, I'm not going to start making excuses or crying about things either.
'I wasn't expecting a red card' - Brian Cody says his team were 'outstanding' even though the scoreboard doesn't 'look pretty' pic.twitter.com/0tz9h0D8lw

— The Sunday Game (@TheSundayGame) August 18, 2019
"The only thing I will say is you need to be very, very certain to issue a red card. And there was a big discussion for quite a while between the referee and linesman. He went over, examining people and everything else.
"Obviously he wasn't too sure himself but you'd want to be very, very sure to issue a red card."
Kilkenny made a blistering start in the opening minutes of the first half but Tipperary rallied back into the contest with a goal from Niall O'Meara in the 25th minute.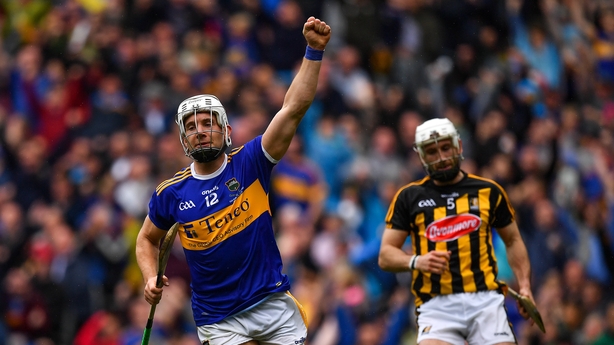 After Hogan's dismissal, Tipp made full use of their numerical advantage to hit the net twice more in the second half through Séamus Callanan and John O'Dwyer on the way to a 3-25 to 0-20 win.
Despite losing by a big margin, Cody praised his charges for refusing to give in when the game was drifting away from them.
"I thought we were outstanding. I thought the honesty in the team, the spirit in the team. The scoreboard doesn't look pretty for certain, I know that. But the genuineness in the team and the way they kept fighting to the bitter end.
"Obviously the scoreboard would suggest that our backs were under pressure but our backs were heroic.
"We didn't get a goal, and again like I say, no excuses. Tipperary won it and won it well. It's very disappointing but that's the way it went."