The last time Wexford played Tipperary their pre-match team talk was delivered by an 11-year-old child.
Whatever Kerry schoolboy Michael O'Brien said worked, with an understrength Wexford side scoring at the death to beat Tipp by a point, 1-15 to 1-14.
"Michael is a really smart, intelligent young man," explained Yellowbellies manager Davy Fitzgerald of his decision to invite this special guest speaker into his dressing room.
"He made a big difference – the few words he said beforehand loosened the mood and got them thinking.
"He's a lovely young man and whatever problems you encounter he'll show you that there's always hope and always something out there. Bright future ahead for Michael."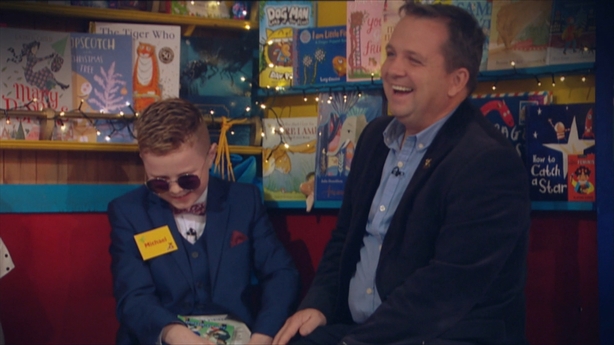 That pre-match speech is the high-point of charming new documentary When Michael Met Davy, which will air on RTÉ One on Monday, 5 August. The youngster first stole the nation's hearts when he appeared on the Late Late Toy Show last December to review braille books.
Michael is blind, but he has never let that hold him back. His hero is Davy Fitz, a man who has swam against the tide for much of his life and the pair first met when Fitzgerald made an unexpected appearance on the Toy Show.
Host Ryan Tubridy helped organise the surprise and Michael admits he couldn't believe what was happening at the time.
"I will be totally honest now, I didn't know, I thought Ryan was lying," he said, when he dropped into Montrose with his mother Noreen to speak with RTÉ Sport. "Obviously now I know he wasn't, but you'd think it was a joke because it was like a dream, but it wasn't a dream.
"When the camera went off me I went (Michael lowers his voice to a whisper) 'Davy, Davy, Davy, what are you doing here?' He goes 'long story'.
"We're friends now and hopefully he'll make the final now.
"He's so passionate and I'm so passionate as well - we're the exact same. I'm passionate, he's passionate; there are lot of passionate people out there and they're just waiting for other passionate people to come along."
Michael is a unique and inspirational human being. As one of his teachers says in the documentary, 'he's good for your soul'.
The main thrust of his team talk at Wexford Park was to Dream Big! It's something he does and when he grows up he plans on being a successful sports promoter like Eddie Hearn, who represents Ireland's Katie Taylor.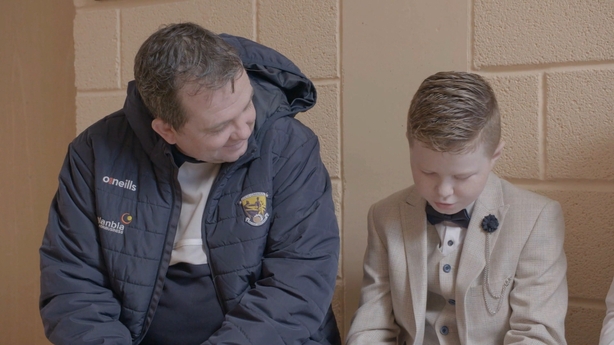 "The speech with the lads was interesting because they won by a point at the end of it and they really, really deserved the win because they were down by six or seven or eight and they came back. Davy Fitz spiked them up in the dressing-room, I can tell you that much. Mixed with my talk!" laughed Michael, who has a 15-year-old brother Michael.
"My principal Mr Rory D'Arcy gave me a hand in the classroom with the pen and paper. Two minds; it was like a puzzle, it was click, click, click, click, it all just clicked in together. I had to practice it five or six times beforehand.
"I wasn't nervous because of this - I knew them lads would understand me and they'd take everything in and they did. They beat Tipperary, one of the top teams in the country in hurling - you know that and I know that - and now they'll have to beat them again in the semi-final."
Young Kerry fan Michael gets a surprise visitor on the #LateLateToyShow and a special #GAA gift #rtesport pic.twitter.com/3KK8TEUkMH

— RTÉ GAA (@RTEgaa) November 30, 2018
Michael is a huge sports fan, particularly GAA, and he is a regular at Fitzgerald Stadium in his native Killarney for Kerry games. What he loves most about big match days, he says, is the noise.
There will be noise in Croke Park this Sunday when Wexford meet Tipperary again, this time in an All-Ireland semi-final.
Michael will be shouting for his friend's team and hoping they upset the odds to make the final. As he told them back in February: "Work and believe, work and believe. Actions speak louder than words."
Watch When Michael Met Davy, RTÉ One, Monday, 5 August, 6.30pm