Donegal and Kerry both possess the potential to beat All-Ireland champions Dublin, but realistically are at least 12 months away from downing Jim Gavin's all-conquering side, according to former Kingdom captain Darran O'Sullivan.
The two sides played out a thrilling draw in the Super 8s at Croke Park on Sunday, with Michael Murphy's 76th free ensuring a share of the spoils.
In the other group, Dublin put 2-26 on Roscommon on their way to an 18-point victory, a week after enjoying a 13-point winning margin against Cork.
Already assured of a semi-final spot ahead of the final group game against Tyrone, their march towards a fifth successive All-Ireland title shows no signs of slowing down.
Former Kerry star Darran O'Sullivan argues the biggest challenge will be an internal one.
"The only team that is going to beat them is themselves," he said. "It's when maybe lads start getting cranky that they are not getting on the match-day 26, or getting game time, or for being taken off, that's the only way I can see them being beaten
"I think Donegal and Kerry have the potential [to beat Dublin], but that's all it is at the moment. It's a year or two maybe away.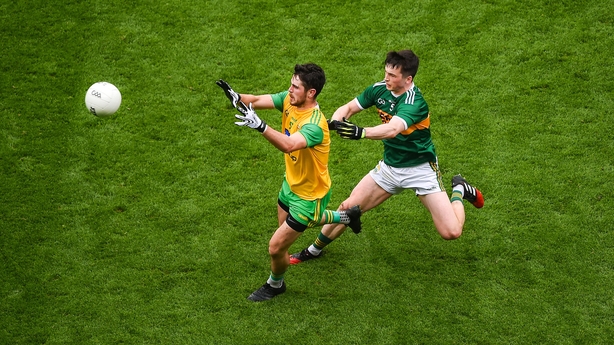 "I just think Dublin's squad is so strong. The only thing I can see derailing them is somebody going off on a solo run."
The Ulster and Munster champions were both shorn of players through injury on Sunday while both Donegal midfielders left the game after picking up knocks, and the 2009 All-Ireland winning captain believes the key difference between the champions and their nearest challengers is strength in depth.
"Kerry and Donegal were missing players and lads came in and did okay, but they have to change the way they approach it.
Dublin are like a machine
"You could take anyone out of that Dublin team – maybe bar Stephen Cluxton – and nothing changes. Absolutely nothing. They have a system that they play to and it doesn't matter who starts, they all know their roles.
"They are like a machine."