Dublin produced perhaps the most devastating spell of football seen from any team in this championship so far when they defeated Roscommon by 18 points and secured their place in the last four of the All-Ireland.
The Rossies were put to the sword in the space of 25 minutes this evening at Croke Park, wrapping up their win over the Connacht champions by half time.
Tyrone's earlier win over Cork meant that Roscommon needed a win to keep their chances of reaching the All-Ireland semi-finals alive, and while that was always unlikely, the opening ten minutes suggested that they might be competitive.
Colin Compton kicked a point and might have had a goal from the game's first attack, Diarmuid Murtagh sent over a spectacular kick from the right wing and Conor Cox nailed a 45 metre free, though at the other end they struggled to compete with the pace and movement of the Dublin attack and conceded three frees to Dean Rock.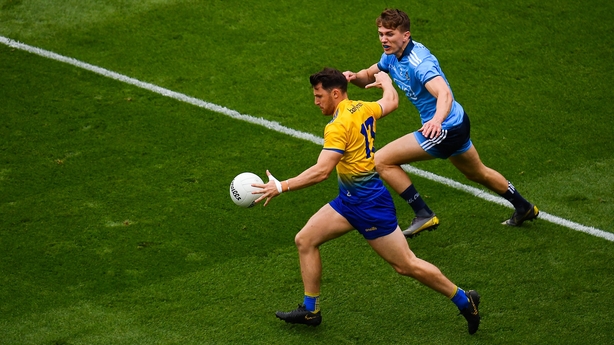 Dublin's first point from play came in the 11th minute when Con O'Callaghan made a stunning high catch and immediately turned and fired it over from 25 metres, and from that moment they slipped into top gear and utterly blew Roscommon out of the water in every area of the field.  
Their control of the ball was immaculate as Roscommon found themselves completely unable to effect turnovers, and almost every Dublin possession ended in a shot on goal.
Roscommon did well on their own kickout, albeit going short more often than not, but they struggled to move the ball into scoring positions, and when they did, only Conor Cox was able to make any inroads on a consistent basis.
Dublin also dipped into their deep reservoir of skills to produce some magic moments that entertained the packed Hill that they played into.
Paul Mannion produced a pass of precision and vision to set up an easy finish for Rock, then a flowing move saw the Ballymun player palm in their first goal, with Ciarán Kilkenny and Con O'Callaghan both playing quick and inch-perfect handpasses to take defenders out of the game.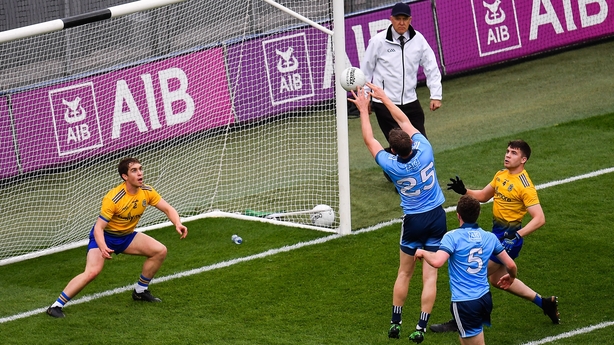 Rock continued to build up his tally from dead balls, O'Callaghan and Mannion struck some magnificent scores, and perhaps the biggest shock of all was Dublin's failure to register a second goal.
O'Callaghan struck the post and blasted the ball over in a one-on-one situation, Paul Mannion seemed to have stepped past Darren O'Malley but the Roscommon goalkeeper recovered brilliantly to keep his shot out, but he could do nothing about the steady stream of shots that flew over his crossbar.  
Dublin's 1-15 to 0-7 half-time lead was no more than a fair reflection of their dominance, and as if the task facing Roscommon wasn't daunting enough, Conor Daly's accumulation of a yellow, black and thus a red card in the space of three minutes just before half time pointed to the strong possibility of a real landslide.
A stunning solo goal from Michael Darragh Macauley in between three points from Rock (2) and Jack McCaffrey pushed the lead out to 17.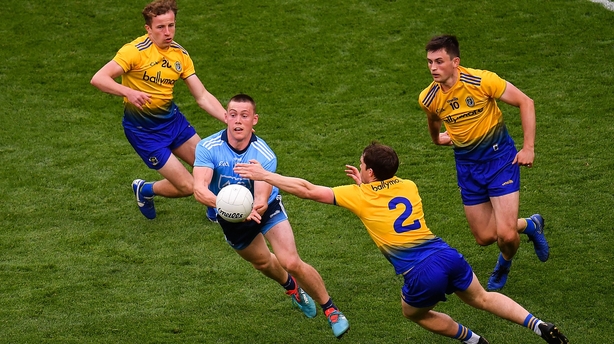 Roscommon supporters among the crowd of 36,530 were understandably nervous of what might be in store, but their side showed some of the steel that was their hallmark in the Connacht championship, and kicked five of the next six points, with three coming from defenders (Niall Daly, Conor Hussey and Seán Mullooly) pushing forward to join the attack.
In total Dublin added just one point between the 39th and 62nd minute as they went through an uncharacteristically fallow period of shooting, dropping several scoreable chances short while adding bringing their wides tally for the game up to 10, but they found their groove in the closing minutes again as Paddy Small, Kevin McManamon and Niall Scully all added their names to the scoresheet in advance of their trip to Omagh in a fortnight.  
Scorers for Roscommon: Conor Cox 0-7 (0-4f), Conor Hussey 0-3, Colin Compton, Diarmuid Murtagh, Niall Daly and Sean Mullooly 0-1 each.
Dublin:  Stephen Cluxton; Jonny Cooper, Philip McMahon, Michael Fitzsimons; Jack McCaffrey (0-01), John Small, James McCarthy; Brian Fenton (0-02), Michael Darragh Macauley (1-01); Niall Scully (0-01), Ciarán Kilkenny (0-02), Brian Howard; Con O'Callaghan (0-02), Paul Mannion (0-02), Dean Rock (1-11, 0-10 frees).
Subs used: Paddy Small (0-03) for Mannion (39), Kevin McManamon (0-01) for Kilkenny (39), Eric Lowndes for Fitzsimons (47), Rory O'Carroll for McCaffrey (47), Paddy Andrews for O'Callaghan (52), David Byrne for Macauley (61, black card).
Roscommon: Darren O'Malley; Seán Mullooly (0-01), David Murray, Conor Daly; Ronan Daly, Conor Hussey (0-03), Niall Daly (0-01); Enda Smith, Shane Killoran; Brian Stack, Cathal Cregg, Niall Kilroy; Diarmuid Murtagh (0-01), Conor Cox (0-07, 0-04 frees), Colin Compton (0-01).
Subs used: Fintan Cregg for Smith (9, temp), Fintan Cregg for Killoran (half-time), Aengus Lyons for Compton (45), John McManus for C Cregg (47), Andrew Glennon for Murtagh (52), Gary Patterson for Murray (60), Cian McKeon for Kilroy (66).
Referee: Barry Cassidy (Derry)