After their experience 12 months ago, Kerry are delighted to have got their Super 8s campaign off to a winning start and they're hoping to kick on next week.
In their first game of the 2018 All-Ireland quarter-finals, the Kingdom lost to Galway and they never recovered.
This time around they put Mayo to the sword in Killarney in their opening fixture, leaving them in great shape to make the last four.
"Last year, we were playing a provincial winner in Croke Park in the form of Galway (in our first game)," said Kingdom defender Paul Murphy following his side's 1-22 to 0-15 win at Fitzgerald Stadium.
"We never recovered from that. That was our summer over. Now, I'm not saying this is the making of our summer, it is one win in a mini-league, but it gives you a good foundation to build on and go with.
"In hindsight, it was a very tough run of fixtures for us. After the Galway game, you were effectively out of the frying pan and into the fire by going up to Clones a week later. We had a week there to arrest that slide before going up to Monaghan.
"We scraped a draw but we were up against it from day one.
"Beating Mayo is only a foundation, but it's a better spot to be in, certainly, going into next week."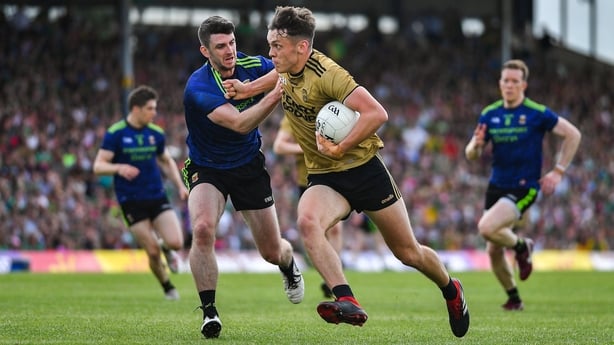 David Clifford, in his first senior season, scored a brilliant goal to earn Kerry the draw in Clones and they beat Kildare in their last game, but it wasn't enough as Monaghan and Galway went through to the semi-finals ahead of them.
Kerry's destiny is now very much in their own hands. They face Donegal in Croke Park next Saturday knowing that a win will all but book their place in the last four.
"It will be a huge test because they are playing very well," said Murphy, a 2014 All-Ireland winner and All Star.
"Even going back to the league, they got momentum in Division 2 and carried that winning form into Ulster. They won by nine against Meath, they can transition from defence to attack very well and they all know their roles very well.
"It's a huge ask for us going up to Croke Park, but a great challenge for us at the same time."
Kerry's win over Mayo keeps their unbeaten championship record in Killarney intact, stretching back to their 1995 Munster defeat to Cork.
Murphy said: "Internally, it wasn't mentioned as a motivator, but I think there is a feeling that nobody wants that run to end on their watch.
"It wasn't plastered up on the walls or anything like that, but individually, we'd take a bit of pride in keeping that going for another year. "