Lesson learnt. Don't doubt Kerry.
After they were bullied by Mayo in the league final and cut apart by Division 3 Cork in the Munster decider questions started to swirl.
Would they be able to live with the intensity? Could they resist runners down the middle? Were they mobile enough around the middle? Had they a plan? Yes, yes, yes and yes.
They burst Mayo's bubble to extend their unbeaten championship record at Fitzgerald Stadium in Killarney, which stretches back to 1995.
Kerry started at pace, put space between the teams early on and then cantered for home, their All-Ireland quarter-final Super 8s well and truly up and running. They top Group 1 ahead of Donegal on scoring difference.
It's Kerry v Donegal in Croke Park next Sunday while Mayo's assignment against Meath at GAA Headquarters looks far from straightforward following the Royals' own strong showing in Ballybofey.
The promise that Mayo showed in the qualifiers came to naught. Darren Coen and James Carr were their stars in the last round against Galway, both were taken off before the hour had passed.
Kerry had their backs to the wall before throw-in and they came out swinging. But this wasn't unfocused aggression; it was power, poise and precision.
About the only thing that Mayo took out of this was Cillian O'Connor breaking Colm Cooper's all-time championship scoring record, his 0-06 putting him two clear at the top of the charts, though even that was spoiled when he blasted a late penalty over the bar.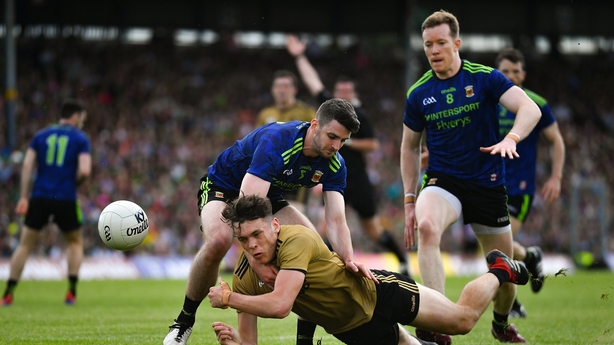 A sell-out crowd of 31,312 paid through the stiles and there was a carnival atmosphere in the sun before throw-in, though the travelling fans weren't part of the party for long.
The air was sucked out of this one pretty quickly. The home side were 0-04 to 0-01 up after four minutes and that was extended to seven-three after ten. Mayo went 16 points without a score and found themselves ten down, cutting it back by one at the interval - 0-15 to 0-06.
The visitors' problems in the first half were primarily at the front and the back, though they were all caused in the middle third.
Former All Star goalkeeper David Clarke couldn't get his kick-outs away and was turned over directly on seven occasions before the break.
When Mayo could get their hands on primary possession, they couldn't give their forwards any type of service and the ball into the attack was of extremely low quality.
Of course, most of the credit for this has to come down to Kerry, who were turning the screws all over the pitch.
David Moran was dominating the skies over Killarney, Seán O'Shea was probing and keeping Lee Keegan on the back foot and Tom O'Sullivan dragged Carr, the scorer of that goal against Galway, all over the pitch.
The Kingdom's full-forward line is the best in the business when it clicks into gear and with the possession they were getting they thrived.
Before the break they had seven points between them, Paul Geaney with two, James O'Donoghue with one and the 20-year-old with football skills from another planet David Clifford had four, including three from play and an outrageous free from the right touchline.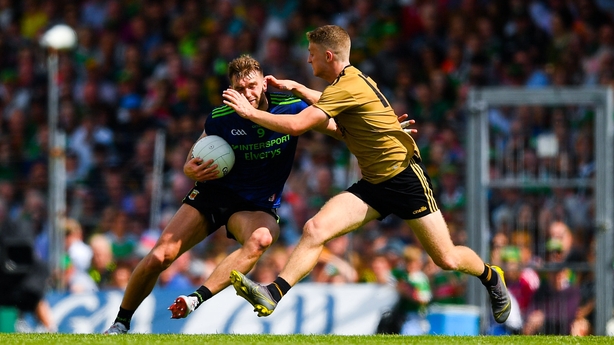 Clarke made two brilliant saves, one to get a foot to Geaney's toe-poke following an excellent Clifford pass and the other from Donoughe, sending it over the bar following Geaney's visionary prompt.
It was known that there would be changes to the Kerry team that had been announced during the week, though their identity wasn't known until shortly before throw-in. Their final training session was strictly limited to players and management - there was to be no leaks.
It turns out that Gavin Crowley, Shane Enright, Adrian Spillane and James O'Donoghue replaced Jack Sherwood, Diarmuid O'Connor, Michaél Burns and Dara Moynihan.
Mayo kept with the same starting 15, which meant wing-back Paddy Durcan didn't make the match-day 26 as their injury problems mounted.
Mayo kept plugging away, as they always do, and they threatened to get the goal that might make a contest of it. It didn't happen though and at the other end it was Geaney who raised the green flag following great work from Stephen O'Brien.
In the end they won pulling up, though manager Peter Keane won't be happy with how sloppy they got at stages, particularly from their own kick-outs.
Kerry: Shane Ryan; Tom O'Sullivan, Jason Foley, Tadhg Morley; Paul Murphy, Shane Enright, Gavin Crowley; David Moran (0-01), Adrian Spillane; Gavin White, Seán O'Shea (0-07, 6f), Stephen O'Brien (0-03); Paul Geaney (1-02), David Clifford (0-07, 2f); James O'Donoghue (0-01)
Subs: Dara Moynihan for O'Donoghue HT; Graham O'Sullivan (0-01) for Enright 50 mins; Diarmuid O'Connor for Spillane 57 mins; Brian Ó Beaglaoich for Foley 62 mins; Micheál Burns for Geaney 68 mins; Mark Griffin for Crowley 70 mins.
Mayo: David Clarke; Keith Higgins, Brendan Harrison, Chris Barrett; Lee Keegan (0-01), Stephen Coen, Colm Boyle; Donal Vaughan, Aidan O'Shea; Fionn McDonagh (0-01), Kevin McLoughlin, Jason Doherty; Cillian O'Connor (0-06, 3f, 0-01 pen), Darren Coen (0-03), James Carr.
Subs: Seamus O'Shea for McDonagh HT; Andy Moran (0-02) for Carr 46 mins; Ciarán Treacy (0-01) for McLoughlin 47 mins; Fergal Boland (0-01) for Coen 51 mins; James McCormack for Keegan 59 mins; Eoin O'Donoghue for Barrett 65 mins;
Referee: Sean Hurson (Tyrone)