In sport, only the most rare of fairytales have a happy ending. Most reach a denouement along the lines of Clones on Saturday evening, when a relentless Tyrone put a brutal halt to Cavan's summer of fun.
Victories over Monaghan and Armagh had won over many neutrals, who were heartened by the resurgence of the former aristocrats, with the Breffni men reaching their first Ulster final in 18 years.
However their season is now over after back-to-back defeats to Ulster's modern dynasties - Donegal and Tyrone - the latter a 1-20 to 0-07 All-Ireland SFC round 4 qualifier match that was as one-sided as the 16-point margin suggests.
Mickey Graham's 2019 started on a high, as he led Longford and Leinster champions Mullinalaghta into an All-Ireland semi-final against Dr Crokes, but the Cavan man could not hide his disappointment with the account of themselves that his side gave in Clones.
"It is going to be hard to digest over the next while to be honest. We definitely did not come to put a performance like that in today but for whatever reason we did not get up to the pace of it.
"Shocking disappointed for the lads today because that was not the real Cavan out there today," said the former Cavan player.
"It's heartbreaking as a Cavan man, to see the lads at the end of a defeat like that because knowing they are far better than that.
"I don't think now is the time for post-mortems, it's the time for taking it on the chin and we'll get up tomorrow morning and move on. There is going to be disappointment for a long time after this."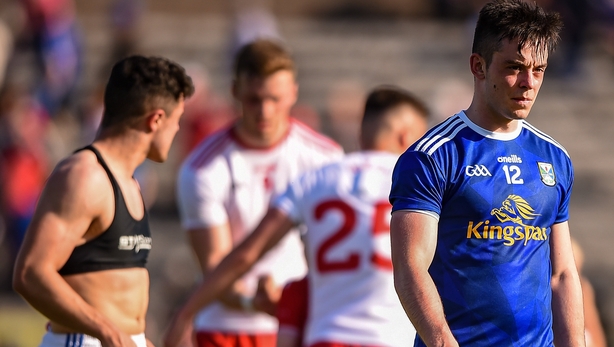 Meath face Clare this afternoon knowing that only four beaten Leinster finalists in the last 18 years have managed to win their next game in the qualifiers. The record for Ulster finalists is not nearly as bleak, but Graham found the lack of momentum very difficult to manage - particularly as Tyrone had recorded two wins on the bounce.
"When the tide goes against you it is very hard to get back on track. When you are coming to play a team like Tyrone in the first qualifier game, we had no momentum whatsover and they had two wins.
"It is always vital to get that first win. Coming up against a beast like Tyrone, it is not ideal first game."
Speaking to RTÉ Sport's Brian Carthy, a brutally honest Graham suggested the manner of Saturday's defeat had undone the good work done in the Ulster championship.
"While we probably took a few steps forward this year, it feels like we took five steps back today," he said.
"We did not see that scoreline coming today but sometimes it is a reality check of where we are at and where we need to get to."