SUNDAY
Kilkenny v Wexford, Croke Park, 4pm
TV
Live on RTÉ2 and RTÉ Player. Live overseas on GAAGO. Highlights on The Sunday Game at 9.30pm.
Online
Live blogs on RTÉ.ie and the RTÉ News Now App from 1.30pm on Sunday.
Radio
Listen to live national commentary on Sunday Sport on RTÉ Radio 1, nó as gaeilge ar RnaG.
Weather
Bright and breezy on Sunday with sunny spells and a few passing showers. Maximum temperatures of 17 to 20 degrees in moderate to fresh westerly winds.
For more go to met.ie.
Here we go again
Two weeks after a thrilling draw that both confirmed their places in the final and ended reigning Leinster champions Galway's summer prematurely, Kilkenny and Wexford renew acquaintances at Croke Park.
It will be the 37th time the counties have lined up against each other for the Bob O'Keeffe Cup and the roll of honour is tilted considerably in Kilkenny's direction: they have won 23 finals to Wexford's 10 and there have been three draws.
Since 1997, when Wexford last beat Kilkenny in a Leinster final, the Cats have won the province 13 times. 
Wexford's only title in that period came in 2004 when they stunned Kilkenny with a last-second Mick Jacob goal in the semi-final and then beat Offaly, co-incidentally the Faithful county's most recent final appearance.
GAANOW Rewind re-visits a famous Wexford win over Kilkenny in the @gaaleinster Hurling Championship in 2004! This late Michael Jacob's goal secured a victory against the Cats! Who will come out on top as these rival sides meet again in the upcoming round of the #AllianzLeagues? pic.twitter.com/53EK0mdoWK

— The GAA (@officialgaa) February 28, 2018
For a long time, that was Brian Cody's only defeat to the Yellowbellies in Championship. But Wexford have been a threat again since Davy Fitzgerald's appointment for the 2017 campaign.
A first league win at Nowlan Park in 60 years was followed up by the long-awaited Championship victory over their neighbours that June.
Wexford disappointed against Galway in the subsequent Leinster final however and Kilkenny got their revenge in 2018 with a comfortable League quarter-final success and a comeback win in Championship.
Their dramatic draw earlier this month meant the recent record stays even between Cody and Fitzgerald, two driven competitors who would scoff at the idea of a provincial final being a phoney war ahead of the more serious business to follow.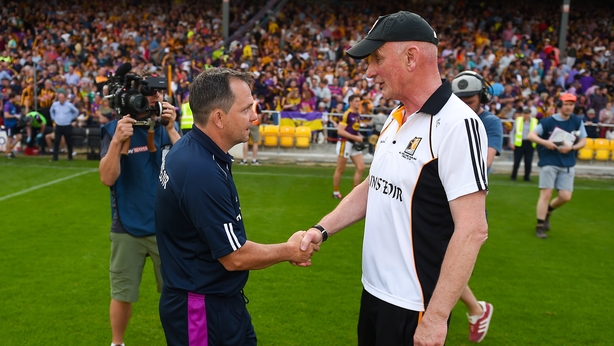 "It's a Leinster final. Everybody wants to be in and thank God we're in it," Cody told RTÉ Sport this week.
Fitzgerald, who apparently competes just as passionately at table-tennis, expects midfield dominance to be pivotal.
 "The key battle will be the middle third" he, told RTÉ Sport's Marty Morrissey. "You will have both half-forward lines coming out. That's going to be vital.
"As we saw in Wexford Park a few weeks ago it was very physical and that middle third is going to be quite congested, I've a feeling.
"Whoever comes out on top there has a good chance of winning."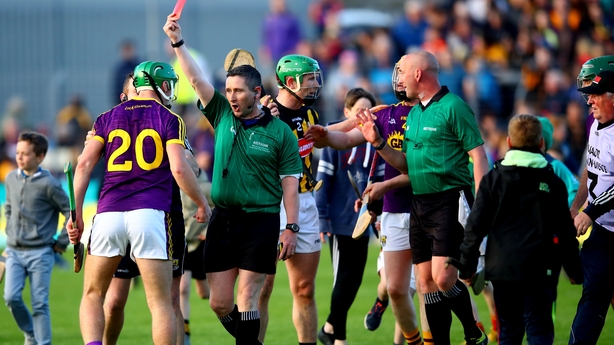 Both teams have named unchanged line-ups.
Wexford will be without impact sub Aidan Nolan, who got himself sent off for abusing referee Fergal Horgan in the mistaken belief that the latter hadn't played enough injury-time in the drawn game with the Cats. 
Following his dismissal in what was essentially an 11-a-side exhibition game against Limerick in Boston last November, Nolan had his one-match suspension doubled and, appeal pending, also stands to miss a Leinster replay, All-Ireland quarter-final or semi-final in bizarre circumstances.
Kilkenny's injury crisis is easing after a torrid spring: Eoin Murphy, Joey Holden, Cillian Buckley and Walter Walsh were all late starters last day and retain their places though Richie Hogan is again on the bench.
Kilkenny: Eoin Murphy; Paul Murphy, Huw Lawlor, Joey Holden; Paddy Deegan, Padraig Walsh, Enda Morrissey; Cillian Buckley, Conor Fogarty; Richie Leahy, Walter Walsh, TJ Reid; Billy Ryan, Colin Fennelly, Adrian Mullen.
Wexford: Mark Fanning; Damien Reck, Liam Ryan, Simon Donohoe; Paudie Foley, Matthew O'Hanlon, Shaun Murphy; Kevin Foley, Diarmuid O'Keeffe; Liam Og McGovern, Lee Chin, Conor McDonald; Cathal Dunbar, Rory O'Connor, Paul Morris.
Michael Duignan's verdict:
"The drawn match in Wexford Park two weeks ago was an epic, the physicality, the atmosphere [was brilliant]. There is no love lost between these rivals and I expect more of the same. It will be a close contest.
"Matthew O'Hanlon did a great job marking TJ Reid, holding him scoreless from play. Paudie Foley did a great job on Walter Walsh but I think Kilkenny will find more room in Croke Park and, in Reid, have a more reliable free-taker.
"That has been an Achilles' heel for Wexford over the last couple of years. I expect the Cats to come through on a narrow margin, two to three points."
Last five Championship Meetings 
2019 Wexford 0-21 Kilkenny 1-18 (Leinster round-robin)
2018 Kilkenny 0-22 Wexford 1-18 (Leinster round-robin)
2017 Wexford 1-20 Kilkenny 3-11 (Leinster semi-final)
2015 Kilkenny 5-25 Wexford 0-16 (Leinster semi-final)
2011 Kilkenny 1-26 Wexford 1-15 (Leinster semi-final)
2008 Kilkenny 5-21 Wexford 0-17 (Leinster semi-final)
Follow the Munster and Leinster hurling finals on Sunday via our live blogs on RTÉ.ie/sport and the News Now app or listen to live national commentary on RTÉ Radio 1 or RnaG. You can watch live and exclusive TV coverage of Limerick v Tipperary (2pm) and Kilkenny v Wexford (4pm) on RTÉ2 and the RTÉ Player