Cork's Mark Coleman said that the Rebels felt that they had to 'redeem' themselves following their opening day Munster championship defeat to Tipperary.
And redeem themselves they did with a thumping seven-point win over All-Ireland champions Limerick at the Gaelic Grounds on Sunday.
The Rebels were effectively fighting to save their season after losing to Tipp. It was do-or-die against Limerick and they delivered a brilliant performance to blow away the Liam MacCarthy Cup holders.
"Against Tipp we weren't at the races and every week we go out and try to get a performance out of ourselves and do our best," explained Coleman, speaking to RTÉ Sport.
"Against Limerick we were up to the mark a bit more and maybe that's because we were trying to redeem ourselves.
"Overall it was a good performance and we can be happy with the win. I think we worked hard after Tipp because we weren't happy and we just wanted to get a performance out of ourselves.
"We learned a lot from that game; it was the first day out and we just weren't up to it. We have to learn from those sort of games and we did that. We worked on a few things and they paid off against Limerick."
Wing-back Coleman says the importance of winning against Limerick was never spoken about in training, but the players knew that the Rebels' season was on the line.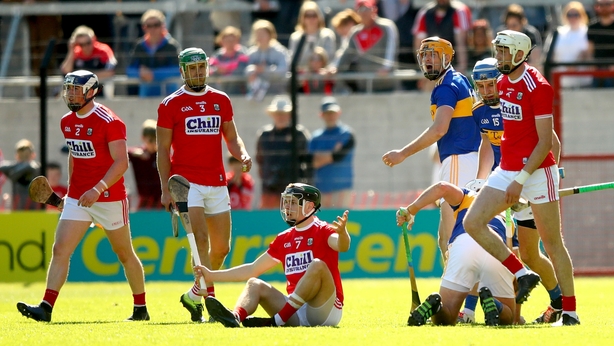 "The last thing you want is starting off a campaign like that with two losses," he said. "We felt that ourselves – it was never said, we just wanted to go out and get a performance and a result. Our aim was to get a performance and grind out a result.
"We can take confidence out of beating the All-Ireland champions, but we know that every game is going to be extremely difficult.
"We have to park this and move on. It's only one win, two points, that's not going to get us through and we still need two more good performances.
"We'll reflect on what we've done, take the learnings from it and go again; try to get another performance out of ourselves in three weeks' time."
Next weekend is blank in the Munster Senior Hurling Championship and Cork's next assignment isn't for three weeks, against Waterford on Saturday, 8 June.
They are currently on two points from two games, level with Clare who have only played once. Tipp are top with four points from two games, Waterford are bottom having lost both of their matches so far and alongside them are Limerick who have lost one from one.