The Munster championship is wide open following Cork's convincing win over All-Ireland champions Limerick at the Gaelic Grounds.
There were questions over both teams in the lead-up to this one. Could anyone stop Limerick? Was Cork's season going to be as good as over in the middle of May?
This game and the result have turned both of those questions on their heads.
Did Limerick flatter to deceive as they stormed their way to a first Allianz League title in 22 years, backing up their first Liam MacCarthy Cup triumph in 45?
Are Cork back on track as they seek a third Munster title on the bounce and was their loss to Tipperary seven days earlier just a bump in the road?
The Rebels were certainly good value for money, particularly when you consider the off-day Patrick Horgan had by his own stellar standards. His side hit eight wides over the 70 minutes of regulation play - he hit seven of them, five from frees.
The work-rate that was missing against Tipp was back, Seamus Harnedy, Daniel Kearney, Luke Meade, Eoin Cadogan, Darragh Fitzgibbon and Bill Cooper all grinding out the hard yards, putting in the tackles, blocks and hooks.
The silky play and long, diagonal passing that illuminated Limerick's All-Ireland win last August disappeared. Their general play seemed laboured and when the heat was really turned up in the second half they were the ones who had to get out of the kitchen.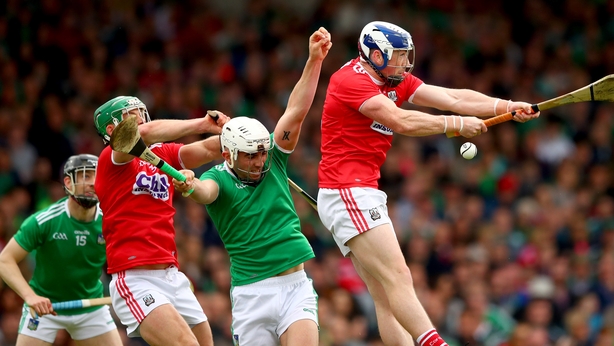 As the gap drifted out to five and then six points, the home side, playing in front of 31,274 on their home patch, resorted to route one in a desperate attempt to get the goals they needed. They didn't, and the gap grew.
Horgan, despite his troubles in front of goals, threw over two glorious, late scores to make sure.
Limerick's next game is in Walsh Park on June 2 against a Waterford team off the back of two bad defeats. Victory for both is vital.
As the first half ended Cork boss John Meyler made straight for referee Paud O'Dwyer to make his feelings known, though from the stands it didn't look as though he had much to give out about.
On the sideline, Meyler's maor foirne Kieran Murphy was as animated as anyone in the Gaelic Grounds and it was clear that Cork knew what was at stake in this game and that they weren't going to roll over.
They went in at the break trailing by two, 1-11 to 0-12, though could have been ahead were it not for an uncharacteristic series of wides from Horgan.
The normally metronomic dead-ball expert, who kept the Rebels afloat with 14 points, ten from frees, against Tipperary in the first round, missed three frees before the break - something completely out of character for this brilliant, line-leading forward.
This game was simmering nicely before the pot boiled over on 26 minutes, Limerick's Graeme Mulcahy catching his marker Seán O'Donoghue napping to nip in and collect a Declan Hannon point effort that was falling short and ram it into the net at keeper Anthony Nash's near post.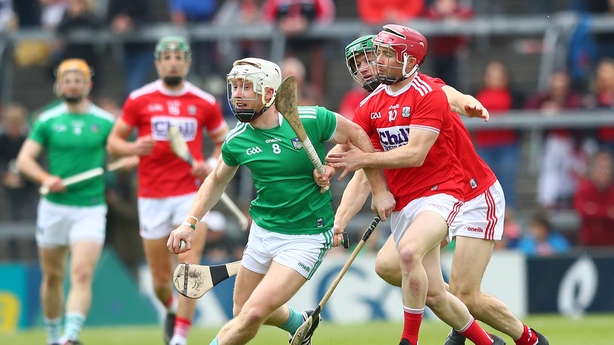 Nash restarted the game in a flash, the ball was at the other end of the field in a matter of seconds and Nickie Quaid was sharp to stop Harnedy's shot.
Harnedy enjoyed a strong first-half performance and tapped over three from play, which was needed given Cork's over-reliance on Horgan to keep the umpires' flags waving.
This was a tactical joust for much of the opening quarter, both sides alternating between playing a sweeper, sometimes two, and going man-for-man.
Cork's injury misfortune continued; midfielder Bill Cooper was back after missing the defeat to Tipp after suffering a back spasm in the warm-up at Páirc Uí Chaoimh, but Conor Lehane was gone after five minutes with a leg injury he suffered as he scored his team's first side from play.
They were able to bring on a useful replacement though, Alan Cadogan looking lively and scoring a point before the break in his first game back following a lengthy injury lay-off.
Midway through the second half Cork half-time substitute Stephen McDonnell played in Nash under pressure and the keeper did well to work space and clear.
The ball went up the field, Cooper moved it along and Horgan buried it to put the Rebels ahead.
Once they got their noses in front there was no catching them. Limerick boss John Kiely refused to panic and didn't make moves on the line until nearly an hour gone.
Those switches didn't work, though the fact that he took four of his starting forwards off tells its own tale.
Cork: Anthony Nash; Sean O'Donoghue, Eoin Cadogan, Niall O'Leary; Robert Downey, Mark Eillis, Mark Coleman; Bill Cooper, Darragh Fitzgibbon (0-01); Daniel Kearney (0-04), Seamus Harnedy (0-04), Luke Meade (0-02); Conor Lehane (0-01), Pat Horgan (1-09, 6f), Aidan Walsh.
Subs: Alan Cadogan (0-03) for Lehane 5 mins; Stephen McDonnell for O'Donoghue HT; Christopher Joyce for Downey 52 mins; Shane Kingston for Meade 60 mins; Declan Dalton (0-02) for Walsh 67 mins
Limerick: Nickie Quaid; Sean Finn, Mike Casey, Richie English; Diarmuid Byrnes (0-02), Declan Hannon, Dan Morrissey; Cian Lynch, Darragh O'Donovan; Geariod Hegarty, Kyle Hayes (0-01), Tom Morrissey (0-01); Peter Casey, Aaron Gillane (0-09, 8f), Graeme Mulcahy (1-04).
Subs: Seamus Flanagan for Peter Casey 54 mins; Shane Dowling (0-02, 2f) for Hegarty 55 mins; Barry Murphy for Mulcahy 60 mins; William O'Donoghue for O'Donovan 60 mins; David Dempsey for Gillane 65 mins.
Referee: Paud O'Dwyer (Carlow)