Fermanagh. Population 62,006.
The county with the fifth smallest population on the island of Ireland. If you take the percentage of the people within its borders inclined to be sympathetic towards Gaelic Games, that almost halves.
This puts them into the realms of the two smallest counties in Ireland in terms of population, Longford, 40,000 and change, and Leitrim, pushing for 32,000.
Yet here Fermanagh's footballers are, unbeaten in Allianz Football League Division 2, joint-top of the table and in with a serious shout of promotion to the top flight.
Last year they only missed the top spot in Division 3 on scoring difference, losing the final to Armagh in Croke Park, and made just the county's sixth Ulster final in a 130-odd years.
These are remarkable numbers.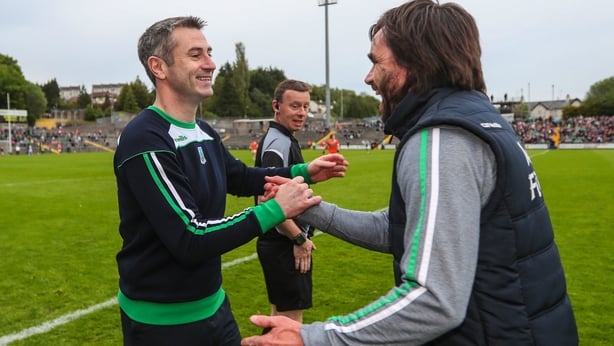 Rory Gallagher's belt-and-braces style of defensive football is poison to some people and even the most fervent of Fermanagh fans would struggle to tell you that it's easy on the eye.
But never mind the quality, just feel those wins.
So far in 2019 they've beaten Kildare and Donegal, two teams who featured in last year's Super 8s and the sides expected just a few weeks ago to top division, and drawn with Tipperary away and Cork, a county of half a million people, at home.
The most eye-catching of those results was against Donegal last weekend in Letterkenny, their first League win over their neighbours in 40 years, coming from five points down to kick the last six scores of the game.
Fermanagh may be defensive, but, as they overturned last year's Ulster final result, they proved that they can chase a game too.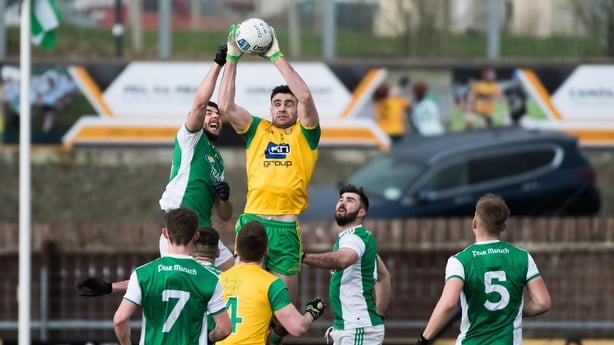 This Sunday they host Clare at home, a weekend off follows, with a trip to Armagh and then a visit to current table-toppers Meath on the final day of the regular season. In a tight division, with just three points separating second bottom from top, two more wins could see them up.
"There were sections of the supporters who were voicing concern after the McKenna Cup," said Ryan McCluskey, who retired last year after 19 seasons playing for the Erne County, speaking to RTÉ Sport.
"I was amazed by that. Honest to god, I was saying at the start of the year that I thought Fermanagh could get themselves involved in the fight for promotion."
McCluskey is one of a tiny band of footballers who have played county with and for Gallagher so he's a man who knows the manager and his methods well.
It was a hectic day yesterday but what a win for Fermanagh. Rory Gallagher gets some stick but sticks to his guns and Fermanagh are in a great position to challenge for promotion. I hate their style of play but you can't but admire them. Some two seasons for them. #upours 🤣🏐

— Tomás Ó Sé (@tomas5ky) February 25, 2019
"He was always very astute and he always knew about the game - he is immersed in it. Rory came in with his own approach and slant on it and it was a fresh, youthful perspective," he said.
"The boys bought in straight away and that was a big thing - the boys knew about Rory's coaching talent. It was brilliant to be involved last year because I learned so much from him."
Gallagher and Tyrone All-Ireland winning defender Ryan McMenamin are the frontmen for the operation and working alongside them in the management team are Shane McCabe, Ronan Gallagher, Rory's cousin, and strength and conditioning coach Leon Carter.
They are working with a tight group of players, they have no choice given the tiny pick in Fermanagh, and they are getting the absolute maximum out of every one of them.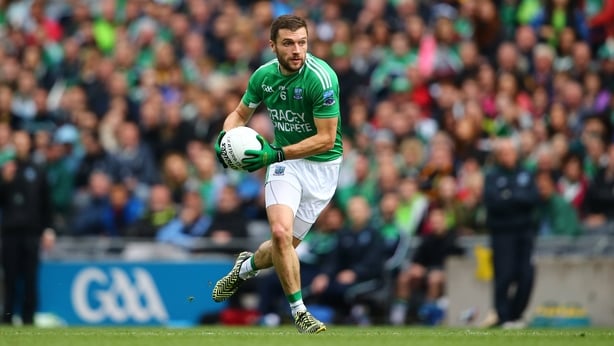 Last year they were ultra-defensive, picking off Division 1 teams like Monaghan on the break on their way to the Ulster final, but this year they have opened up a little bit and are creating on average more than 20 scoring chances per game.
Gallagher was part of the brainstrust working with Jim McGuinness that helped mastermind Donegal's 2012 All-Ireland win, which married counter-attacking fluency with the previous year's 'they shall not pass' tactics.
He has previous. Besides, his job is to produce winning football not attractive football and with a population as small as Fermanagh that has to be achieved by any means necessary.
"I think what Fermanagh are doing is trying to learn from the top teams," said McCluskey. "If it's successful for them, why not mimic it?
"And people are categorising Fermanagh as punching above our weight, but the players don't feel that - we never liked the talk about B championships, we want to be at the top."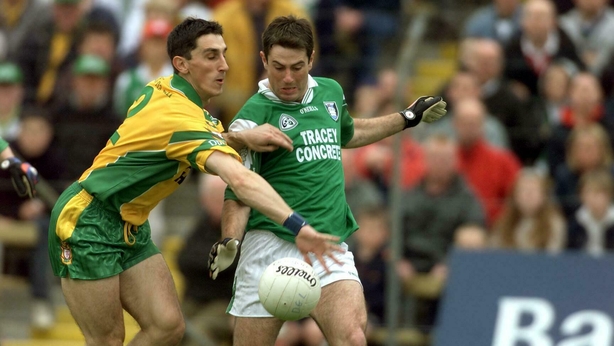 Those are comments that echo something Gallagher himself said a few years ago: "People and players would get sentimental about the idea of reaching an Ulster final or playing in Croke Park. I never got caught up in that idea. I though it would be great to win an Ulster and to win in Croke Park."
McCluskey has nothing but praise for his former team-mates and management, but now that Fermanagh are riding a crest of a wave he wants positive action to ensure they can stay there.
He believes that the county board have to act to tie Gallagher and his backroom staff down with long-term commitments, and he's called on Croke Park to level the playing field.
"They have to give us a better footing," he said. "If they would do that, who knows where we could go. A small county like Fermanagh should be getting investment from central funds to help us push on."