Jim McGuinness and James Horan may be the among the favourites to succeed Stephen Rochford as Mayo manager, but it is believed the County Board haven't lined up any candidate as of yet.
Rochford brought to an end his three-year reign in charge after a after a stand-off with the county's Executive Committee.
On Sunday, it was announced that former Galway and Sligo manager Peter Ford had agreed to join forces with Rochford as part of the Mayo management team for next year.
Rochford however said in a statement that "the desired level of support for me as manager was not forthcoming from the Executive Committee" and did not see any point in another meeting with County Board officers and his new management team.
Speaking on RTÉ Radio 1's Morning Ireland programme, sports editor with the Mayo News Mike Finnerty said the resignation was "dramatic and untimely".
"There's a real sense of disappointment with the vast majority of supporters," he said.
"It looked like in the last few weeks that everything was pointing to Stephen Rochford's return," he said, adding that he was scouting players at two club games on Saturday and had been busily preparing for the 2019 season.
Michael Solan, who led Mayo to an Under-21 All-Ireland title in 2016 and the inaugural U-20 final this year will be linked to the post,, along with former player and current Roscommon manager Kevin McStay.
Donegal's 2012 All-Ireland winning manager McGuinness and ex-boss Horan, who led the county to five successive Connacht titles and two All-Ireland finals between 2010 and 2014, have been mooted. 
"I don't think there is anybody lined up"
Finnerty however doesn't believe either man an imminent appointment will be made.
"I don't think there is anybody lined up. That is my sense of it here in Mayo.
"Jim McGuinness' name has been floating around, James Horan's name has been linked with the position as well.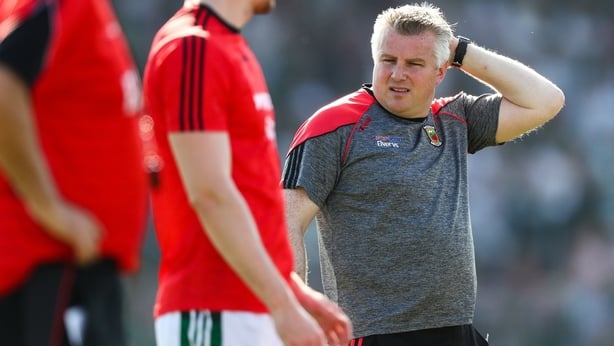 Former All-Ireland winner with Armagh Oisin McConville says the ball is most likely in McGuinness' court if he wants the job.
"Everybody is pretty sure that Jim McGuinness will at least be given the opportunity to become the new Mayo manager. Then it's up to him if it is a challenge he wants to take on," he told listeners.
"It's time for a fresh start, maybe somebody from outside the county that can have a different influence and not bring in any baggage in with them.
"Maybe if McGuinness is interested he could become the manager."
Finnerty however says that whatever happens with regards to the vacancy, there must be reflection on the course of events that led to this latest debacle in Mayo football.
"I certainly don't envy the Mayo County Board trying to find a high-quality replacement at a time like this to replace a man who brought the team to two successive All-Ireland finals.
"Before a successor is lined up, there are a lot of questions still to be answered by the Executive of the County Board and the County Board how we have arrived at this point."