Stephen Rochford has resigned as Mayo football manager after a stand-off with the county's Executive Committee.
On Sunday, it was announced that former Galway and Sligo manager Peter Ford had agreed to join forces with Rochford as part of the Mayo management team for next year.
Ford and Shane Conway, who are currently working together as joint managers of the Breaffy senior club team, both accepted Rochford's invitation to come on board as Mayo selectors in 2019.
A meeting between Rochford and the Executive Committee then took place in which it seems a major fallout occurred.
In a statement, Rochford revealed he had stepped away after three years in charge.
"After a meeting of the Mayo GAA Board's Executive Committee last night, held to discuss the management team I had assembled to manage Mayo senior men's team in 2019, the board issued a statement saying they wished to meet the management team and me about our structure and plans," he said.
"It was apparent from what transpired at that meeting that the desired level of support for me as manager was not forthcoming from the Executive Committee.
"This disappoints me greatly. Accordingly, I see no value in meeting with the officers of the board and I am resigning my position as Mayo manager.
"I thank all those who supporters me during the past three years, two of which saw Mayo come so close to winning the All-Ireland title."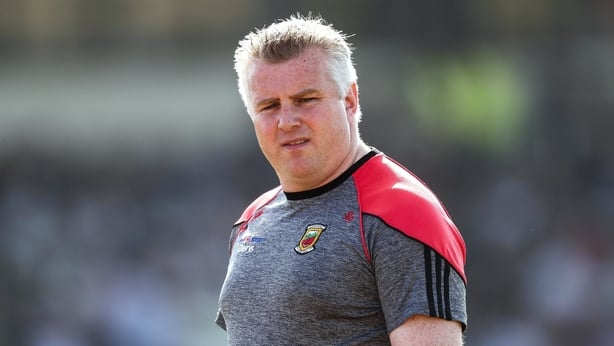 Rochford added it was a "great privilege" to manage the county and said he was optimistic that his new-look backroom team would have built on the foundation set by others.
"Like all Mayo people, I enjoyed the good days when the team won and suffered the disappointments when the results didn't go our way.
"The 2018 season was a disappointing one for all involved, and for our supporters. However, I had every confidence that our new backroom team had the capacity to build on the progress of previous years and drive the team on in 2019."
Michael Solan, who led Mayo to an U21 All-Ireland title in 2016 and the inaugual U20 final this year will be linked to the post, along with former manager James Horan.
Mayo chairman Mike Connolly later thanked Rochford for giving "an enormous amount of service" to the Green and Red.
"We sincerely thank Stephen Rochford for all the hard work and commitment he has given to Mayo GAA since he was appointed in 2015," he said.
"Stephen has given an enormous amount of service to Mayo and has given us as supporters many great days on the pitch.
"Since he become senior team manager he has been involved in three great years for Mayo GAA. He has brought Mayo to two All-Ireland finals, losing both by the narrowest of margins.
"We wish him and his family all the best for the future and thank him for all he has done for Mayo GAA."