Galway manager Kevin Walsh admits last year's Connacht football final defeat to Roscommon will be motivation on Sunday, though he's hit out at critics of his team's style of play.
The Tribesmen came into last year's provincial decider against Roscommon as red-hot favourites having beaten Mayo along the way. They came unstuck though, getting mugged 2-15 to 0-12 in Salthill.
Walsh says his players will have this in mind when they run out on the Hyde Park pitch on Sunday, but he hasn't been impressed by what he calls 'lazy punditry' surrounding his side's tactics.
"We're not going to be looking back and say this has to be won because of last year, but all the same it will bring motivation to the lads without a shadow of a doubt," said the double All-Ireland-winning midfielder.
Galway won the 2016 Connacht title, but then crashed out at the All-Ireland quarter-final stage following a shock Croke Park defeat to Tipperary.
They lost last year's provincial final and then fell to Kerry in the last eight. This led to a rethink in terms of tactics and a more defensively minded set-up got them to this year's Division 1 final in the League, where they lost to Dublin.
They certainly get more bodies behind the ball, though Walsh insists they aren't a defensive team.
"Look, people have heard my response to this on numerous occasions," he said, speaking to RTÉ Sport. "A lot of it depends on what's up against you and the type of game the opposition bring to you – we have to pin-point where we think their strengths and weaknesses are.
"We're here to do a job, not here to apologise to anyone and to me a lot of it is coming out of lazy journalism and punditry without doing their proper homework.
"We analyse all the games and Dublin had the same number of bodies behind the halfway line as we did in the League final. People jump on it and when they hear lazy punditry the public buy into it. We can't listen to that, just do what's best to the team."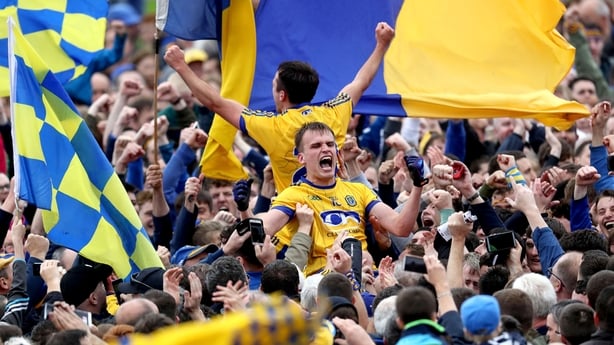 One of Galway's aims for the year was to retain their Division 1 status, which they did with some style, and their next is to reach the Super 8 – the new-look quarter-final stage.
Walsh doesn't care how they get there, though he does agree that going the shortest route through the front door is the best way.
He said: "It would have been an ambition of ours at the start of the year to hit the Super 8, no matter what road we took.
"The fact that we're in a Connacht final now is nothing to be sneezed at, it's a cup and it's bragging rights and it's momentum. It's a great game to get and the big thing is turning up and performing."
Follow all of Sunday's GAA action on our live blog on RTÉ.ie/sport and the News Now app from 1.30, watch live coverage of Roscommon-Galway on RTÉ 2 Television at 4.0 and listen to live commentary on RTÉ Radio 1 Sunday Sport