For all the plaudits Kerry received in their Munster semi-final thumping of Clare, there was no getting away from the fact that the Banner delivered a below-par performance on the day.
As the second-highest ranked team in Munster according to Allianz League standings, hopes were high that Colm Collins' side would put up a decent fight against a Kerry XV with seven Championship debutants in Killarney.
The Kingdom, however, swept aside the underdogs, hitting 32 points – 24 from play – as they coasted to victory against a Clare side that raised the white flag on just 10 occasions.
Collins describes the game as something of a systems failure – "all our figures...everything was a way down on the day" but is eagerly looking forward to the qualifiers and a trip to Tullamore.
Monday morning's draw pitted his side against an Offaly team that has endured a turbulent Championship thus far, a disappointing defeat to Wicklow, which resulted in the departure of Stephen Wallace as manager, followed by an encouraging win over Antrim last weekend.
"It's great that when something happens us like it did in Killarney that we get another chance to redeem ourselves," he told RTÉ Sport.
"It's great to get the chance to get up on the horse again"
"There were a lot of really tough draws there. The away situation is something we will have to deal with. We are really looking forward to playing in Tullamore and hopefully putting in a good performance.
"It's great to get the chance to get up on the horse again."
Offaly interim-manager Paul Rouse will be looking to build on the recent win in O'Connor Park and Collins says he is well aware of what the Faithful County will bring to the party.
"The way inter-county football has gone now, I nearly know more about Offaly than I know about our own team," he says.
"You'd be watching and keeping an eye on things. There would be no secrets, and I'd say it would be the same for them about us.
"Anyone worth their salt is doing their recce [reconnaissance] on the opposition and making sure there is no stone left unturned in that area."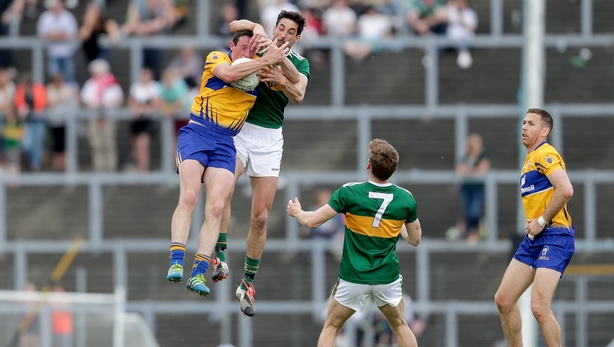 Reflecting on the 22-point defeat in Killarney, Collins believes that regardless of the calibre of opposition, they failed to give an accurate account of themselves.
They managed just five points from play, while Kerry ended the game as a contest with dominance around the middle, clever passing and interplay, and accuracy in front of the posts.
He added: "Even allowing for the opposition, we have to say it was a very poor performance. There was no excuse for it. We lacked an energy and commitment.
"The players would be annoyed with it too and keen to set the record straight in Tullamore"
"The opposition is obviously a top Division 1 team and one of the favourites for the All-Ireland, but our performance was still way below par.
"That's something that annoys you. The players would be annoyed with it too and keen to set the record straight in Tullamore."