Goalkeeper Mark Jackson top-scored with seven points as Wicklow advanced to the quarter-finals of the Leinster SFC with a 1-20 to 1-15 win over Offaly after extra-time at O'Moore Park in Portlaoise.
Reigning All-Ireland champions Dublin will be next up for John Evans' men who were 1-05 to 0-05 behind at half-time after Anton Sullivan scored the goal five minutes before the interval.
But Nigel Dunne missed a second-half penalty for Offaly and the sides finished level 0-14 to 1-11 at the end of normal time. And Daragh Fitzgerald scored a crucial goal in the second period of extra-time.
It was a poor first-half of football and the goal was crucial with both sides missing lots of opportunities, and sharing 11 wides between them.
Bernard Allen kicked two early points for Offaly but too many chance dropped short into the hands of Wicklow goalkeeper Mark Jackson.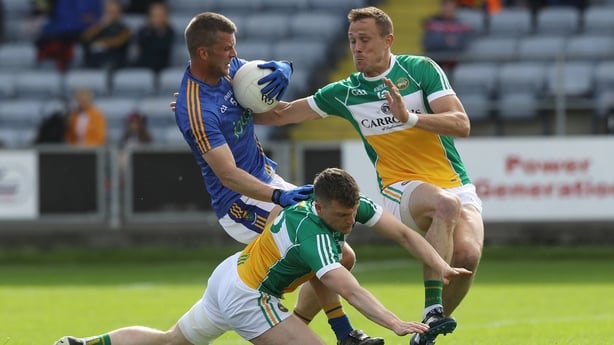 Jackson scored Wicklow's first point when he landed a long-range free and the teams were level for the first time with Mark Kenny's point in the 14th minute.
A Nigel Dunne free gave Offaly the lead again but they had to call on goalkeeper Alan Mulhall to preserve that in the 17th minute. Dean Healy raided forward, from his centre back position, and drove a shot low to Mulhall's right but he got down to save.
Jackson doubled his tally from the resultant 45 and the sides were level again, before Allen scored his third point for Offaly. But it was a dull affair at that point and nine scoreless minutes later John McGrath's huge effort drew the teams level again.
Wicklow had another goal opportunity eight minutes before the break but they missed that one too, this time midfielder James Stafford was wild with his attempt.
And Wicklow were punished for their missed chances in the 30th minute, when Sullivan drove through their defence and finished to the bottom left corner of the net.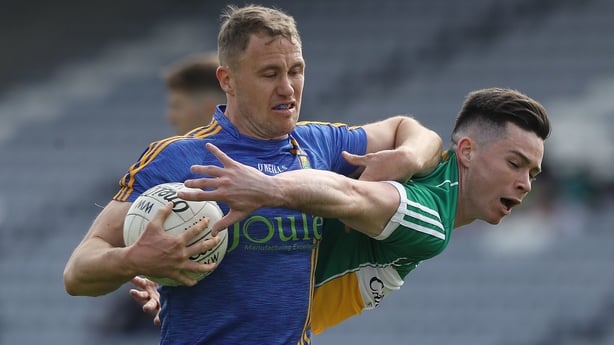 Cian Donohue and Seán Furlong traded points before half-time and Offaly held a 1-05 to 0-05 lead at the break.
But Furlong and John Crowe brought Wicklow back into the game. Substitute Shane Tierney put Offaly three points clear but Dean Hayden and McGrath answered that. Wicklow wing-back Ross O'Brien also pulled off a brilliant block on Conor McNamee's goal-bound effort.
Offaly threatened to pull clear but Jackson saved a Nigel Dunne penalty in the 58th minute and Wickow were still well in it as they trailed by 1-09 to 0-11.
Jackson brought Wicklow level with five minutes remaining but Jordan Hayes tapped over a crucial point for Offaly.
But two 45s from Jackson either side of a Tierney point brought the game to extra-time as it finished 1-11 to 0-14 after normal time.
Wicklow wrestled control in extra-time and took a 0-19 to 1-13 lead into the second period, with points from Jackson and Furlong giving them a clear lead, while Fitzgerald's goal two minutes after the interval settled it.
Wicklow: Mark Jackson (0-07, 0-05f, 0-02'45); Ciarán Hyland, Jamie Snell, Paul Merrigan; Saoirse Kearon, Dean Healy (0-01), John Crowe; Rory Finn, James Stafford; Kevin Murphy, Darren Hayden (0-01), Theo Smyth; Seán Furlong (0-05, 0-04f), John McGrath (0-02), Mark Kenny (0-02).
Subs used: Cathal Magee for Furlong (11-12 mins, blood); Ross O'Brien for Snell (28); Eoin Murtagh for Hyland (43-45, blood); Conor Healy for Crowe (48); Cathal Magee (0-01) for Stafford (55); Daragh Fitzgerald (1-00) for McGrath (67); Eoin Murtagh for Merrigan (72), David Boothman for Finn (72), Rory Finn for Smyth (84); John Crowe (0-01) for Hayden (91).
Offaly: Alan Mulhall (0-02, 0-02'45); Declan Hogan, Ruairí McNamee, Paul McConway; David Dempsey, Seán Pender, Niall Darby (0-02, 0-02f); Craig Dunne, Michael Brazil; Cian Donohue (0-01), Conor McNamee, Conor Carroll; Bernard Allen (0-03), Nigel Dunne (0-01, 0-01f), Anton Sullivan (1-02, 0-01f).
Subs used: Shane Tierney (0-02) for Dunne (28 mins); Gerry Spollen (0-01) for Pender (39); Nigel Dunne for Carroll (55); Jordan Hayes (0-01) for R McNamee (55); James Lalor for Brazil (56); Anthony Cunningham for Donohue (79); Michael Brazil for C McNamee (80); Seán Doyle for Tierney (80).
Referee: Jerome Henry (Mayo)