Kerry booked a Munster Final meeting with Cork on June 23 in the easiest fashion possible with a 22-point win over a Clare team that simply never turned up in Killarney this afternoon.
Much was made of the team that Kerry started, which included seven Championship debutants, but the Kingdom's young guns looked to the manor born at a sun-splashed Fitzgerald Stadium as they had this result stamped and delivered by half time.
All six Kerry forwards had scored from play by the 21st minute when James O'Donoghue fired over his first point, at which stage Kerry led 0-10 to 0-3, with Clare a beaten docket by then.
Kerry know they won't have an easier test for the rest of the year but Eamonn Fitzmaurice can take great comfort and hope from the attitude his players, especially those seven debutants, showed from the off.
Clare actually scored the first two points of the game - an Eoin Cleary free and a Pearse Lillis point from play - but Kerry quickly found their rhythm and they had the Banner suffocated well before half time when they led 0-16 to 0-4.
Debutant Micheal Burns landed the hosts' first point, followed by scores from Sean O'Shea (free and '45') and David Clifford. Kerry were four ahead when David Tubridy scored Clare's third from a tight angle, but Paul Geaney responded with two extremely well carved out points to put Kerry five ahead.
Stephen O'Brien, O'Donoghue, Burns, O'Shea tacked on points before Jack Barry went on a forty metre solo run and blazed the ball over the bar with just Eamonn Tubridy in the Clare goal to beat.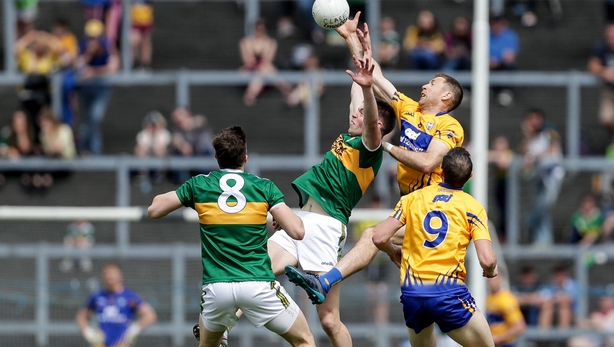 Leading by 12 points at half time, Kerry kicked on in the second period with the same drive and precision, and they led 0-21 to 0-6 at the three-quarter mark, with Jamie Malone kicking two points for the visitors, who were devoid of energy and ideas.
Anthony Maher, Darran O'Sullivan and Kieran Donaghy made welcome appearances for the Kingdom, with Barry John Keane coming off the bench to kick three from play and make the biggest case for a starting jersey in the Munster final.
That will be in Páirc Uí Chaoimh on June 23 and on the evidence here - Clare's virtual no-show aside - a sixth successive provincial title looks well within Kerry's means.
Kerry: S Murphy, J Foley, P Crowley, R Shanahan, P Murphy, T Morley, G White, D Moran, J Barry 0-01, M Burns 0-02, S O'Shea 0-07 (0-03f, 0-01 '45), S O'Brien 0-03, D Clifford 0-02 (0-01f), P Geaney 0-07 (0-01f), J O'Donoghue 0-04 (0-02f).
Subs: Mikey Geaney 0-01 for M Burns (46), Barry John Keane 0-03 for J O'Donoghue (53), Anthony Maher 0-01 for D Moran (57), B Ó Beaglaoich for R Shanahan (57), Darran O'Sullivan 0-01f for D Clifford (60), Kieran Donaghy for S O'Shea (64)
Clare: E Tubridy, G Kelly, K Brennan, E Collins, P Lillis 0-01, A Fitzgerald, C O'Dea, G Brennan, C O'Connor, K Malone, E Cleary 0-05 (0-04f), J Malone 0-02, C Ó hAinifein, K Sexton, D Tubridy 0-02 (0-01f).
Subs: Gearoid O'Brien for K Malone (45), Eimhin Courtney for D Tubridy (53), Gavin Cooney for K Sexton (57), Eanna O'Connor for C Ó hAinifein (59), Conor Finucane for C O'Dea (66)
Referee: Barry Cassidy (Derry)