Throw-in
Healy Park, Omagh, Sunday, June 3, 2.0pm.
Online
Live blog on RTÉ.ie and the RTÉ News Now App from 1.30pm.
Radio
Live updates on RTÉ Radio 1 Sunday Sport from 2.0pm.
TV
Highlights of the game, along with all the weekend's action, on The Sunday Game, RTÉ 2, from 9.30pm. 
Past five Championship meetings
2017 Monaghan 1-20 Fermanagh 1-11 (Ulster preliminary round)
2015 Monaghan 1-20 Fermanagh 0-13 (Ulster semi-final)
2010 Monaghan 0-21 Fermanagh 2-08 (Ulster semi-final)
2008 Fermanagh 2-08 Monaghan 0-10 (Ulster quarter-final)
2002 Fermanagh 4-13 Monaghan 2-11 (Ulster quarter-final)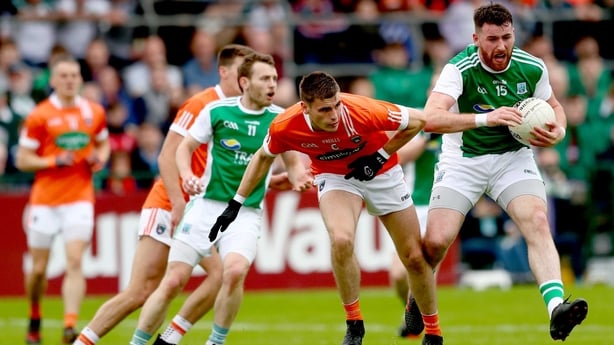 Form Guide
Both of these counties will come into this game in buoyant mood following good wins in their respective Ulster quarter-finals. Fermanagh took Armagh with a bit to spare while Monaghan got the better of Tyrone.
Fermanagh have traditionally been the whipping boys of Ulster football, but they are moving in the right direction – they will play in Division 2 of the League next year and they displayed plenty of composure as they raided the Orchard.
The Farney County should be an example to any county with small resources in terms of players, population and finances – they've been competing at the top level for the better part of a decade now and continue to get better.
History would seem to favour Monaghan this weekend – they are looking to reach their fourth provincial decider in six years, having won two of those three appearances to date, while the Erne County haven't been there since 2008.
This is the second year in-a-row that they've met in Ulster, with Monaghan cruising through the preliminary round with nine points to spare last summer. You have to go all the way back to 2008 for the Erne County's last win in this fixture.
Interestingly, Fermanagh have conceded 1-20 on each of the last two occasions they've men, '17 and '15, and leaking similar on Sunday will severely limit their chances of winning.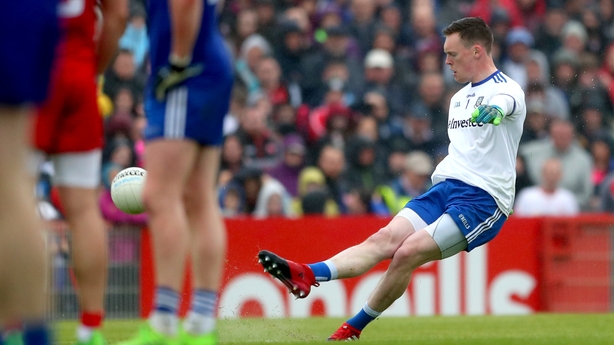 Player Watch
Seamus Quigley stole the headlines on his return to Championship action with 0-6, one from play, in the win over Armagh and as well as offering a focal point to the attack he brings a bit of flash and dazzle to the summer.
But out the field it was the likes of captain Eoin Donnelly and his midfield partner Ryan Jones who really did the damage with an all-action, hard-working performance in the engine room. They'll need similar again, though expect Monaghan to be looking to bypass them.
The Farney Army was full of soldiers the last day with Rory Beggan, Vinny Corey, Fintan Kelly and Conor McManus all providing inspiration. The level that these players have maintained over the past few years is impressive.
Manager Watch
Two of the shrewdest football brains in the country will be prowling the line in Omagh this weekend.
Rory Gallagher is in his first season in charge of his native county following a playing career that took in clubs in Fermanagh, Dublin, Cavan and Antrim before he settled in Donegal, where he was part of Jim McGuinness's backroom team as they landed Sam Maguire in 2012.
He has his team defensively organised and they make the most of what they have in attack.
Malachy O'Rourke is in his sixth season in charge of Monaghan and has backed up a successful career in club management with sustained and steady improvement, cementing his team's place in the Division 1 elite.
He gets the absolute most out of what he has at his disposal and the comfort with which they dealt with Tyrone in the last round suggests that they can take a step further than they have under O'Rourke so far and make it past the last eight of the All-Ireland. O'Rourke got one over on his opposite number when Gallagher was Donegal manager in the 2015 Ulster final.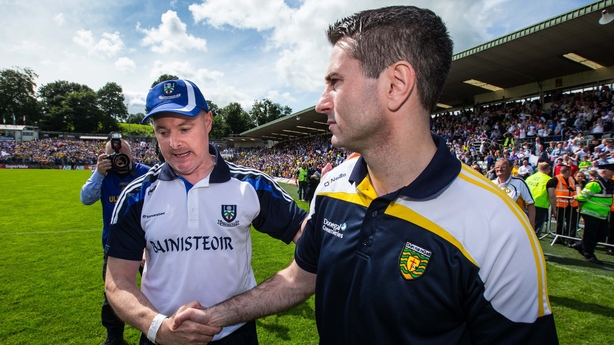 Tomás Ó Sé's verdict
I love watching Monaghan, Rory Beggan, Dessie Mone, Karl O'Connell, Vinny Corey, the Hughes, Conor McManus. They are fantastic players that give everything but Malachy O'Rourke deserves so much credit. I expect them to get to the All-Ireland semi-final so I think they'll win this one.
Weather
The forecast for Sunday is for mild and overcast, around 15 degrees with only light winds and the rain expected to stay away.