Stephen Rochford believes the restriction of inter-county fixtures in April was haphazardly implemented and didn't take into account the differing schedules of counties.
Mayo chairman Mike Connelly said last week that the new measure "just wasn't working" and was leading to conflict between the needs of clubs and county sides.
"It's been a challenge," admitted Green and Red boss Rochford. "It's a very complex situation.
"The clubs want their part of the pie, quite rightly so.
"The provincial councils want to maintain provincial championships.
NOT EVERYONE CAN BE HAPPY - THE 'CLUB MONTH' PROBLEM
"County managers want to prepare their teams as best they can because really nobody is going to remember that they played two rounds of the (club) league in April and played a round of championship when you look back and assess how the county progressed through the championship.
"Last weekend was the first weekend that our guys have not played games since the first weekend of the FBD.
"Some guys haven't played because of injury but between club, college, inter-county they have been going and going. Somebody has been demanding something.
"I think we need to have a full season and try and understand the logjams.
"Páraic Duffy was trying to serve a lot of masters in that"
"There is no point being critical of one aspect of the calendar without coming up with a solution. I'm a bit preoccupied at the moment to be trying to sort out the calendar for the GAA.
"But I totally understand what Páraic Duffy was trying to do. He was trying to serve a lot of masters in that."
Rochford said that Mayo had tried to implement the spirit of the rule, despite their early championship start but that as long as counties were allowed to dictate their own programme it would not be "a level playing field".
Their 13 May Connacht SFC quarter-final opponents Galway played league but not Championship last month.
"It's been difficult, we've respected it, we've gone with it," said Rochford.
"We've played a round of club championship. There has been five rounds of club league played already, our lads have played in three rounds of it.
"So for a team that's out the earliest in the championship bar the four Connacht counties this weekend, we've operated in really good faith in it.
"It's not a level playing field. We're playing in 12 days' time, teams aren't playing until first week in June so trying to guard off the month of April is more feasible in counties that aren't playing in June than it is in April."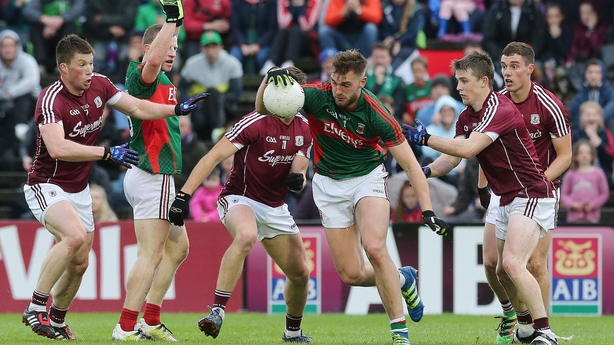 Rochford believes Croke Park needed to take greater control of county fixtures if the directive was to be successful.
"Croke Park should have set a framework that everyone has to do x, y and z in April, that you have to play two championship games or whatever.
"Instead, of setting these rules and then letting the fixture element sort of be laissez-faire throughout the country. It was only half-cooked, in that sense.
"It has been challenging because no two counties are the same. There are geography issues, there are dual issues. It is really complex.
"There is no one simple issue to it. In many ways, county managers have an agenda around trying to prepare their teams. Clubs have their agenda. There has to be some dialogue.
"I don't really understand why they can't play the calendar all in one year, why we can't play (club) provincials and All-Ireland finals in the one calendar year.
"And look at trying to be a bit more strategic in relation to how we are going to run the calendar."