The chairman of the Mayo GAA Board has called on Croke Park to "revisit" their decision to designate April as a club-only month as he believes that "it's just not working".
Mike Connelly said that he intended to raise the issue with GAA authorities at a meeting next weekend and highlight the fact that he feels certain counties have an advantage over others under the new arrangement. 
Mayo face Galway in the Connacht SFC quarter-final on Sunday, 13 May, but members of their county senior panel have played two club league games and one championship match in the first four weekends of April.
However, after last weekend's round of club league games they will not be available to their clubs again until Mayo exit the All-Ireland SFC series.
Speaking at a monthly meeting of the Mayo GAA Board in Castlebar, Connelly said: "To be honest, we're not happy with the situation. 
"Croke Park needs to acknowledge that it's just not working. 
 "We're trying to keep everybody happy, and it's not simple.
"I'm personally not happy with the situation, for our clubs, ourselves, and our county senior team. It's just not working.
"We now have a situation where we're battling with our [senior] management team, we're battling with clubs, and we're trying to draw up a fixtures plan that can deliver games.
"If you take Galway, they're not playing any [club] championship in the month of April, and that's putting more pressure down on top of the organisation. 
"You have a situation where certain counties have an advantage over another. It must be fair to all concerned. It must be."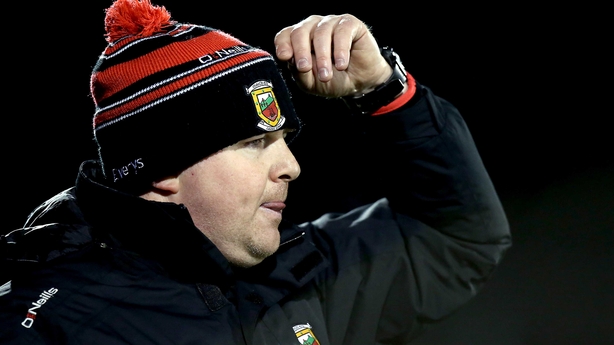 Connelly also admitted that trying to find a compromise between County Board officials, clubs, and senior manager Stephen Rochford had not been easy due to the GAA's insistence that clubs have access to their players in April.
"Everybody is trying to do their best," said the chairman. "You're landed with a big game on May 13, and then you're told that April is free for the clubs.
"Stephen has to prepare the team in the best way he can. "They didn't have a great league campaign and you have to acknowledge that. And you have to try and be fair to him and the county players.
"It's a massive game for Stephen, he has to have his team prepared for Galway and we have to be mindful of that. 
"Croke Park needs to put a model in place and force counties to adhere to it. Letting each county do their own thing just doesn't work. There has to be a level playing pitch for all."
Connelly also said that he felt that Mayo GAA's practice of playing off their Senior and Intermediate club championships in each of the last two seasons — when Mayo reached successive All-Ireland finals — was much fairer and more practical than the GAA's current proposal.
"Take the last two years, we were able to conclude our championship, after being in an All-Ireland final, and our county champions always had two weeks to spare for the Connacht club. 
"What have we at the moment? We have something that, as far as I'm concerned, is not working. Croke Park have got to revisit it again."