Cork will be keen to earn some redemption for their 2017 All-Ireland semi-final defeat to Mayo when the sides meet in their Division 1 semi-final on Sunday, according to stalwart defender Bríd Stack.
Ephie Fitzgerald's charges are seeking a sixth successive crown in the top flight of the National League, but will have to account for a Mayo outfit who condemned them to a first championship defeat since 2010 in order to keep their title defence on course.
The sides previously met in Round 6 of this campaign, with Cork coming through as narrow victors in Mallow, but the stakes will undoubtedly be higher this weekend as they contest for a place in the league final.
11-time All-Ireland winner Bríd Stack, who is still unavailable for selection, was part of Cork's defensive unit that suffered a two-point defeat to Mayo in last year's All-Ireland semi-final. She suspects that the disappointment from that day will still be raw for the Cork players.
"I suppose there would be a lot of girls hurting since that game and will definitely want to go out there and try to redeem themselves a bit," she tells RTÉ Sport.
"I think Cork at this stage, they have been dethroned as All-Ireland champions, they have to go and play with absolute abandon now and I have no doubt knowing a lot of girls from that team that they will go out and do that. They'll be gunning for road."
Cork suffered a heavy defeat to Donegal in the last round of league games leading into this tie, but Stack insists that result won't have any negative impact on them when they take to the field on Sunday.
"They have nothing to lose, it will probably be in the back of their mind that they are league champions and will try to maintain that but I can only imagine that they are going into this game thinking that it's a match against one of their good rivals who they have massive respect for," added the 2016 senior Players' Player of the Year.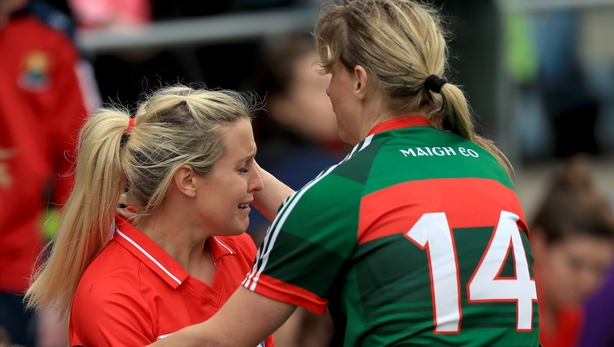 In addition to Stack's absence, Cork have had to adjust to the loss of other key servants in recent times. Dual star Rena Buckley has decided to opt out of the panel again this season, while Briege Corkery is still unavailable for selection.
But their loss has allowed other panelists to break through and establish themselves as regulars in the starting team.
Stack has been particularly impressed with inside forward Orla Finn, who has emerged as a notable scoring threat for Cork in the last few years. She hit 1-10 in last year's League final victory over Donegal, and Stack can see certain aspects of her game that remind her of former Cork star Valerie Mulcahy.
"I think Orla Finn has been on absolute fire in this league campaign. Just looking at her run of play, she has come through time and time again. Even for example in the Galway game, she scored 1-05. I suppose the thing is that it's not all falling on her as well, I think the forwards are really clicking.
"The forwards have been there a good while and I think a lot of them seem to have their shooting boots on at the moment. Probably the stand-out is Orla Finn, she's taking every free that's been given to her."
She added:
"Orla was there when Val was our free-taker and I suppose Orla well remembers her time that she didn't get a starting berth. There was a fantastic forward line there a couple of years ago and even though Orla was a brilliant player, [she] couldn't get her foot in the door.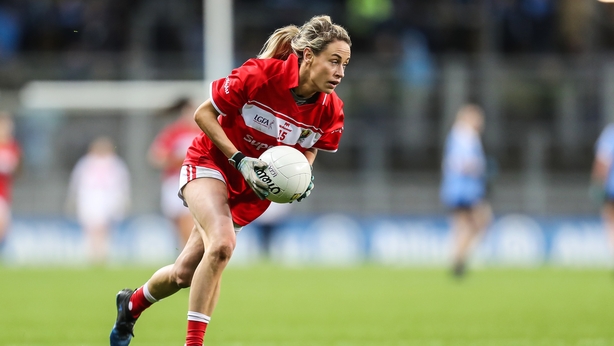 "It just shows the calibre of player that she is and the character she has. The second she got her chance, there was no way that she was letting go of it. I think maybe having seen Val and seen how important it is to have a stable free-taker, I know Orla so well and she is such a level-headed person.
"She's so dedicated and I guarantee you she's kicking 1000 frees for every one or two that people see, she's just that type of person."
Mayo's four-time All-Ireland winner Cora Staunton has returned to Ireland from her stint in the Women's AFL this week, which will lead to much speculation about her inter-county plans for 2018.
Stack can foresee a return to the Mayo fold for the Carnacon star, although she thinks that the semi-final on Sunday will come too soon for her.
Similar to Cork, Mayo have also learned to adapt without Staunton's services, and Stack has been particularly impressed by the forwards who have sustained Mayo in her absence, including the Kelly sisters [Niamh and Grace] and Sarah Rowe.
But she points to Mayo's midfielders Fiona McHale and Aileen Gilroy as being potentially the biggest threat to Cork's cause.
"Fiona commands so much around the middle of the field and Aileen has just blistering pace when she takes off. They seem to work really well together and is kind of a seasoned pairing. Last year will have brought them on so much and they'll have learnt so much from each other.
"Midfield could be the winning and losing of the game Sunday."
Verdict: Stack expects this fixture to be 'an absolute cracker of a game' but thinks Cork will have just enough to edge them over the line and set up a clash against either Dublin or Galway in the Lidl National Football League Final.
Teams:
Cork: M O'Brien; M Ambrose, E Meaney, E Spillane; M O'Callaghan, M Duggan, S Kelly; A Hutchings, B O'Sullivan; C O'Sullivan, D O'Sullivan, O Farmer; L Coppinger, E Scally, O Finn.
Mayo: S Murphy; O Conlon, S Tierney, S Ludden; D Caldwell, E Lowther, D Hughes; C McManamon, A Gilroy; F McHale, F Doherty, S Cafferky; N Kelly, S Rowe, G Kelly.
Venue/Time: Cork v Mayo, St Brendan's Park, Birr - Throw-in, 3pm