The GAA has admitted that their plan to leave the month of April completely free of inter-county games to allow for club action has been scuppered by the weather.
Croke Park voted to make radical changes to their fixture calendar at last year's Annual Congress, moving the All-Ireland finals forward to August and clearing April of county matches.
This was to give more space for clubs to play their games, though two weekends lost to snow has sunk that plan.
"Worst case scenario, things will have to go back into the first weekend in April, which isn't what anyone intended or anybody wanted," said the GAA's Director of Communications, Alan Milton.
"If you look at last year, some of those corresponding fixtures were taking place in the last weekend in April so we're still going to be three weeks ahead of where we were.
"Keeping April entirely free for club activities is going to be hit, which no one is happy about, but these are circumstances outside our control.
"People may say it was a very tight schedule to run, I don't believe that would be an excuse for not trying to do it and for not trying to create more windows for club activity."
Ten games – five each in football and hurling - were snowed off on Sunday and the GAA are still hoping to play some of those on Monday, which is a bank holiday in the 26 counties following St Patrick's Day on Saturday.
However, it isn't a bank holiday in Northern Ireland, which creates a further headache. Some players have been critical of the decision to try to play games on Monday, with pitch inspections yet to take place.
On the road since half 6 this morning. 2hrs down the road on way to Waterford got word game was off. Grand. 2hr drive home, get word game may be on tomorrow at 2pm, same venue(9 hr round trip) Seriously!We just do what we're told #joke

— Emlyn Mulligan (@emlynmulligan) March 18, 2018
The Central Competitions Control Committee (CCCC) will meet on Tuesday to decide when to fix the games that won't get played this weekend.
The Allianz Football League finals are due to take place on the weekend of March 31/April 1, but there's a chance the Division 2, 3 and 4 deciders will all have to be pushed back to the following weekend.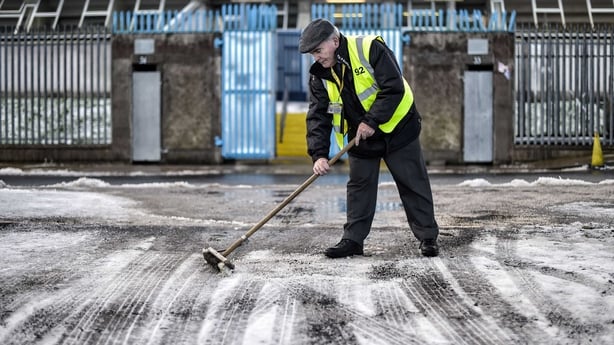 "It has been freakish when you think of how often we get the type of snowfalls that we've had this year – we've had two in a three week period," said Milton.
"It's going to depend on pitch inspections that are going to take place on Monday morning whether or not those games called off today can go ahead. Obviously we hope they can, but we can't make that call at the minute.
Wexford Park declared unplayable for tomorrow's game! Waiting on CCCC to confirm new venue! @TribesmenGAA

— Galway GAA (@Galway_GAA) March 18, 2018
"These things are out of our hands and they're rather unfortunate; the inconvenience they cause to people is far from ideal. You have to make the best of a situation and deal with the circumstances, but there's a particular anomaly with no bank holiday in the six counties.
"The way things are, the CCCC are going to be very busy on Tuesday because we have an All-Ireland club hurling final to refix as well.
"I think everyone will have gained from having been around the course once, so come September and October lessons will have been learnt by everybody, including fixture-makers at central level."