Cuala 1-22 Na Piarsaigh 2-19
(after extra-time)
David Treacy nailed a last gasp free to send the AIB All-Ireland club hurling final to a replay following a pulsating encounter at Croke Park.
Na Piarsaigh appeared to be cruising to victory as added-time approached, but Sean Moran fired a 63rd minute free to the net to force extra-time, and Treacy came to the rescue at the death after both teams battled it out for 20 minutes of extra-time.
David Breen goaled for the Limerick champions in the first period of extra-time, but points from Con O'Callaghan and Mark Schutte – both of whom had been held scoreless until then – and Treacy's perfect 12 frees ensured a second shot for the Dublin outfit.
This was a game billed as a clash of the champions - Cuala won the title last year after Na Pairsaigh's Patrick's Day win in 2016.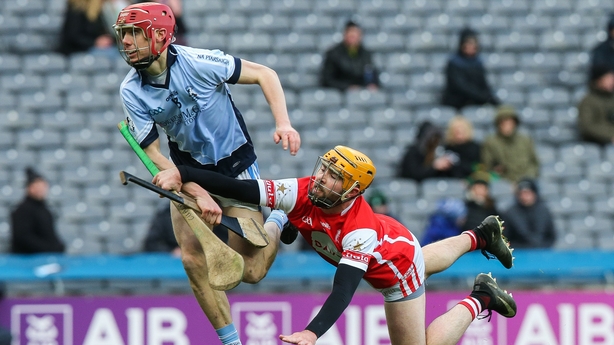 It was no surprise to see Paul Schutte starting this game following injury, and the Dublin man helped his side into an early lead as Treacy tapped over a free following Mike Casey's foul on O'Callaghan, while Colm Cronin added a second from the right in the sixth minute.
Despite that early foul and a second seven minutes from the break, Casey coped well with the talented Cuala full-forward throughout.
At the other end Na Piarsaigh have a talented full-forward of their own in Kevin Downes, and he bossed his battle with Cian O'Callaghan, and after he gathered a long delivery he pointed on the turn to get Na Piarsaigh off the mark in the seventh minute.
Building well from the half-back line, Cuala looked to have found their feet when David and Sean Treacy pointed for a three-point lead, but with Downes and Shane Dowling sharp at the other end Na Piarsaigh had levelled the game by the 18th minute.
Goal chances were scarce on the ground in the opening half – Schutte's booted effort was as close as either team came – but David Treacy kept Cuala to the fore with a couple of frees as they led 0-6 to 0-4 seven minutes before the break.
A foul on Downes allowed Dowling to tie up the game soon after, before Sean Casey dispossessed John Sheanon out on the wing and sent Adrian Breen in for the lead score in added-time.
And there was still time for Na Piarsaigh to add to that tally as Adrian Breen again found the target, this time after some brilliant skill from Alan Dempsey at the back sent the Limerick side on the attack.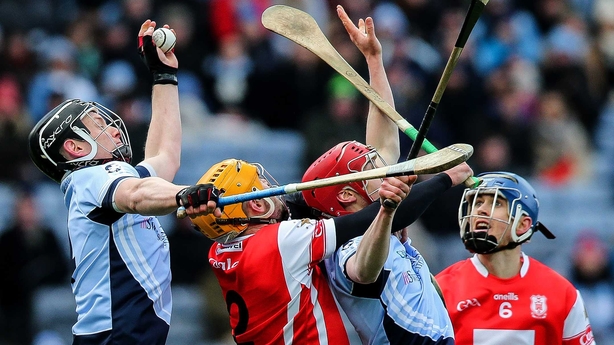 Leading 0-08 to 0-06 at half-time, Na Piarsaigh saw their lead halved a few seconds after the restart when Sean Treacy drove through the middle, drew the foul and his brother David added his fifth free.
Following a Peter Casey score from the right, Sean Treacy hit back again for Cuala from distance, but Na Piarsaigh surged clear in the 33rd minute when Downes's flick sent Peter Casey clear and he battled well to beat Sean Brennan with a low finish.
The goal put Na Piarsaigh four points clear, but chasing back-to-back All-Irelands, Cuala were not likely to collapse. And three points in two minutes from Colm Cronin, Sean Treacy and Darragh O'Connell had the gap down to one, while Colm Sheanon and Nicky Kenny restored the lead for Cuala by the 43rd minute.
Downes continued to go toe-to-toe with Cian O'Callagan and the Limerick man levelled matters from the left, before Adrian and David Breen pointed to give Na Piarsaigh a 1-13 to 0-15 lead with 12 minutes remaining.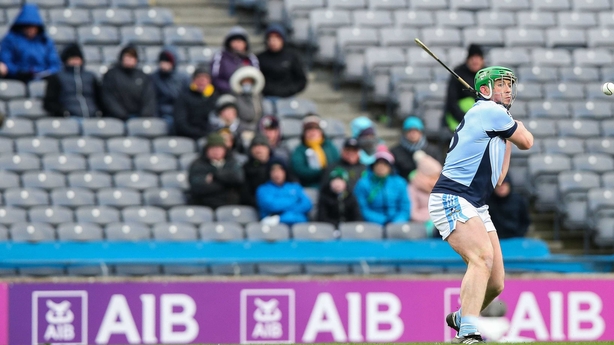 As the snow began to fall on Croke Park, Dowling slotted his fifth point from a free, but David Treacy immediately cancelled it out with a placed ball at the other end, while Downes and Dowling stretched the advantage out to three points with time running out.
But following a foul on Colm Cronin, Moran fired his 20-metre free past six players on the Na Piarsaigh line to force extra-time.
The first three points of extra-time went to Cuala, but in that run David Breen hit a key goal for Na Piarsaigh, while two points in a minute from David Dempsey meant they led 2-18 to 1-20 with ten minutes to go.
David Treacy and David Dempsey exchanged points in the second period as Na Piarsaigh kept themselves ahead, but Treacy's free taking ensured another day out for both teams.
Cuala: Sean Brennan; Paul Schutte, Cian O'Callaghan, Oisin Gough; Darragh O'Connell (0-01), Sean Moran (1-00, 1-00f), John Sheanon; Jake Malone, Sean Treacy (0-03); David Treacy (0-12, 0-12f), Colm Cronin (0-02), Colum Sheanon (0-01); Mark Schutte (0-01), Con O'Callaghan (0-01), Nicky Kenny (0-01).
Subs: Shane Stapleton for J Sheanon (48 mins), Niall Carty for Kenny (53), Cian Waldron for Malone (62), N Kenny for Carty (60), Simon Timlin for S Treacy (67), Diarmuid O'Flynn for Cronin (69), J Malone for Waldron (70), S Treacy for Kenny (75).
Na Piarsaigh: Podge Kennedy; Jerome Boylan, Mike Casey, Niall Buckley; Alan Dempsey, Cathal King, Kieran Kennedy; Shane Dowling (0-06, 0-04f), William O'Donoghue; Ronan Lynch, David Breen (1-01), David Dempsey (0-03); Adrian Breen (0-03), Kevin Downes (0-04), Peter Casey (1-02).
Subs: Kevin Ryan for P Casey (9-11 & 19-21 blood), Mike Foley for Buckley (71), Gordon Brown for Boylan (74).
Referee: Colm Lyons (Cork).