When Páraic Duffy walks out the door of his office on the sixth floor of the Hogan Stand for the final time at the end of the month, he'll have a slight spring in his step.
He'll get in his car, point it for home in Scotstown, County Monaghan, and he won't look back.
30 March, Good Friday, will be Duffy's final day as the GAA's Director General. He has held the Association's top job for ten years, following on from 12 months in Croke Park as Player Welfare Manager.
It's not that he'll be particularly happy to leave the job. It's more that he'll be saying goodbye to life in Dublin after 11 years and returning home to Monaghan for good.
Duffy rejects claims of rampant GAA commercialism
"I'll be happy, but I'll have mixed feelings too. I'll miss working here - I couldn't speak highly enough about the staff here and I really enjoy coming in to work," said the 65-year-old former secondary school principal.
"The pluses outweigh the minus of working here, but the big thing for me is I'm going back to Monaghan to live at home. That's where I'm from, that's my home, that's my county and that's where I want to be.
"I'll miss certain things, but I have no doubt I'll adapt very quickly to being back in Monaghan again.
"Once I'm finished here, that's it. You won't hear from me again.
"Liam Mulvihill was a very good example that way. He left and isn't heard from and I'll be the exact same. I won't be commenting on GAA matters; I have done my time and I should move on to let other people (through). The GAA will thrive as it always has."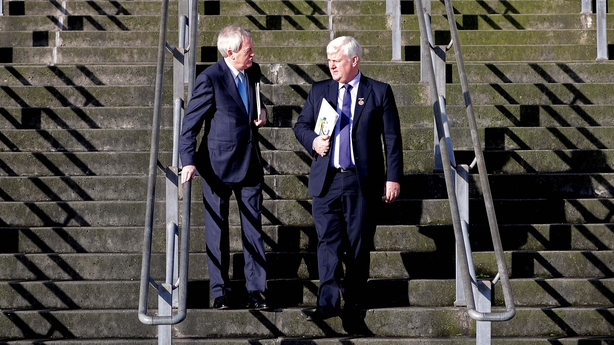 Duffy is based in Dublin five and often six nights a week. He commutes to an apartment near Croke Park on a Sunday night, returning home to his wife Vera on a Friday, though at busy times he often doesn't hit the road until Saturday.
On a Sunday he's at some game or GAA-related event or other. He doesn't mind the all-consuming nature of the job. It's just that it's time for him to stop.
He lives in Dublin with his daughter Nuala. His son Mark is close to home and is still playing ball with Scotstown and his other son Paul has been in Boston for the past four years, which helps fuel Duffy's passion for American sports.
He's a sporting ecumenacalist, he loves soccer and rugby too, and he supports all New England teams - the Celtics, the Patriots, the Red Sox and the Bruins. After Monaghan though, his real sporting passion is Tottenham Hotspur.
"I didn't take advantage of living in Dublin as much as I should have done"
Duffy has no regrets about how he did the job, citing the controversial 2010 Leinster football final, when Louth were robbed of the win when a refereeing error gifted the Delaney Cup to Meath, as his worst day in the office, but he does have regrets.
"I didn't take advantage of living in Dublin as much as I should have done," he explained.
"It wasn't that I was that busy at nighttime, but more that I was tired. I should have taken more advantage of living in Dublin - I went to the theatre and movies, but probably not as much as I should have done.
"That's really all - I have no regrets about the job."
Duffy says he often took a can of Red Bull into the cinema or theatre with him just in case he was feeling sleepy to make sure he made it to the end without having to be woken by staff.
In his 11 years in the capital fending for himself, he jokes that all he's managed to cook is tea and toast in the morning. "I don't know how I've survived!" he roars laughing, so home comforts will be welcome.
Duffy is from Castleblaney and played with the Faughs as a youth, taking the job as assistant club secretary as a 17-year-old. He went on to hold a number of positions with club and county before graduating to national level.
After teaching history in St MacCartan's College, he took over as principal in the Monaghan town institution. It was a role he held for more than a decade, most of which he spent off the national GAA scene so his arrival in Croke Park as Player Welfare Manager was something of a surprise.
After a year in that job he was promoted to the very top when Mulvihill retired. That was 2008 and since then it hurts him that he hasn't been able to help out at Scotstown, where he moved when he got married 35 years ago.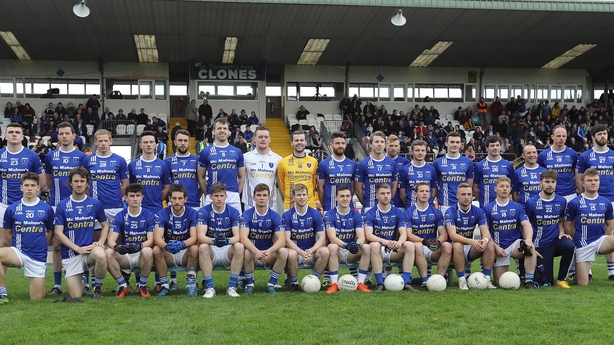 This season he is a selector with the club's seniors - the reigning Monaghan SFC champions - and joint-manager with the reserves alongside former Longford player Mick McCormack. He's looking forward to rolling up his sleeves further from April on.
He also can't wait for the day when he goes to watch a match just because he wants to - not because he has to as DG.
The leaders of most sporting bodies in Ireland keep a low profile and even those that don't aren't easy to contact - think IRFU and FAI CEO's Philip Browne and John Delaney respectively, two men Duffy counts as close confidants.
Being GAA Ard Stiúrthóir is a different gig altogether. Once you wear that crown you are public property and people feel entitled to have their say.
Duffy has a Twitter account - he's a lurker more than a tweeter - just to keep an eye on certain things, but in general he takes little notice of what's being said.
"I do use social media, I read it, but you have to keep your distance"
"That's the biggest change in the last ten years; not alone has everyone an opinion, that hasn't changed, everyone has a way of putting their opinion into the public domain," he noted. "That part has been a bit of a challenge, but I have tried to not let that bother me too much.
"I read a certain amount of the GAA, but I have interest in an awful lot of things in life other than the GAA, and I tried not to get involved. I do use social media, I read it, but you have to keep your distance. It is difficult and you have accept that. Most of the time it never really annoyed me.
"You can only do the job as best you can; I never really let it annoy me and I kind of surprised myself that it didn't annoy me.
"People might tell me that there's an article in the paper about me, but I wouldn't read it, positive of negative, and I think that's the way you have to handle it. It does make it tough and by and large it is going to be critical because that's the way the world is now."
Duffy loves music, he's a big Bruce Springsteen fan and Spotify playlists are his companion on his many long drives, and he's a reader too. He's reading Patrick Kavanagh's Tarry Flynn for the third time at the moment, having picked it up again while snowed him during Storm Emma.
Amongst the many thorny issues that have been grabbed over the past ten years have been pay-for-play (he doesn't see it happening), under-the-table payments to managers (he doesn't see it ever being sorted), selling television rights to Sky Sports (a decision he'll defend to the last), Dublin's dominance (it will pass, he says) and the complete overhaul of the football and hurling championships (he predicts the benefits will be seen for club and county players in years to come).
He's not so forward as to ever offer his successor any advice. But what would he say to himself ten years ago knowing what he knows now?
"Advice?" he asks. "Just that you have to work hard at it; that's the nature of the organisation. It's a volunteer-led organisation so you have to work around the needs of the volunteers all the time. I wouldn't do it any differently, I don't think."