Scotstown 2-17 Magheracloone 0-13
Scotstown completed the much coveted Monaghan SFC three in a row in Clones but they were never really stretched by Magheracloone in what was overall a fairly low key final with the result assured some time before the finish.
Scotstown were only headed once in the entire contest and that in the opening minute as Magheracloone started promisingly but that soon changed as the more experienced Scotstown began to exert their increasing influence.
James Turley who was flown home from Quatar where he is now domiciled and lined out to great effect at midfield in place of Kieran Hughes for his first start from their preliminary round game against Killanny.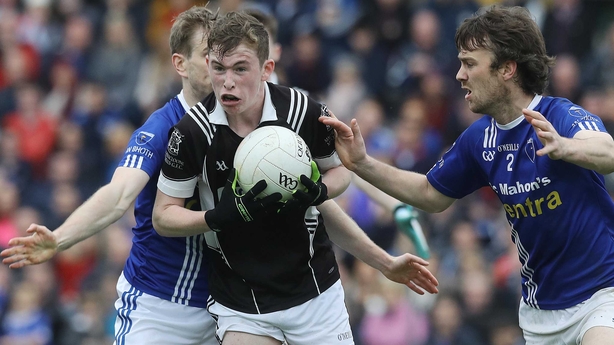 Magheracloone opened the scoring with a point by Michael Metzger after just 40 seconds but Scotstown were soon in control as they hit a goal and 2 points in the following eight minutes, the goal an excellent solo effort by Darren Hughes to put the champions 5 in front.
From there to the break Scotstown were always in control in a game that never really ignited and while Magheracloone kept in touch with sporadic scores the Blues were always able to respond to keep them at arms length. Half time score Scotstown 1-9, Magheracloone 0-6.
Magheracloone drew first blood in the second half with 2 early points but it was flattery to deceive as normal service was soon restored and when Conor McCarthy riflped to the Magheracloone net in the 14th minute it really was game over.
To their credit Magheracloone kept probing but Scotstown defended well, particularly keeper Rory Beggan who repeatedly thwarted their attempts and set up telling counter attacks that always kept the champions in control.
Scotstown: R Beggan 0-3 (2f,'45), F McPhillips, W Carroll, S Mohan, D Morgan, D McArdle 0-1, E Caulfield, F Caulfield, J Turley, J Hamill 0-1, S Carey 0-1, D McCrudden 0-1, O Heaphey 0-1, D Hughes 1-1, C McCarthy 1-8 (4f).
Subs: K Hughes for F Caulfield, R McKenna for J Hamill, M McCarville for D McCrudden, P Keenan for D McArdle (Black Card), D McCague for J Turley, K McMeel for W Carroll.
Magheracloone: D Kirk, P McArdle, P Ward, P McMahon, M Jones, J Ward 0-1, J McMahon, G Doogan 0-2, J Kieran 0-1, P Kirk, M Metzger 0-3 (2f), B Kieran, P Finnegan, A Kieran 0-1, T Freeman 0-5 (5f).
Subs: J Lambe for M Jones, A McCahey for P Finnegan, P Tuite for B Kieran.
Referee: X Coyle (Tyholland).