Ireland manager Joe Kernan is confident that he will have at least four players from each of the All-Ireland finalists in his squad for November's International Rules series in Australia.
Despite ruling out the injured Lee Keegan earlier today, the Armagh man is hoping to improve on the 2015 representation when five Dublin players (captain Bernard Brogan, Diarmuid Connolly, Jack McCaffrey, Philly McMahon and Rory O'Carroll) lined out alongside Keegan and Aidan O'Shea.
Kernan and his management are conducting trials at the GAA's National Games Development Centre at Abbotstown over the next three weekends and will then announce a 23-man travelling party and captain for the two-test series in Adelaide (November 12) and Perth (November 18).
Joe Kernan says violence between Ireland @officialgaa and Australia @AFL is in the past #InternationalRules @CMckenna7 #rtegaa pic.twitter.com/6TO9038fKT

— RTÉ GAA (@RTEgaa) September 27, 2017
"I have eight or nine from Dublin and Mayo each. 18 players that I asked (to attend trials) from the two counties," said Kernan.
"There's some of them waiting to come back with work commitments, there's three or four with injury problems and there's one or two that can't commit because of work. I'd be hoping at least four from each.
"In fairness to Dublin and Mayo players I never phoned one of them until last weekend out of courtesy to their management and to the rest of their team, not to be talking about something that didn't affect them until they finished the job they were doing.
"If they don't turn up, they can't expect to have a chance to impress"
Kernan said he understood that the traditional Autumn rush to complete county championships could affect players' availability but warned that anyone who wanted to be in the squad would have to make an appearance at training. 
"Last weekend we were short numbers, it was 26. This weekend there'll be 36.
"There's a lot of club matches on. Some of the boys played last weekend with club matches.
"Next week we're having to step it up and say, 'Hey boys if you've a club match on a Sunday, you still have to be there on a Friday night, you'll only play one quarter'.
"We have to work with each other but if they don't turn up, they can't expect to have a chance to impress."
Unlike the one-off 2015 event - Ireland held on to win 56-52 in Croke Park - returning manager Kernan will be able to field current rather than just former AFL players.
The Australian Rules season concludes with Saturday's Grand final between Richmond and Adelaide, with no Irish involved, but Kernan believes having men based Down Under is vital to improve Ireland's speed in transition from defence to attack.
Geelong's Zach Tuohy, who was refused permission to play by former club Carlton in 2015, Gold Coast's Pearce Hanley and rising star at Essendon Conor McKenna will be among Kernan's squad, and all appear to be nailed-on starters.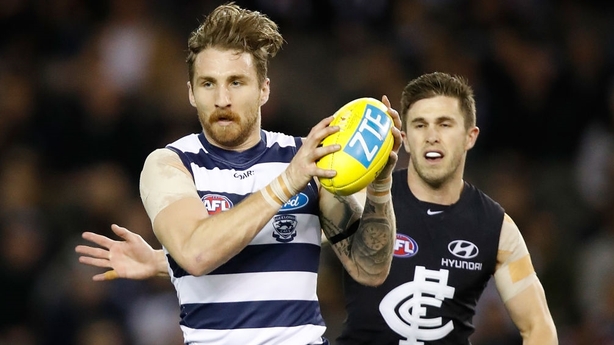 "I have my centre-half back, my midfielder and a flyer at centre half-forward (McKenna)," chuckled Kernan.
"We only have 12 (Irish) boys out there that are playing but it was hard to bypass these three guys who played 21, 17 and 15 matches, and were probably three of the best out there. 
"I thought it was important because we're going to Australia to have the knowledge that they will have.
"Looking back on the game two years ago it was an eye-opener for me playing four quarters. You try and keep a high tempo in each one of them and sometimes you drop tempo and it's about keeping your shape.
"We didn't have an outlet for the ball and to have those boys there and to be able to talk us through things the way they do it...
"The one thing the Aussies destroyed us on the last time, when they made the mark, they were able to put two punt passes together and get themselves to the D.
"We were lucky enough then they weren't able to score too many of them. But if we can do the same, it'll make our game a lot easier."