Ireland (3-11-5) 56 Australia (1-13-7) 52
Ireland held off a late surge by Australia to regain the Cormac McAnallen cup at a freezing Croke Park. 
First-half goals from Aidan O'Shea (2) and Conor McManus gave the home side a deserved 43-23 lead at the break as the AFL stars failed to get a proper grip on proceedings. 
They rallied, however, to win the third quarter and an Eddie Betts goal and a Robbie Gray over left just three points in it with time running out.
But, in front of 38,386 spectators at HQ, Joe Kernan's men kept their cool and saw out the clock to claim the EirGrid International Rules honours.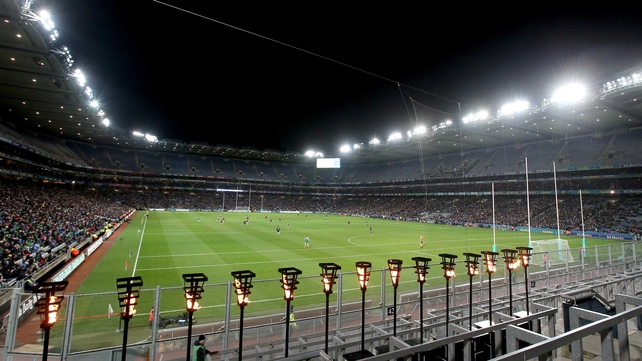 The throw-in was preceded by a commemoration of the Bloody Sunday victims on the 95th anniversary of the shootings at Croke Park. With the floodlights dimmed, the names of the dead were read out, while 14 torches were lit on Hill 16.
GAA President Aogán Ó Fearghail and Director General Paraic Duffy laid a wreath on the spot where Tipperary's Michael Hogan was killed as they played a challenge game against Dublin.
With Australia's lightning quick start fresh in their minds from last year's defeat in Perth, Ireland were determined not to be caught cold in the freezing Dublin 3 air.
And although Robbie Gray opened the scoring for the AFL side with an over in the second minute, the hosts had the better of the opening exchanges.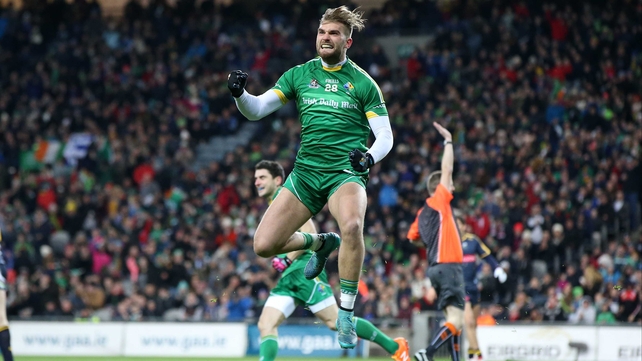 It took just four minutes for O'Shea to make the breakthrough.
Captain Bernard Brogan contested a cross with Aussie goalkeeper Dustin Fletcher and the scraps fell to the Mayo forward who sidefooted high into an empty goal.
Diarmuid Connolly and McManus soon got in on the act and fired over in quick succession. 
In the absence of a discernible full-back line, Ireland continued to do damage with O'Shea, named man of the match, and Brogan setting each other up for over chances, which they duly took.
The Aussies were making hard work of holding on to the ball but Betts and Hayden Ballantyne set up Jarryd Roughead for a three-pointer and Nick Riewoldt followed that score up with another a minute later.
Shortly afterwards Brogan, once again loosely marked, took advantage with another over.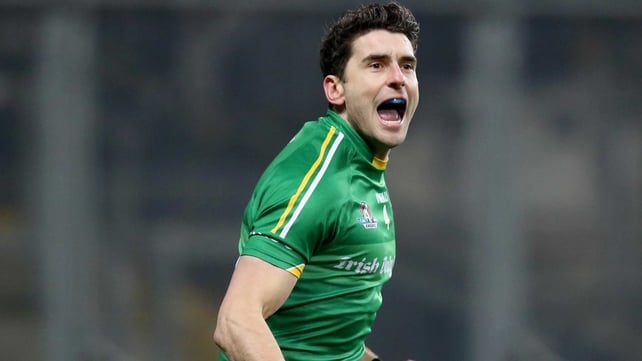 There was the odd cheer from the crowd as various players tussled off the ball but the volume went up a notch when Tipperary's Ciaran McDonald nailed Grant Birchall with a firm, but fair, Aussie Rules tackle.
For all that, Australia could have been much closer to Ireland at the end of the opening quarter had not Niall Morgan steered Tom Rockliff's low shot around the post.
As it stood, the lead of 21-13 was a fair reflection on the balance of play.
Once again, Australia got the opening score of the quarter through Fremantle's Ballantyne but after that they really struggled to get the ball out of their own half and Ireland were more than willing to punish.
O'Shea was again the beneficiary after Brogan saw his shot saved by Fletcher, the 40-year-old Essendon goalkeeper who retired after the game, and blasted into the net as the Aussie defenders closed in.
Betts managed an over before Dublin forward Brogan snapped over two three-pointers in quick succession.
Ireland were piling on the pressure and Donegal's Patrick McBrearty palmed the ball into the back of the net after a goalmouth scramble but the referee blew up and awarded the hosts a penalty instead.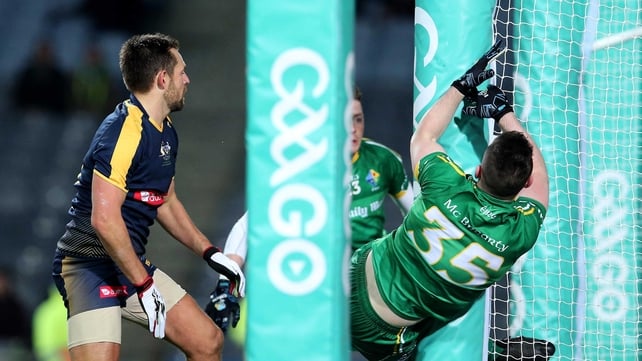 McManus, who finished with 20 points, coolly slotted the ball into the corner and Ireland were 40-22 up.
Desperate for a score, a mix-up in the Irish defence presented Alastair Clarkson's men with a goal chance but Colm Begley somehow got a vital touch and the Ireland goal survived.
The half ended with vice-captain Lee Keegan making a trademark run and finding the target. Ireland led by 17 at half-time.
The third period has traditionally been the 'moving quarter' where the professional Aussies' superior fitness comes to the fore.
And so it proved. Leigh Montagna, David Mundy, Luke Breust and Nick Riewoldt (2) raised red flags (for three points).
In response, McManus got another over and Monaghan's Darren Hughes was on the end of a length-of-the-pitch move to stop the rot.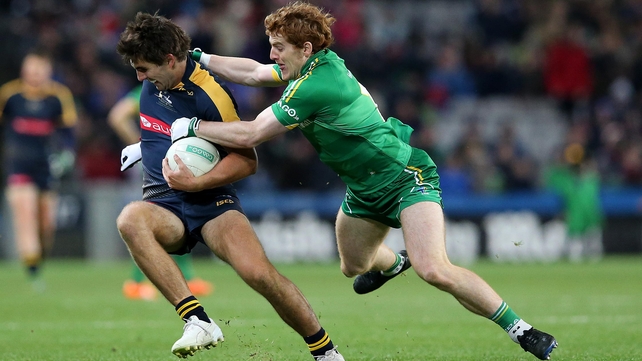 The boys from Down Under took the quarter 16-7 and set up a riveting final phase.
There was no score for five minutes before Paul Kerrigan added a behind to Ireland's tally.
The All-Australian side could smell blood and Betts and Gray scored overs to make it an eight-point game.
On the back of two superb marks from Clare's Gary Brennan, Ireland had the chance to kill off the comeback but Connolly ignored his furious skipper Brogan, who had all of 40 yards to himself, and saw his attempted lob collected with ease.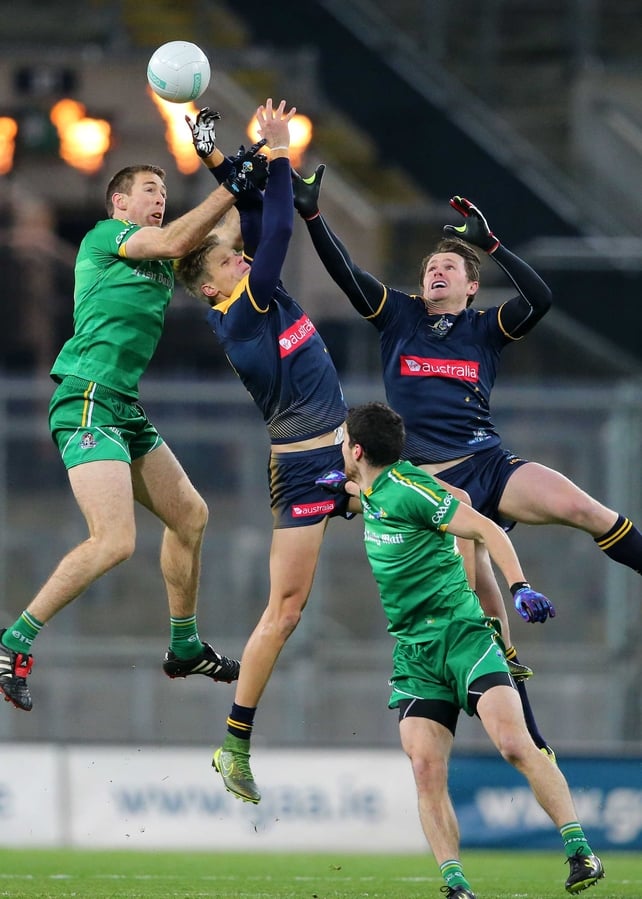 McManus should have hit the back of the net but his shot canonned off the crossbar and over. Ireland had an 11-point cushion, and they needed it.
Betts, winning his fifth cap, leaped and fisted in a lobbing squared ball with Roughead in the mix as well. After referees Joe McQuillan and Mathew Nicholls consulted with the TMO, the goal was awarded.
Gray followed up with an over and there were just three points separating the teams.
But four-time All Star Brogan got a vital behind and Ireland remained calm as they ran down the clock to claim the victory.
The GAA and the AFL are keen to explore the possibility of playing a Test in New York next year, and perhaps extending the series to more games. Contests like this will help them gain support.
Scoring
1st quarter score: Irl 21-13 Aus
Half-time score: Irl 43-23 Aus
3rd quarter score: Irl 50-39 Aus
Full-time score: Irl 56-52 Aus

Breakdown
1st quarter: Irl 21-13 Aus
2nd quarter: Irl 22-10 Aus
3rd quarter: Irl 7-16 Aus
4th quarter: Irl 6-13 Aus
IRELAND
Bernard Brogan (Dublin) (0-4-1), Lee Keegan (Mayo) (0-1-0), Niall Morgan (Tyrone), Colm Begley (Laois), Gary Brennan (Clare), Eoin Cadogan (Cork), Mattie Donnelly (Tyrone), Eoin Doyle (Kildare), Peter Harte (Tyrone), Darren Hughes (Monaghan) (0-1-0), Paul Kerrigan (Cork) (0-0-1), Jack McCaffrey (Dublin), Ciaran McDonald (Tipperary), Phillip McMahon (Dublin), Conor McManus (Monaghan) (1-3-2), Rory O'Carroll (Dublin), John O'Loughlin (Laois), Aidan O'Shea (Mayo) (2-1-0), Michael Quinn (Longford), Donnchadh Walsh (Kerry), Diarmuid Connolly (Dublin) (0-1-1), Paul Cribbin (Kildare), Paddy McBrearty (Donegal).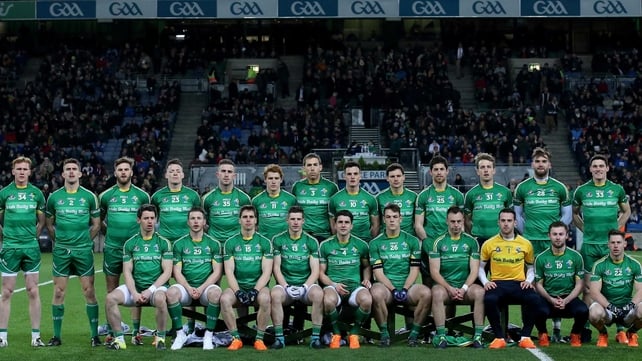 AUSTRALIA
Luke Hodge (Hawthorn), Dustin Fletcher (Essendon), Hayden Ballantyne (Fremantle) (0-1-0), Eddie Betts (Adelaide) (1-2-2), Grant Birchall (Hawthorn), Luke Breust (Hawthorn) (0-1-1), Patrick Dangerfield (Geelong), Andrew Gaff (West Coast), Brendon Goddard (Essendon), Robbie Gray (Port Adelaide) (0-3-1), Dyson Heppell (Essendon), Sam Mitchell (Hawthorn), Leigh Montagna (St Kilda) (0-1-0), David Mundy (Fremantle) (0-1-0), Robert Murphy (Western Bulldogs), Nick Riewoldt (St Kilda) (0-3-1), Tom Rockliff (Brisbane Lions) (0-0-1), Jarryd Roughead (Hawthorn) (0-1-0), Nick Smith (Sydney Swans), Jake Stringer (Western Bulldogs) (0-0-1), Harry Taylor (Geelong), Easton Wood (Western Bulldogs).