Waterford hurler Austin Gleeson has described the infamous helmet incident with Cork's Luke Meade in the All-Ireland semi-final as a "total accident" and expressed his relief that he is free to play in the All-Ireland final.
Gleeson scored a memorable second half goal to put Waterford five points clear of Cork with eleven minutes remaining. But most of the post-match hubbub revolved a first-half incident in which Gleeson was seen to grip the faceguard from Meade's helmet and pull it off his head.
Two Waterford players - Stephen Bennett and Tadhg De Burca - have both received one-game suspensions for helmet interference already this season, with the latter's case in particular provoking much debate around the rule.
A ban had been widely anticipated but referee James Owens intervened, telling the CCCC that he was satisfied with how he officiated the incident.
Once a referee intervenes in such a manner, the case is automatically closed and Gleeson was thus free to play in the All-Ireland final.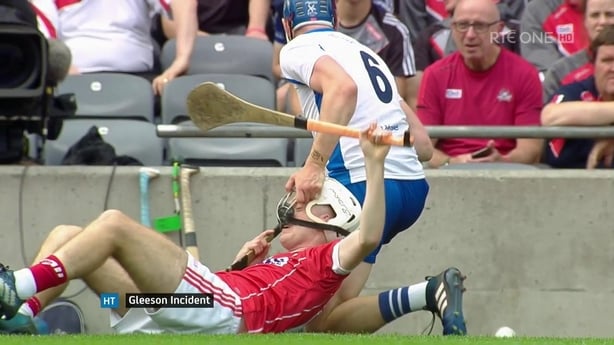 It later emerged, via Morning Ireland, that the CCCC were unhappy they weren't given the chance to adjudicate on the incident.
Speaking to RTÉ 2FM's Game On, the 2016 Hurler of the Year insisted that the incident was wholly accidental.
"It was a total accident, I suppose. We don't really want to dwell on it but it was a total accident. It was after the match that it came out that it could be in bother. But thankfully nothing came out of it and I'm looking forward to playing in the final."
Gleeson said that it never occurred to him in real time that something might be awry and it was only after the match that he was informed that a controversy was brewing.
"It was more so after the game when I was informed what happened. When it happened I didn't really realise what was after happening. I just took it as it came. And thankfully, in the end, I got out of it.
"There was nothing said at all afterwards. We were too busy celebrating getting into an All-Ireland final. We were just happy and ecstatic in the dressing room.
"I'm just happy that I'm able to play on the 3rd of September in the All-Ireland final. That's the main thing for me."
On the matter of the rule itself, Gleeson acknowledges that helmet interference is potentially dangerous and doesn't wish to see it discarded. But he would like to see greater clarification on the rule.
"We need more clarification on the rule, more so than a change of rule. It is dangerous to the sport. Maybe if the rule was clarified a bit more, there might be less incidents."