Austin Gleeson is free to play in the All-Ireland final against Galway.
Referee James Owens informed the Central Competitions Committee (CCCC) that he is happy with his officiating of the All-Ireland semi-final, which means the Hurler of Year will not be punished for Sunday's incident involving Luke Meade.
Gleeson came under fire following the All-Ireland semi-final when he pulled the helmet from the head of Cork's Luke Meade, grabbing it by the faceguard.
Once a referee tells the CCCC that they acted in a particular incident, the case is closed and no suspensions can be issued.
Waterford earned a comprehensive 4-19 to 0-20 victory over Cork in Croke Park on Sunday with Gleeson's second-half goal being a standout moment however it was over shadowed by the incident with Meade.
It was expected that Gleeson who is the current Hurler of the Year would face a suspension for his actions.
Cork's Patrick Horgan along with Waterford's Conor Gleeson were both shown red cards in the dramatic semi-final showdown. Gleeson looks set to miss the All-Ireland final but Waterford are expected to appeal.
"He's distraught, absolutely distraught, we have said we'll do what we have to do to get him back, said Waterford selector Dan Shanahan to RTÉ Sport.
"He's a man-marker. He's been man-marked himself playing football before. He's a good corner-forward in football and he's been man-marked by men and he knows how to mark fellahs. He's leggy, he's saucy, he's everything you don't want to be on and that's what he's all about.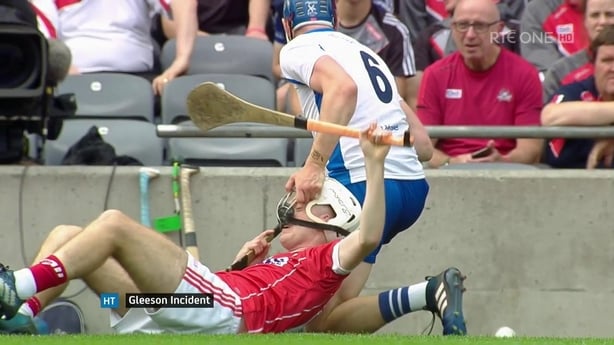 "If Conor's not there, please god he will be, Tadhg is back and we'll just have to drive on."
Controversial incidents involving helmets have been a hot topic this season after Waterford defender Tadhg de Búrca was shown a red card in his side's quarter-final victory over Wexford for deliberately interfering with the helmet or faceguard of Harry Kehoe.
 He appealed but was unsuccessful missing the the semi-final against Cork as a result.
And that wasn't the only chapter in the helmet story. In earlier All-Ireland hurling  semi-final between Galway and Tipperary,  Adrian Touhy came under the spotlight for an incident with Patrick Maher.
Both players were competing for the ball when Maher's helmet came off however Touhy faced no sanction for the incident and will line out in Croke Park on 3 September.