Slaughtneil's fairytale season shows no sign of ending any time soon and Chrissy McKaigue believes the pride and passion in representing the club is key to their success.
The Robert Emmet's club from Derry now boast a historic treble of the football, hurling and camogie provincial titles – all in 2016 after a three-point win over Kilcoo at the Athletic Grounds.
Five points from Shane McGuigan helped Slaughtneil claim their second crown in three seasons and an emotional McKaigue admitted it was difficult to put it all into words.
"It's impossible to sum up," he told RTÉ Sport. "It's pure relief because it's very difficult to get back to this scenario again so you want to make it count.
"It's testament to the playing group, to who we are as people.
"We have put in a lot of work and we've been through a lot of adversity."
Shortly before they completed their historic Ulster treble, RTÉ paid an exclusive visit to Slaughtneil - click here to see the results.
McKaigue says the recent run of success has been helped in part by a core of players who have soldiered through more difficult times.
"People now are always talking about winning, but this team and a lot of the older hands have had a lot of bumps on the road," he said.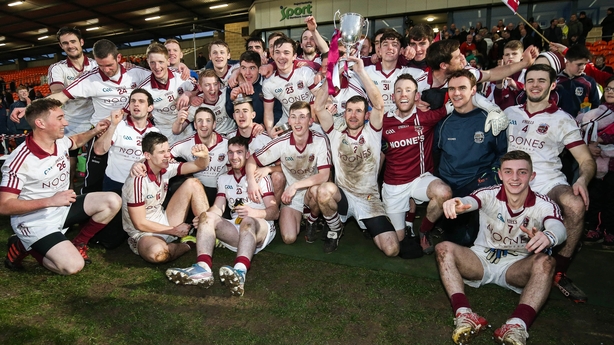 "Our young players don't know what losing is like.
"Your true test is always through adversity and challenge. We faced adversity in the second half again, but in typical Slaughtneil fashion we pulled through."
The inter-county player captained the club's hurlers to Ulster success and believes that it is possible to continue as a dual player with communication and cooperation.
"It's very difficult, but achievable with common sense. We're very player-driven. If the players feel something, they talk to management," he said.
"To be able to talk openly is a big thing and we're able to do that at this club.
"You get an extra boost when you have the Slaughtneil crest on you because we are very aware what our club and our community and our people are about.
"We take great pride when we go out to represent the generations that went out before us.
"Our legacy is to inspire the next generation."