Slaughtneil is a club like no other.
Situated the foothills of the Sperrin Mountains in south Derry, this is a small rural community of no more than 300 families.
Yet they have defied the numbers game to win the Derry double in hurling and football in each of the past three years. They've won senior camogie the last two seasons too.
Their small-ball teams, men and women, made history when they captured Ulster championships this year and their footballers are two steps away from making it an incredible treble.
Chrissy McKaigue captained the hurlers when they became the first-ever Derry club to win an Ulster senior title last month and he'll be a key player for the footballers when they take on Tyrone's Killyclogher at Armagh's Athletics Ground in a provincial semi-final on Sunday.
"It has been an unbelievable few years really in both codes and you've got the girls in the camogie doing very, very well too," said the 27-year-old teacher.
"It's due to years of dedication and hard work and the older hands in the club putting in the correct structures and it's paying dividends now.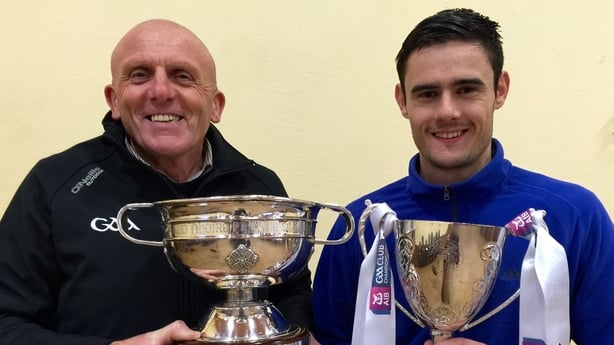 "Our club has been very, very proactive in the way that they've handled it - we have an excellent chairman and an excellent committee.
"We have very sensible hurling and football management teams and they understand that the club wants to compete on both fronts so we are sensible about how we approach football and hurling. 
"When championship season comes around the freshness of the teams takes precedence. In the GAA common sense often goes out the window, but in Slaughtneil we have gotten a lot of good out of the common-sense approach over the last few years."
Slaughtneil don't field teams in ladies football, preferring to concentrate on camogie - and it's a move that's clearly paid off. They lost last year's Ulster final, but bounced back in 2016 to take the prize and book their place in next year's All-Ireland semi-final.
Club chairman Sean McGuigan has been central to the success enjoyed by Slaughtneil over the past three years
Along with other members of the committee, he does his best to oversee both senior set-ups and ensure that the problems that dog other dual clubs don't arise.
There are almost a dozen players on both hurling and football panels, with most of them starters in every game.
Obviously there has been a lot of cooperation between football boss Mickey Moran, who managed Donegal, Sligo and Derry and took Mayo to the 2006 All-Ireland final, and the hurler's chief, Michael McShane.
"We do meet with the management every week and that's the only way to take dual clubs forward," explained McGuigan. "There are occasional hiccups, but mostly it's very good."
And according to the chairman, the real secret of the club's success is the buy-in from the entire population of the area, which has allowed the club to build on the solid foundations laid down by it's founders back in 1953.
"There's about 300 families in this townland and you'd want to see those four pitches in summer time," he said. "Those pitches would be occupied in the summer month with hurling, camogie and football and it's down to the men who got it going years ago."
Here come the girls @GACSlaughtneil #LaochraMna pic.twitter.com/vxIImBhbpz

— Joe McCloskey (@jcmccloskey) October 29, 2016
One of those men who worked so hard to get Slaughtneil on its feet was Thomas Cassidy, who was buried on the Friday before they beat two-time All-Ireland champions Loughgeil in the Ulster final last month.
"The whole week was very traumatic - we lost Thomas Cassidy, who was one of the biggest drivers of hurling in the club for decades," said McKaigue. 
"His vision was always that Slaughtneil would win an Ulster Club Hurling Championship and we lost him a few days before the game so that completely inspired us to a new level. To win that cup and to bring it back to Slaughtneil was just so, so special."
Before Slaughtneil Robert Emmets came into being 63 years ago, the local men played for Swatragh and Lisnamuck while the youngsters lined out for Glen in Maghera.
Over the years, hours of backbreaking toil went into developing their home, which now boasts four pitches, one fully floodlit and with a small stand, a hall, dressing rooms and gym.
Kevin Kelly was a boy when the club first started, but it quickly became his life and he has seen every stage of Slaughtneil's development.
"There was a lot of voluntary work went into that, taking out rocks and cutting down trees, getting it drained and sorted out," he said.
"If anybody had said 30 or 40 years ago what we'd be doing now we'd have said they were mad. It's just impossible! But it just shows you what hard work and cooperation between all the sections, football, hurling and camogie, can achieve.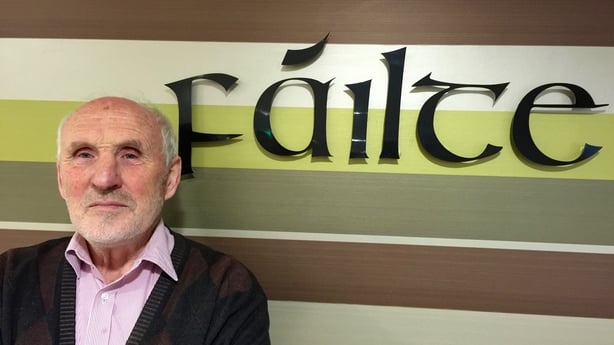 "They've achieved a lot more than we ever achieved, but if we hadn't kept it going maybe they wouldn't have had the chance to achieve!" he said with a twinkle in his eye.
McKaigue may be a good few years younger than Kelly, but he is uniquely positioned to speak about the place of Slaughtneil in the community and the reasons for the club's success.
Between 2008 and '11 he was a professional athlete on the books of Aussie Rules outfit Sydney Swans.
He returned home when it became clear he wasn't going to break into the first team any time soon.
"There's nothing that can replicate playing with your neighbours, friends and family - nothing can replicate that," he revealed.
"I came back from Australia a little disappointed how that worked out, but in hindsight it was the best thing that ever happened.
"If I hadn't come home, I wouldn't have got to experience the experience I have in the last three or four years. This club is very special to me and very, very special to all of us so it would be great for these times to continue."