Former Dublin All-Ireland winner Vinny Murphy believes it is up other counties to examine their own structures rather than complain about financial differences in order to compete at the highest level.
Jim Gavin's all-conquering side claimed a fourth Sam Maguire in six years when they edged past Mayo in this month's replay, but some have questioned the levels of funding they receive in comparison to the rest of the country.
The topic has been highlighted in recent years as the Dubs have taken a complete stranglehold on Leinster and have now become one of the most successful teams of all time.
The Dublin County Board undertook a root-and-branch investigation around 20 years ago and the foundations for the glittering success in recent years was firmly put in place.
Many observers are uncomfortable with the financial advantages in Dublin's favour, not to mention an ever-increasing player pool, but the 1995 All-Ireland winner says the only difference now is how Dublin are utilising their position of power.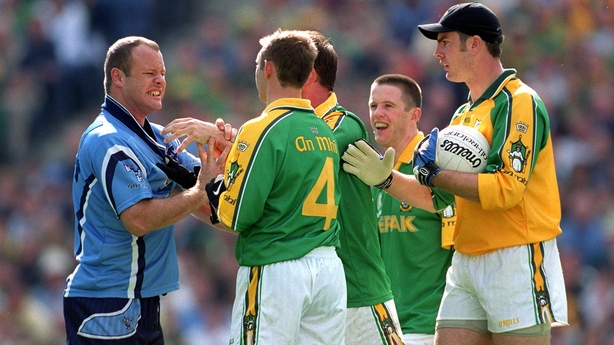 "I think Dublin have always had more money than the other counties. They have always had a bigger population," he told RTÉ Sport.
"I just think that the structures that the County Board, the Leinster Council and GAA put in process over 20 years ago is bearing fruit.
"I think people aren't giving enough credit to the people within the clubs...a lot of sweat equity is going into these players that they're not getting anything for."
Murphy, a player coach at St. Monica's GAA club, thinks the easy argument is to say that the silverware haul is simply down to money, but does suggest that if the domination continues beyond the next decade, it may be an issue that needs revisiting.
"It's up to the rest of the counties out there to step up to that mark, see what Dublin are doing and putting those processes in place"
"People are like, 'Ah yeah, sure they [Dublin] have all the money and players'. I just think we have a special group of players now," he said.
"We have two-in-a-row, four in six years and people are clamouring in that they are too successful because they have the money.
"They are using the money in the right way. The processes are there and it is all going back into the clubs and players.
"It's not for Dublin to say, 'We change everything', it's up to the rest of the counties out there to step up to that mark, see what Dublin are doing and putting those processes in place."