Tómás Ó Sé doesn't expect to learn anything new about All-Ireland champions Dublin this weekend and believes Down lack the players and confidence to defeat Monaghan in the Ulster SFC.
All eyes will be on Nowlan Park this weekend when Jim Gavin's side hit the road in the Leinster SFC for the first time in 10 years when they face Mick Lillis' Laois in Kilkenny (Live on RTÉ Radio 1 from 7pm, live tracker on RTÉ.ie).
Michael Darragh Macauley and Kevin McManamon have returned to the starting team for their championship opener and after cruising to a 54th Delaney Cup last year, Ó Sé doesn't foresee any early problems for the Boys in Blue in 2016.
"There's a lot of talk about it, Dublin's first game on the road in 10 years," he told RTÉ Radio 1's Morning Ireland programme.
"I don't think it will phase them.
"They won their three games on the road in the Allianz League and I think they will relish going down to Nowlan Park.
"It will fire them up and I think their supporters love travelling and this particular group of players under Jim Gavin, they won't like the talk of back-to-back, but they will continue their mantra of one game at a time.
"I don't think we'll learn too much about the Dubs.
"Laois beat Wicklow handy enough in the first round, but I don't think they have the team to defend in numbers and counter-attack the Dubs."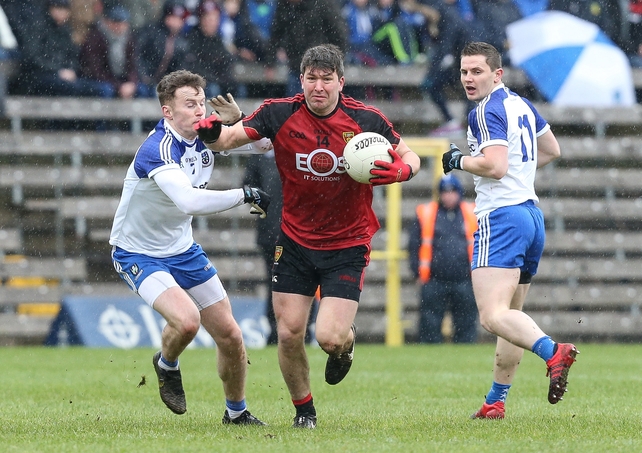 The other football game taking place this weekend is in Clones where Down will hope to put a miserable spring behind them as they aim to upset reigning champions Monaghan.
Manager Eamon Burns saw his side relegated from Division 1 after losing all their games with a scoring difference of -60 and expectations are low that they can halt a Monaghan side going in search of a third provincial crown in four years.
The RTÉ football analyst says that despite a good record against the Farney men, he cannot see the "football mad" county being able to cope with the current squad of players.
"Down don't have the players, physicality or confidence to beat Monaghan"
"Watching them [Down] against Kerry in the League, the absence of hunger and physicality jumped out at me," he said.
"They have lost the likes of Benny Coulter, Marty Clarke, Dan Gordon, Callum King, Dan McCartan, and they are simply not in a position to replace them at the moment.
"I can't see Down beating them.
"I don't think they have the players, physicality or confidence."
With one of the most gifted forwards in the game in Conor McManus to call upon, the former Kerry defender is expecting Monaghan to make their mark in Ulster again, but cautions that their tactical approach will have to change if they are to improve their record in Croke Park, having exited at the quarter-final stage in the last three years to Tyrone twice and Dublin in 2015.
"Monaghan's problem seems to be when they come out of Ulster," he said.
"In Ulster they have a commanding position at the moment
"It could be a long year for Monaghan, but I think they still need to tweak their system of play if they are to do well in Croke Park."