Bernard Flynn says he sympathises with Mick Lillis after the Laois manager criticised the "crazy decision" by the Leinster Council to schedule his side's provincial quarter-final with Dublin for Nowlan Park.
Laois beat Wicklow at O'Moore Park in their Leinster first round game, earning themselves a crack at the All-Ireland champions, but Lillis couldn't hide his frustrations after the match, describing the decision to play the game in Kilkenny as "crazy".
Former All-Ireland winner Bernard Flynn said Lillis' viewpoint was understandable and agreed that the game should be played at O'Moore Park as a reward for defeating Wicklow.
"I can totally understand his reaction," he told RTÉ Sport."I believed that if they beat Wicklow, which they did, they should have home advantage in Portlaoise.
"It doesn't make any sense to me to bring a big football game like that to Nowlan Park. There's no sense to it.
"It was fixed beforehand, I do know that but I can understand his frustration."
Last season Jim Gavin's side steamrolled their way to a 54th provincial crown, their 11th in the last 12 seasons, by defeating Longford, Kildare and Westmeath by an average of 19 points.
Their last encounter with Laois ended in an 11-point victory, but the decision to take Dublin out of Croke Park for the first time in a decade was hoped to make the province more competitive.
"The Dubs coming to Portlaoise, over the years there have been a few cracking games there, but it's in Nowlan Park and the only good thing is that the Dubs are out of Croke Park," Flynn added.
"Laois will have to improve a little bit on the performance against Wicklow, but it's just a shame it's not in Portlaoise."
Sunday Game analyst Colm O'Rourke agreed that Laois have a "justifiable case" to feel aggrieved with the choice of venue.
"Of course it should be in Portloaise, there's nothing wrong with the pitch there. I think the reason was there wasn't enough seating in Portlaoise, but the Dubs all stand on Hill 16 anyway," he told RTÉ Sport.
"It's a bit of a contradiction that you bring a football game to the only county who don't compete in the football championship.
"It would be the same thing as bringing Kilkenny to Drogheda to play the first round of the hurling championship."
Lillis said that the decision to stage the game in Kilkenny is unfair to Laois' loyal supporters.
"I don't think anyone is happy with it," he told RTÉ Sport.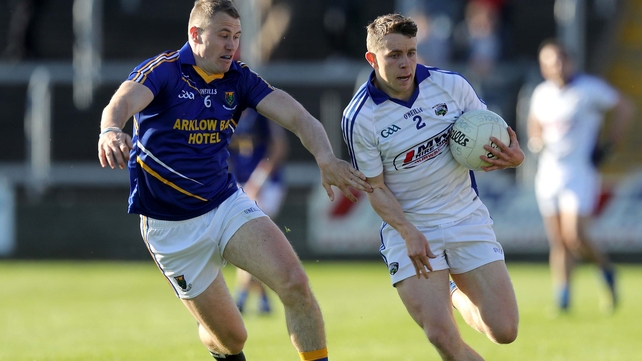 "It's not Dublin's doing, it's a Leinster Council decision and it's a crazy decision. We're not happy with it, but there's nothing we can do about it because it's out of our control.
"It think it's a pity that the people that have supported Laois over the years, the people who have put their hands in their pockets for GAA clubs over the years, the businesses in town and around the county, don't get a bit of a kick-back with the Dubs coming to town.
"The Dubs will bring great atmosphere and they will travel in numbers to Nowlan Park and it's a pity that they're not coming to Laois."