Peter Canavan does not expect the All-Ireland senior club football final to be replayed and was surprised that Glen lodged an objection following their defeat to Kilmacud Crokes last Sunday.
The Dublin and Leinster champions won by two points on the day but it emerged afterwards that they had had 16 men on the field for a 45 in the closing seconds.
Derry kingpins Glen submitted an objection on Tuesday night, after saying that the GAA had informed them the Central Competitions Control Committee would not independently review the incident. The rule governing having more than 15 players on the field [6.44] provides for penalties which include the awarding of the game to the opposing team, for the game to be replayed, or a fine.
"I would be very surprised if there is a replay," former Tyrone star Canavan told the RTÉ GAA podcast.
"Kilmacud will put in a counter-objection and claim that they have done nothing wrong. Even though it was clear that they had an extra player on the pitch, they will say that their sub was given the go-ahead to go in and that the referee didn't allow time to get the other player off the pitch. There are going to be hearings and appeals.
"It was a road I was surprised that they [Glen] did take. Malachy O 'Rourke, after the game, he knew that they were wronged and he wasn't happy about it but his initial reaction was 'That's it, there's going to be nothing we'll do about it, it's not Glen's way of doing things'.
"But I would say a number of people within the club, and a lot of neutral observers were encouraging Glen to go down this road.
"It's an unfortunate set of circumstances, I don't think there are going to be any winners out of it."
We need your consent to load this YouTube contentWe use YouTube to manage extra content that can set cookies on your device and collect data about your activity. Please review their details and accept them to load the content.Manage Preferences
The situation arose after Dara Mullin remained on the goal-line to defend the 45 despite Conor Casey coming on to replace him.
Canavan suggests that was an error on the officials part but he is wary of delays that could result from changing the rules to substitutions.
"In this case, the referee allowed the 45 to be taken when he should have signalled to Dara Mullin to get off the pitch.
"Did Dara Mullin know that he was being taken off? People were saying of course he did but I would argue that if he knew, he would have gone straight off after the 45. He stayed on and the referee then had to tell him 'You're off the pitch'. I honestly think he didn't know.
"As David Gough said, the [substitution] procedures are fundamentally flawed, with players running onto the pitch.
"[But] say if they do act on this, and implement a new rule that the player taken off has to come off before the other player coming on, in the last five minutes how many single substitutions will we have? Soccer-style, players coming off really slow, wagging at the crowd. It's going to frustrate a lot of people."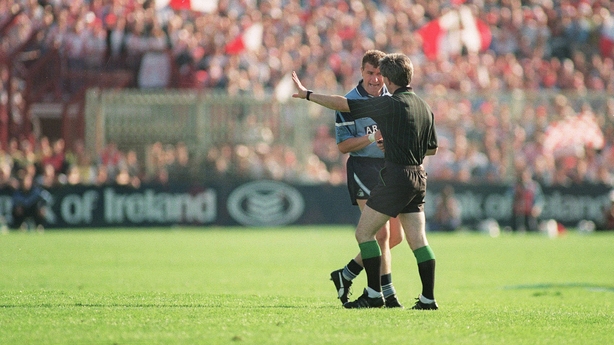 Canavan was on the field for a somewhat similar situation in Tyrone's 1995 All-Ireland final defeat to Dublin.
That day, Charlie Redmond stayed on the pitch for three minutes after being sent off, until referee Paddy Russell realised the Dubs forward was still on the field and caught up with him.
Canavan said an appeal "was mooted I think at the time. But back to Malachy's reaction, it was the same thing. We had our chance to win it and we weren't going to win it in the boardroom.
"We just felt there was no point. The presentation ceremony had been given, Dublin were awarded the Sam Maguire. I don't think we felt we could have gone back to it, even though we probably had good grounds."
The RTÉ GAA analyst added that in the event of a replay being ordered, the Derry county side, reigning Ulster champions, could suffer.
"When is this going to be finalised? It could well run into the end of February, start of March. Does that mean that those players will not play for their county teams?
"That has serious ramifications for the league, particularly from a Derry point of view. I'd say this was the last thing Rory Gallagher would have wanted.
"Derry are in Division 2 and if you come in the bottom two or three teams, there's every possibility you won't be in the round-robin, to perform in the Sam Maguire.
"So that puts serious pressure on him and his squad to make sure they're in the top half of Division 2 and they're possibly going to have to play a number of games without Conor Glass, Ethan Doherty and Emmet Bradley."
We need your consent to load this rte-player contentWe use rte-player to manage extra content that can set cookies on your device and collect data about your activity. Please review their details and accept them to load the content.Manage Preferences
Listen to the RTÉ GAA Podcast on the RTÉ Radio Player, Apple Podcasts, Spotify, or wherever you get your podcasts.