Failure to address the controversy surrounding the All-Ireland club football final and a breach of rules could have a significant legacy, according to former GAA president Sean Kelly.
It emerged after Kilmacud's two-point victory over Glen at Croke Park that the Dublin side had had an extra man on the field for the closing seconds, after Dara Mullin stayed on the pitch despite his number being called for substitution.
Having 16 players on the field is a breach of Rule 6.44, the penalties for which include the awarding of the game to the opposing team, for the game to be replayed, or a fine.
The Derry club have said they are "extremely disappointed" that the GAA will not review the potential rules breach without the club first submitting an official objection.
It is not known if Glen will lodge an objection - they have until 3.30pm on Wednesday to do so - and speaking to RTÉ Sport, Kelly said Glen have been placed in a very difficult position, while adding that the association would risk serious reputational damage if no action is taken.
A review of potential infractions of this rule can be instigated by appeal or an "inquiry by the committee in charge", so the Central Competition Controls Committee (CCCC) could also choose to investigate without a request from Glen.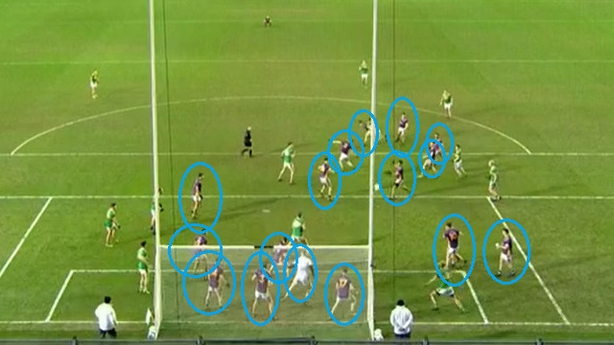 "The legacy would be that teams could possibly have 16 or 17 players on the field for much longer and will be able to point that nothing happened in the past, why should it happen now?" he told RTÉ Sport when asked of the potential fallout if no further action materialises.
"There's enough leeway there for the GAA to look at this, take a sensible approach.
"People will be fair minded, as they always are in the GAA, once they see leadership and fairness. Above all, it should not be left up to Glen to initiate the process.
It's unfair to ask Glen to object as they were not the organisers of the game
"That puts them in a very compromising position, whatever the outcome might be.
"It's unfair to ask Glen to object as they were not the organisers of the game. The organisers of the game have a responsibility to ensure that the technical rules are upheld."
Kelly also referenced an interview given post-match by Glen manager Malachy O'Rourke where he said they asked officials for the late '45' to be retaken given the numerical advantage to Kilmacud.
"There is an onus on the GAA as well to investigate if that happened, why wasn't it retaken," he added.
Failure to address the controversy surrounding the All-Ireland club football final and a breach of rules could have a significant legacy, former GAA president Sean Kelly tells @MartyM_RTE https://t.co/L8EultHkHc #RTEgaa pic.twitter.com/dqzdgOVp6v

— RTÉ GAA (@RTEgaa) January 24, 2023