"There's nothing else to do in Kilcoo. You go to Mass and have a few sheep. That's really it. Football is absolutely everything."
That quote to RTÉ Sport's Evanne Ní Chuilinn back in 2019 will probably always follow Aaron Branagan around.
It was an apt way of really hitting home just how central football is to life in a small but tight-knit locality like Kilcoo. Three years ago, as he said it, the Down club had just made the provincial breakthrough by winning their first Ulster Championship.
And fast forward to present day, the remarkable Kilcoo story has developed into one in which they are defending Ulster and All-Ireland champions, having dramatically claimed the national crown earlier this year.
On Sunday in the 2022 AIB Ulster Club final, they tackle the challenge of Watty Graham's, Glen who pushed them oh so close during last year's provincial campaign.
Given that Glen are a coming team who have made the breakthrough in Derry over the last couple of years, and are now aiming to carry that momentum into higher stages, Branagan sees a bit of Kilcoo's past trajectory in Sunday's opponents.
"I'm sure once you get into that Ulster campaign, sometimes it takes for you to be in it for a while to understand the game changes, you know. The intensity's different, the refereeing changes from what you had previously in your club and your county set-up," he said.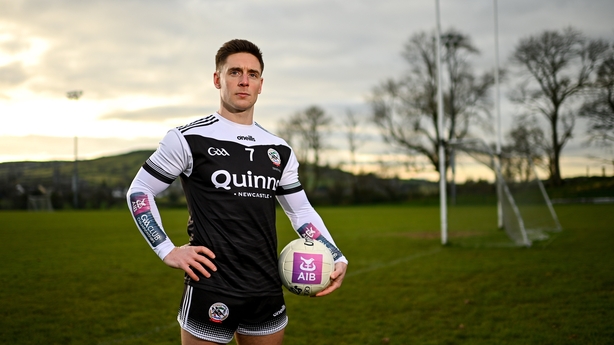 "So everything does change and I'm sure (Glen) have learned loads from last year's performance and yeah you could say, I'm sure, they've taken stuff from us as in terms of learn what we learned."
It's easy for the Kilcoo contingent to keep their feet on the ground despite the successes. On the pitch, they still have a target on their backs as the preeminent force in the club game but have powered through the rounds in Ulster, scoring a combined 5-28 in the quarter and semi-finals against Ballybay and Enniskillen Gaels respectively.
Liberated by February's All-Ireland win, the humility that runs through their veins has quiet confidence levels flowing alongside it now, which is something that they are embracing rather than playing down within the walls of their dressing room.
"Down was hard to come out of this year but I think with having won the All-Ireland, there's a lot more pressure off us and football's a lot more enjoyable," he said.
"People don't really see this side of the GAA but not that it's not enjoyable but when you're in that winning environment there's a lot of pressure on you and sometimes the enjoyment can go because there's so much pressure on. I know after we won Down, there was a pressure to win Ulster and once you win Ulster, you get beaten in an All-Ireland final. There was that pressure to get back there and now we've got to that holy grail, there's less pressure now because it's all bonus territory. Everything we do now is a bonus."
Off the pitch, Branagan, who runs the local gym, is still buoyed by the obsession with football that frequenters to his establishment bring with them.
'The quietness of Kilcoo, that's what makes Kilcoo what it is'
"Do you know what? There's a lot of loitering about after the class to ask me how everything's going and how everyone's playing and 'any injuries?' and all this sort of stuff," he said.
"But the people of Kilcoo, they love to know what's going on because they're so in deep with it. You know they need to know exactly what's going on.
"I'm sure if the changing rooms were allowed to be for everyone, there would be a 1,000 people sitting in there."
Aaron Branagan of Kilcoo after they reached the Ulster club final.

"That's the way we like it, nice and tough. There's nothing else to do in Kilcoo except play football. You go to Mass, have a few sheep and that's really it. So it means everything." pic.twitter.com/JDvWNHIsOp

— RTÉ GAA (@RTEgaa) November 17, 2019
And as for his 2019 quote? Reflecting on it now, experiences as a club in the interim has only intensified what community and football means for Kilcoo.
"It's the epicentre of the village and some people say 'you need to live a little'. Funny, we went to New York this year on our players' holiday and my brothers came and it was like if you've ever seen Mick Dundee when he came to New York. That was sort of like what our boys were like out there - they're slightly untouched to the real world," said Branagan.
"But the quietness of Kilcoo, that's what makes Kilcoo what it is and I genuinely meant that when I said that (in 2019) and I stand by that quote. I wasn't saying that as a smart thing, that is literally what Kilcoo is."