Kilcoo 2-08 Kilmacud Crokes 0-13 (aet)
A Jerome Johnston goal at the end of the extra time saw Kilcoo defeat Kilmacud Crokes and become All-Ireland club champions for the first time ever, following a highly absorbing decider.
With no competition last season, Kilcoo had an extra year of heartbreak to temper after Corofin defeated them in the last final played pre-pandemic.
As the game moved towards a climax, the Down champions found themselves staring down the barrel of further heartache. But when they found themselves two points down in injury time against an excellent Crokes side, that never-say-die Kilcoo attitude again, came to the fore.
All three Johnston brothers combined for Jerome to fire home the winner after Shealan cleverly found Ryan unmarked, only for his shot to be saved on the line and the rebound dropped to Jerome, who blasted to the net.
Kilmacud will wonder how they didn't clinch their third title, as they dominated for large periods but simply could not put Kilcoo away. Three points in succession during extra time looked to be enough and so did a powerful opening half in normal time.
The Dublin champions settled into things quickest. Rory O'Carroll, who was immense in the early stages, helped to calm his side with his presence alone and used all his experience to work the ball directly to his attackers.
Given Kilcoo's method of play, Kilmacud had to be quick and direct. Kilmacud captain Shane Cunningham opened the scoring with a mark with that methodology firmly in their minds.
Paul Devlin was uncharacteristically wayward both from play and from an early free, so Kilcoo relied on Darryl and Aaron Branagan to propel themselves into the showpiece. They did so valiantly but five wides clocked up midway through the half meant the Down champions were feeling the pressure earlier than they liked.
Kilmacud fired on, playing with ease and finding the target far more efficiently through the impressive Craig Dias and a Tom Fox free. Dias would play no part in extra time and that had an impact on the outcome.
Jerome Johnston would finally open Kilcoo's account just after a huge moment in the game. Eugene Branagan found Conor Laverty with space and time at the back post, Laverty dummied himself into more space and time only to be denied brilliantly by Conor Ferris.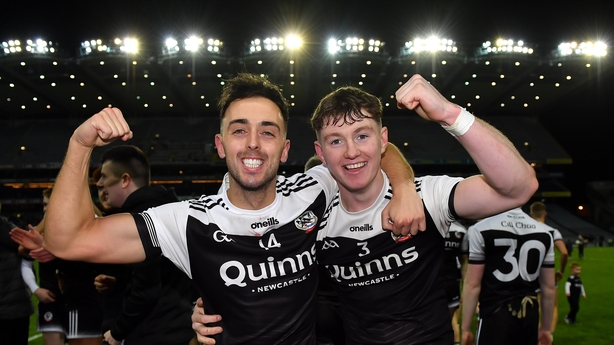 The lively Dara Mullin countered and Laverty soon amended with a point but a Shane Horan double allowed Kilmacud to take a firm grip on proceedings. Goalkeeper Ferris joined the attack and with plenty of targets and purposely no inside line movement. Horan drove at Kilcoo and twice finished on the run.
Kilcoo full back Ryan McEvoy clipped over a free only for the score to be wiped off thanks to Hawkeye. Correct decision but a sign of how much of a struggle it was for Kilcoo at the time.
Andrew McGowan typified Crokes approach, full of running, athleticism and worked a couple of one-two's up the field with the finish to match. McGowan's score made it 0-08 to 0-02 at half-time with Kilmacud firmly in the driving seat.
Dias looked to have given the Leinster champions the perfect start to the half only for Micéal Rooney to take the ball off the line. How crucial that save was, come the end of the game. Dias would point later but Kilcoo were about to take over.
The Ulster side, now with a lead to chase played with abandon, shaking off the heavy pressure they put themselves under in the opening half. The introduction of Anthony Morgan had a profound impact too.
Devlin also upped the ante, as the free taker chipped away at the deficit with a cool brace. Despite the fightback you felt the lead was sustainable for Kilmacud and a tough ask for Kilcoo to climb.
However, the final's momentum swung in an instant when Kilcoo goalkeeper Niall Kane's lowly struck '45 was deflected past Morris by his own cornerback Ross McGowan and suddenly Kilcoo were only two down and in the habitat where in which they thrive - a dogfight.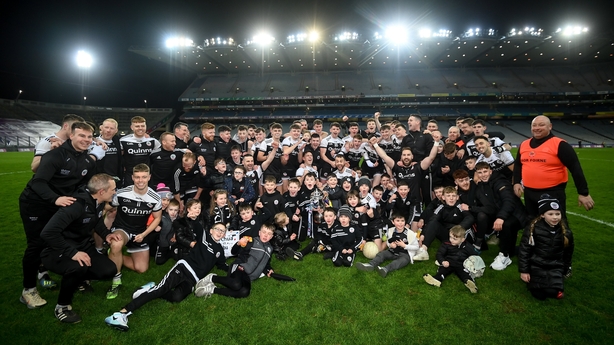 Laverty seized the initiative further to make it a one-point game at 1-05 to 0-09 but Kilmacud showed resolve too.
After some long build up play, substitute Cian O'Connor stood up to nudge Robbie Brennan's side two points ahead only for Devlin to again chip away with another brace. His first a free and then a leveller from play to bring the decider to extra time at 1-07 to 0-10.
Substitute Morgan drew first blood in the first period to give Kilcoo the lead for the first time.
O'Connor again showed ice cool nerves to level with a free just before the half in extra time in the midst of their three-point run. Callum Pearson and O'Connor with the third, in what looked to be the winning free.
But that was before Jerome Johnston pounced after brother Ryan's shot had been stopped on the line.
Credit must go to Kilcoo manager Mickey Moran . He reintroduced both Ryan and Shealan Johnston back into the game. Both of them were key in the lead up the games defining moment that would see Kilcoo joint-captains Conor Laverty and Aidan Branagan lift the Andy Merrigan Cup either side of Moran on top of the steps of the Hogan Stand.
Kilcoo: Niall Kane (1-00, 1-00'45); Niall Branagan, Ryan McAvoy, Aaron Branagan; Miceál Rooney, Darryl Branagan, Eugene Branagan; Dylan Ward, Aaron Morgan; Ceilum Doherty, Jerome Johnston (1-01), Shealan Johnston; Conor Laverty (0-02), Ryan Johnston, Paul Devlin (0-04, 0-03f).
Subs used: Anthony Morgan (0-01) for R Johnston (35), Aidan Branagan for Aaron Morgan (48) R Johnston for S Johnston (59), S Johnston for Rooney (HT ET), Justin Clark for Doherty (77), Seán Óg McCusker for J Johnston (79).
Kilmacud Crokes: Conor Ferris; Michael Mullin, Ross McGowan, Dan O'Brien; Cillian O'Shea, Rory O'Carroll, Andrew McGowan (0-01); Ben Shovlin, Craig Dias (0-02); Shane Horan (0-02), Dara Mullin (0-02, 0-01m), Aidan Jones; Hugh Kenny, Tom Fox (0-01, 0-01f), Shane Cunningham (0-01, 0-01m).
Subs used: Cian O'Connor (0-03, 0-02f) for Fox (42), Conor Casey for Horan (54), Anthony Quinn for Jones (54), Callum Pearson (0-01) for Kenny (54), Conor Kinsella for Dias (61), Theo Clancy for M Mullin (FT), Aidan Jones for Ross McGowan (66), Mark O'Leary for Cunningham (70), Shane Horan for D Mullin (HT ET).