Former GAA president Liam O'Neill has said that the various Gaelic Games associations must not waste the golden opportunity of having Mary McAleese as chair of the integration process.
The former President of Ireland has agreed to be independent chairperson of the discussions between the Camogie Association, the GAA, and the Ladies Gaelic Football Association, and O'Neill said that she is the right person to tackle the thorny issue.
"I'd have great confidence that she will do it," O'Neill told the RTÉ GAA Podcast.
"She is an expert at bringing people together. I hope people embrace this opportunity openly and honestly and say 'yes, this is for our good, let's see how we can do it.'
"I think it's a wonderful compliment to the GAA family that a person of Mary McAleese's status would do this for us.
"That's the success of the GAA, that we can get people to do voluntarily for us what you couldn't pay money for – to have someone of her status willing to do that."
We need your consent to load this rte-player contentWe use rte-player to manage extra content that can set cookies on your device and collect data about your activity. Please review their details and accept them to load the content.Manage Preferences
The integration issue has been a long-standing one and it was something O'Neill tried to solve, unsuccessfully, during his tenure between 2012 and 2015.
However, it took a significant step forward in 2022 with the GAA congress voting 89.8% in favour of a motion calling for the three associations to merge, with 83.8% supporting the motion at the LGFA congress and 97% doing likewise at the Camogie congress.
While it has taken a long time to get to this point, O'Neill said that it was vital that the actual process shouldn't be rushed and feels that it could be in place by 2025.
"[It could be] completed in three years. It's like when you start breaking down walls or even building walls, it goes quicker as you do it.
"The main thing would be to start, get the ball rolling. It might even come quicker than that.
"I think people would be fearful of a quick fix, and I can understand that. If we took three years, what about it? Wouldn't it be great if the end goal is achieved and little boys and little girls could say 'we're going to grow up in an organisation that values us equally.'"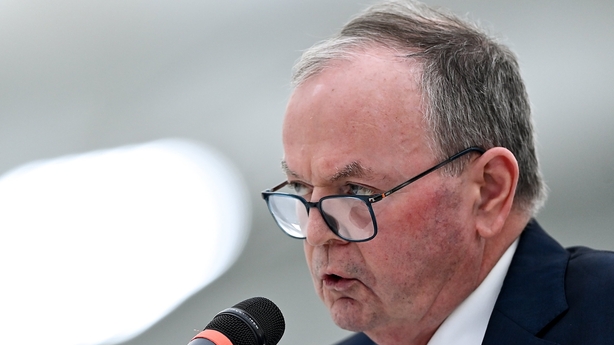 O'Neill, who is a guest on the Camogie Association's resource management team, said that although discussions will present difficult possibilities, McAleese's demeanour will ensure they can be overcome.
"She sees the possibilities, not the difficulties and always did. That was a trademark of her presidency – she saw possibilities."
A timeline on discussions between chairperson McAleese and the three associations will be agreed in the coming weeks to advance the project.
Listen to the RTÉ GAA Podcast at Apple Podcasts, Soundcloud, Spotify, or wherever you get your podcasts.