Former GAA President Liam O'Neill has backed the Wexford GAA motion calling for the introduction of lifetime bans for spectators who abuse officials at games.
The calls follow on from reports of an alleged assault on a referee at a Junior B football match between St Joseph's and Our Lady's Island on Sunday morning.
Speaking on RTÉ Radio's News at One on Monday, Wexford GAA chairman Micheál Martin confirmed that the referee had not been seriously injured.
Speaking on the RTÉ GAA podcast, O'Neill, who served as Leinster council chairman prior to stepping up to the GAA President's role, supported the Wexford proposal and condemned what he portrayed as a tendency towards excuse-making for abuse of officials.
"I really admire the stance taken by the Wexford county board chairman Micheál Martin. Faced the thing honestly and openly, didn't try to shirk it. Didn't try to hide or say it's improving or anything like that.
"Our rulebook only allows for a 48 week suspension. That's the max you can give. That's across the board. But there is another option.
"In my time as Leinster chairman, I went further than that. Over a person who climbed over a fence and did damage on the playing surface. I expelled the man. In fairness, he took it well. He knew he had done wrong. He knew he had misbehaved. He knew it was outrageous. We did that and we expelled him.
"There is no acceptable level of violence. Absolutely not. Whether you push a referee or you trip him or whether you hit him, they're all very serious.
"A person doesn't leave his family and his home and go out to referee a match to do anything other than the best job he or she can do. We have to get that across as a society. The excuses are just that.
"Because the GAA is a grassroots organisation and a community organisation, people will stand by the person and say he's a nice man, he does great work in the club, sometimes he just loses his head at games. My answer to that is 'No! The part of that man that loses his head at games, that has to be dealt with too. Nothing excuses it, I don't care what voluntary work that person does at the club. When you step over the line, you must be punished.
"Micheál Martin said it was a societal issue and it certainly is. But we have to face it. We have to do our bit and show leadership on it. I like the idea of them bringing a motion to Congress. It puts it on the agenda."
O'Neill insists the GAA rulebook as it stands is fit for purpose - it's the implementation that is the issue, which he attributes to deep-seated cultural issues.
"It's fit for purpose if it was implemented. When you're cited in other sports, like rugby, you answer for your offence. We are slower to do that because the Irishman doesn't like rules and doesn't like being made [to] keep rules. I had a brother who lived on the continent for a long time and his attitude to a rule was 'oh, I must obey that'. The Irishman's attitude to a rule is 'oh, I must get around that.' That's endemic in us. It's a cultural and historic thing.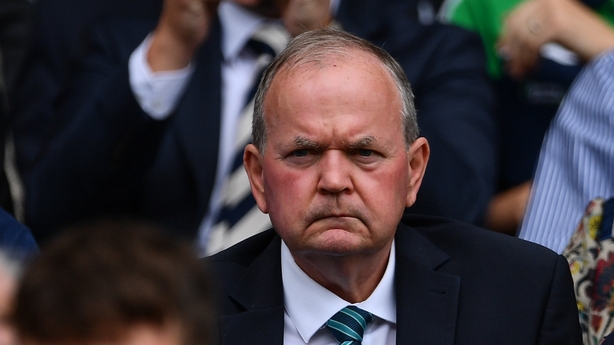 "But you're asking me how could you change the culture? Very easily. Implement the rules. If you misbehave, you're expelled. Gone. If you don't do it, no amount of sanctimonious talk will make up for the fact that you weren't brave enough to say to someone 'your behaviour is unacceptable, we don't want you, we don't need you, leave.'"
O'Neill argued that the option of exclusion, rarely deployed nowadays, should be used more often than it is and also posited that a rules test could be applied to members seeking to be allowed back into the organisation having abused an official.
"Oh absolutely! Why would any organisation tolerate a person who lets it down? If someone misbehaved in a golf club, no one would be surprised at them being expelled. But, it's a case of 'ah sure, we're an amateur organisation'... I think that an amateur organisation should say we will be accountable to the highest possible standards.
"I did suggest at one stage that we should have a rules test for a person to be allowed back after a suspension for abusing a referee.
"It's hard to implement that kind of thing. But if we did have that code in clubs that if we said, d'you know what, you're not going to be allowed back until you actually learn the rules and do a test on them.
"It's a bit like if you have severe motoring offences in some countries, they make you re-sit the test. There should be a test and a person should be asked to prove that they know the rules better than the referee because quite frankly, anyone who abuses a referee doesn't."
We need your consent to load this rte-player contentWe use rte-player to manage extra content that can set cookies on your device and collect data about your activity. Please review their details and accept them to load the content.Manage Preferences