John Casey believes that new Mayo manager Kevin McStay's biggest task will be restoring the faith of supporters bruised by recent failures.
The Green and Red have lost six All-Ireland finals over the last decade but the defeat to Tyrone in 2021 cut particularly deep, especially as the county had ended Dublin's six-year reign in the semi-finals.
This year's title tilt ended with an eight-point quarter-final defeat to eventual champions Kerry.
Mayo fans are regarded as among the most passionate in the country but Casey feels that even their enthusiasm has been tested in recent years.
"One of Kevin's big jobs early on is to get that love in Mayo football back," the former Mayo forward told RTÉ Radio 1's Saturday Sport.
"I think the loss to Tyrone in the All-Ireland final hit a lot of people very hard."
"I felt a bit of disillusionment had set in amongst the supporters in 2022. They weren't really attending games in the huge capacity that they used to."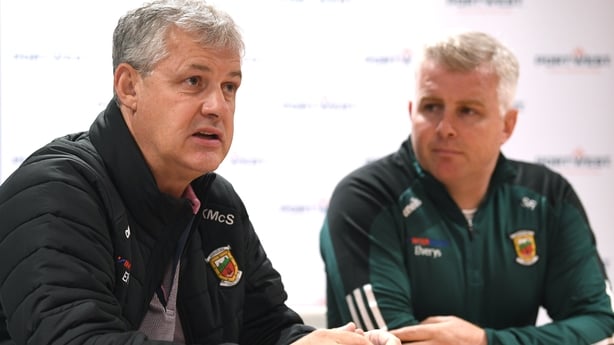 But Casey believes McStay and a backroom team that includes former Mayo boss Stephen Rochford and Liam McHale can rebuild confidence as the county start again on the now 71-year search for Sam.
"His desire and enthusiasm, to give up what he had, he was obviously desperate for the job after being rejected twice.
"He's very meticulous but the team he has surrounded himself with is very important. He has armoured himself with this brilliant backroom team, all with their individual abilities, and I think they are very much appreciated in Mayo football.
"His press conference during the week certainly made people sit up and think. Any of his selectors who thought they were going in for an easy time certainly got their eyes opened. He's going to demand huge work-rate from everybody within the group.
"There's a little bit of excitement building around here."
Kevin grabbed my arm and said 'You should have scored another two points'
Casey shared a recollection from his own playing days of McStay's attention to detail.
"He coached us in 1995. We had played Roscommon and I scored my first goal in the championship.
"I thought I was great walking off the pitch. Kevin grabbed my arm and said 'You should have scored another two points' and he went through the manouevres on the pitch with me.
"'You should have shimmied to your left, you should have swung around on a loop. You missed two sitters'. I went 'OK. Back in your box John'.
"He obviously has a massive desire for Mayo football and he is getting his chance now."
We need your consent to load this YouTube contentWe use YouTube to manage extra content that can set cookies on your device and collect data about your activity. Please review their details and accept them to load the content.Manage Preferences