Possibly not the All-Ireland final pairing that was anticipated - but not exactly a novel one either.
Kerry, impatient for the return of Sam, have been favourites for the 2022 championship since running riot in the Division 1 final back in April.
Galway, after two stuttering years during the pandemic, have come of age in thrilling fashion this summer, returning to the biggest stage for the first time in two decades.
For Kerry, in particular, the pressure is said to be intense but then, generations of Kerry footballers have had a long time to get used to that.
Jack O'Connor was not recalled from Kildare in a hurry to preside over a transitional period or nurture a young crop with a view to winning 'down the line'. He was hired for his proven track record of winning All-Irelands and winning them quickly. The remit was to get back Sam as soon as possible. Today is as soon as possible.
In the glow of victory after the Dublin game, O'Connor was quick to remind the media - and the public by extension - of his bona fides in that regard.
"Maybe I know some of the pitfalls in the build-up. Especially in Kerry - they tend to get a bit carried away," O'Connor said.
"So, I might be able to pass on a bit of advice to, you know, avoid all the noise, the outside noise, and just concentrate on getting a performance. If that's a help, so be it."
For a long time, the counties have been stuck in their own mutual appreciation society. Two counties on the Atlantic seaboard with sizeable Gaeltacht regions and a reputation for free-flowing football, etc, etc.
Notwithstanding the increasingly pragmatic approaches adopted by both teams in recent years, this image apparently still holds. As Barry John Keane said to RTÉ Sport during the week, "When I was a young fella, I loved watching Galway. Pádraic Joyce, (Michael) Meehan, phenomenal. They're the closest thing I've played against to Kerry, football-wise. On talent alone. I'd still say that."
Footage of Declan Meehan's goal from early in the 2000 All-Ireland final replay has been circulating heavily online this week - as time has gone on, it now stands as a Gaelic football equivalent of the Carlos Alberto goal.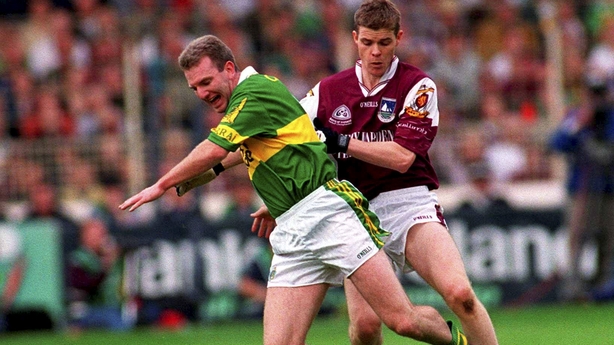 Since the noughties, most of the appreciation has been coming from the Kerry direction towards Galway, usually from the safety of the winners' enclosure. Pat O'Shea's words after the famous 2008 quarter-final in the downpour - "We would always have the greatest respect for Galway. Galway have probably the purest footballers in the country and they have always played great football" - were typical of the genre.
Underlying the acclaim was the uncomfortable suggestion that Galway were Kerry's ideal opponents, a competitive outfit full of talented kickers who'd test them out but without throwing any dastardly Ulster style curveballs at them. The 2008 encounter, when Michael Meehan won Man of the Match with a 10-point haul but Kerry scored 1-21 in desperate weather, was not a game characterised by suffocating defence. Kerry subsequently lost the All-Ireland final to Tyrone.
Ten years later, while the World Cup final was going on elsewhere, it was a very different Galway side, evincing a very different attitude, who ended their losing run against Kerry in similar weather on the first weekend of the Super 8s.
This was a Galway team who'd undergone a painstaking process of re-invention under the exacting management of Kevin Walsh, who'd ended an eight-year drought in the Connacht Championship in 2016, adding another two years later.
"Kevin brought Galway into the modern era," said Sean Óg de Paor during the week. "We were probably a bit slow as a county to modernise the way we play. We were still playing '90s/2000s football."
At the time of his appointment, Joyce was initially perceived as a manager who'd swing them back towards a more open game. However, watching them in 2022, particularly their negotiation of the semi-final against Derry, their tactical approach suggests a reasonable degree of continuity from the Walsh era to now.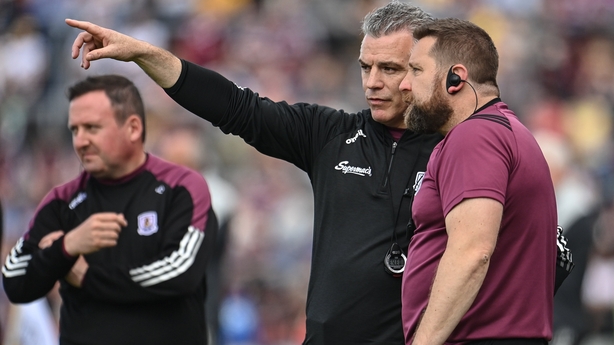 After a couple of frustrating pandemic years - which Gary Sice asserted during the week presented a particular "nightmare" for newly installed management teams - Galway seemed to have cracked the code in 2022.
Joyce already had '98 mucca John Divilly, two-time Sigerson Cup winning manager, on his backroom team, alongside Milltown's John Concannon. Into that set-up arrived former Kildare boss Cian O'Neill, part of Kerry's management team in 2014.
Always boasting a flashy ensemble of attackers, Galway's smother defence has represented their biggest improvement this summer. Their strategy of crowding out the opposition attack and then transitioning from back to front at speed proved hugely successful in the Connacht final against Roscommon and - after a sluggish start - in the quarters against Armagh.
The Derry game presented a different conundrum but Galway survived a shaky opening quarter to win with surprising comfort in the end. They restricted a Derry side - who were admittedly wasteful in the first half and cumbersome in the second - to a miserable tally of 0-06, only conceding a consolation goal at the death. Their attack was cagey and ponderous in the early stages but once they began kicking early ball into the electric Comer, sparks began to fly.
"There is a sign in the dressing room going out the door saying to find a way," said Joyce afterwards. "You are not always going to win a game by kicking 2-19 or 2-20, the most pleasing part is the lads did find a way."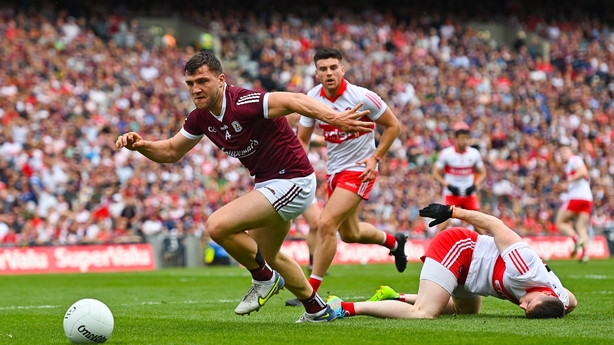 Mountbellew's John Daly - son of Val, brother of Michael - has been one of the breakout stars of the season, flourishing in particular against Derry, where he kicked a timely point in the first half and was centrally involved in the creation of both goals.
Up front, their shooting efficiency, which let them down so badly in the '18 semi-final against Dublin, has been excellent - save for the early stages of the Derry game. From their ensemble forward line, usually one will hit top form. Rob Finnerty shone against Roscommon and Armagh, was shut down against Derry, whereupon Damien Comer stood tall as the match-winner.
They've won essentially every game of consequence since the beginning of the year, 11 of 13 across league and championship, losing only what was, for them, a dead-rubber league game against Roscommon in Hyde Park with promotion already assured and then a strictly ornamental Division 2 final against the same opposition the following week.
Kerry finally harpooned their white whale in the capital a fortnight ago, celebrating in the aftermath with riotous abandon.
Opinion was divided following the Dublin game, as to whether Kerry had edged it in a classic, banishing their recent demons in the process, or whether they had merely crawled over the line against an opponent badly weakened by injury and recent retirements.
O'Connor was keen to tout the match as a classic in the post-match press conference, though his audience were hesitant in agreeing.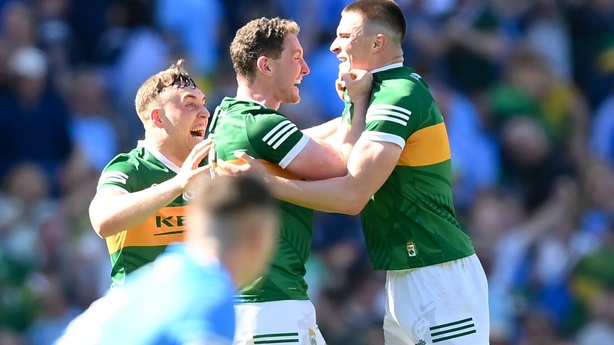 Notwithstanding the various reports of 'Kerry 38' T-shirts floating around the place, the numerous pundits from the Kingdom have been suitably cagey and circumspect ahead of Sunday's match, professing their usual wariness and deep respect for Galway.
In a sign of intent at the beginning of the year, O'Connor immediately drafted ex-Down manager Paddy Tally into his backroom team, the Ulster coaching guru deeply associated with Galway's defensive tightening in 2018. Though it's not been widely referenced, Kerry have only conceded three goals in 12 matches in 2022.
Tadhg Morley's role as sweeper has been credited, Jason Ryan detailing in his analysis yesterday how Kerry very effectively clogged up the scoring zone against Dublin.
David Clifford, already hailed as the most complete forward anyone has ever witnessed, is expected to collect his first All-Ireland medal sooner or later, likely sooner. Since a virtuoso league final display, he's been dogged by fitness issues this summer and has trained sparingly. After a bravura first half against the Dubs, the Fossa player appeared to wane in the closing stages, though this was of a piece with Kerry generally. He still had the nous to earn the last-gasp free from which O'Shea won the game.
O'Shea, notwithstanding the penalty miss and the subsequent shenanigans following the agricultural rebound attempt, delivered an authoritative all-round display against Dubs, his last-gasp free overshadowing his slickly taken goal in the first five minutes. Paudie Clifford, awarded Man of the Match amid some disagreement, rustled up two points as the tension was cranked up late in the game.
Kerry have won All-Irelands before with less riches than that.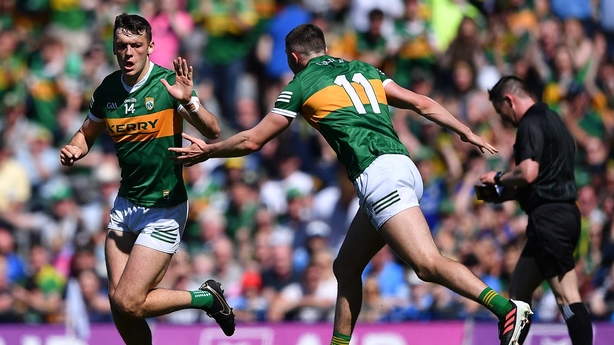 As regards the monster in the corner, Clifford, Joyce has conceded that the best Galway can hope for is to "limit the damage." It remains to be seen whether their livewire full-back Sean Kelly or Liam Silke, who did an expert job on Shane McGuigan, will be detailed as his primary marker. Either way, leaving Clifford one-to-one is a kamikaze move and Galway will likely gather a cluster of defenders close to him.
David Moran, at 34, is still a fine footballing midfielder and an elegant foot-passer, albeit prone to the odd error - under little pressure, he committed the turnover from which Dublin worked their goal early in the second half. Galway's midfield of Paul Conroy and Cillian McDaid, both industrious and coursing with football ability, has emerged as a core strength and their numbers on opposition long kick-outs are impressive.
Shane Walsh, rampant in the Connacht final, has at times struggled for oxygen under the claustrophobic marking of James Morgan and Conor McCluskey in the Armagh and Derry games respectively. Jason Foley will be seeking to deny Galway's inside forward terrier Damien Comer the chance to wreak havoc so freely as he did in the semi-final.
The idea, derived from the reputation of the combatants, that we'll get a purists' exhibition has been widely dismissed as folksy blather. Contrary to popular imagining - and the memory of the Meehan goal - we weren't treated to one in 2000 either.
It's in Galway's interests in particular to crowd out the space in front of Clifford. A cagey first half is anticipated.
Galway, on the crest of a wave, can sweep away any opponent. They have a strong recent history against Kerry. In addition to the 2018 Super 8s match, there was the 2017 U20 semi-final, where a Kerry side containing Seanie O'Shea, Jason Foley, Tom O'Sullivan, Gavin White, Brian O Beaglaoich, Killian Spillane and Shane Ryan lost to a Galway team containing Sean Kelly, Rob Finnerty, Cillian McDaid, Kieran Molloy, Dylan McHugh and Dessie Conneely.
The balance of logic suggests that Kerry's new terrible twins, Clifford and O'Shea, cannot be denied for much longer. On the whole, with their greater big day experience, they look to be just about the surer bet but they best be on their guard against the wildcards from the west.
Kerry: Shane Ryan; Graham O'Sullivan, Jason Foley, Tom O'Sullivan; Brian Ó Beaglaíoch, Tadhg Morley, Gavin White; David Moran, Diarmuid O'Connor; Jack Barry, Seán O'Shea, Stephen O'Brien Paudie Clifford, David Clifford, Paul Geaney.
Galway: Connor Gleeson; Liam Silke, Seán Kelly, Jack Glynn; Dylan McHugh, John Daly, Kieran Molloy; Paul Conroy, Cillian McDaid; Patrick Kelly, Matthew Tierney, Johnny Heaney; Robert Finnerty, Damien Comer, Shane Walsh.
We need your consent to load this YouTube contentWe use YouTube to manage extra content that can set cookies on your device and collect data about your activity. Please review their details and accept them to load the content.Manage Preferences
Listen to the RTÉ GAA Podcast at Apple Podcasts, Soundcloud, Spotify, or wherever you get your podcasts.
Follow the All-Ireland Football Championship final on Sunday, Galway v Kerry, from 2pm via our live blogs on rte.ie/sport or on the RTÉ News app. Watch live coverage on RTÉ2 and RTÉ Player with live radio commentary on RTÉ Radio 1 and Spórt an Lae on RTÉ Raidió na Gaeltachta