Nine days after Seanie O'Shea curled his immortal long range free inside the wobbling right-hand upright at the Hill 16 end, the mood in Kerry is becalmed as they seek to end an eight-year wait for All-Ireland glory.
There were conspicuous displays of euphoria at the final whistle after Kerry finally got over the Dublin hump at the seventh time of asking in championship - ending a 13-year drought in the fixture.
However, Barry John Keane, a member of the triumphant 2014 side, says things have gone into a lull in the week since.
"The last week since the Dublin game, there was a bit of hype for a day or two after but things have really been quiet since," Keane told RTÉ Sport.
"There's not much coming out of the camp. There's not much flags or bunting up. Maybe there will be this week but things have been quiet.
"I think they know the job isn't done yet. Is there two or three or four of them hanging around from that '14 team, they're hanging on to try and get that last medal.
"Where the rest of them, most of that group have all underage medals, minors, school medals, Hogan Cups. There's a nice mix there in terms of the pressure."
While Jack O'Connor was keen to tout the Kerry-Dublin semi-final as a classic, others were more circumspect and there were mixed views on Kerry's display, some choosing to extol the first half performance, in particular those of O'Shea, Tadhg Morley and the Cliffords.
Others, however, were inclined to suggest that they fell over the line against a Dublin team weakened by the absence of Con O'Callaghan.
"I thought Kerry were the best I've seen them for a long time in that first half," says Keane.
"If Seanie O'Shea had put that penalty away, you're looking at seven points (margin). I don't know has anyone gone in seven points in the lead on Dublin in the championship since they've gone on that run.
"Yes, they would have got a purple patch in that second half but with a seven point gap, you need a few goals. Kerry didn't give away many goal chances besides James McCarthy's (in the first half) which was half a chance.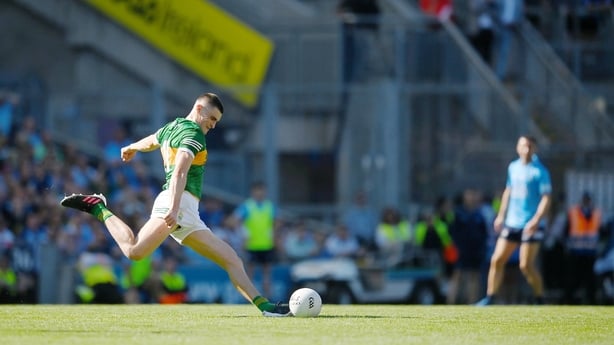 "I don't even think Cormac Costello's was a goal chance, he just took it on. It was ridiculous. Not many fellas would be able to do that. He had only one pocket to put it in.
"It went down to the last kick of the game. Which I thought it would. I'm delighted Kerry won. But I would have loved another 10 minutes either half, to see both teams unloading the benches. I wouldn't be for the penalties but it would have been nice to see another 20 minutes."
Kerry's biggest improvement in 2022 has been seen in their defensive solidity. Across 12 games in league and championship, they've shipped just two goals in total - less than they conceded in a single afternoon against Tyrone last autumn.
For Keane, Morley has been central in protecting the scoring zone for Kerry this year, closing up gaps that appeared in previous years.
"Individually, I've always said the Kerry backs were good. But just structure-wise, trying to get them playing collectively, it always left us down when we got to the business end. And Dublin were so good at it and we tried to - not copy them - but to implement our spin on it.
"This year - and I don't know if it was Paddy Tally, he'll probably get the pat on the back - but Tadhg Morley has really cleaned up that D. I thought Dublin would put someone on him like Kilkenny. And drag him out the field so they'd leave space. At times, if you watch the back camera angle, Fenton tried to run in on Morley and move him around a bit to open pockets of space inside. But Jack Barry followed him and nearly marked the two of them. Kerry had done their homework.
"They're holding up well but these boys Shane Walsh and (Damien) Comer, if they get chances and there's good ball coming in, the Kerry defenders will get tested the next day."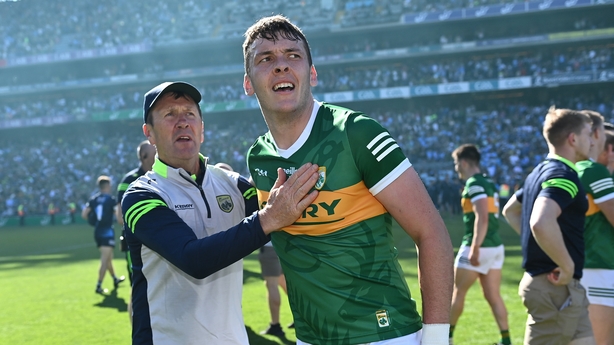 Keane was involved with Kerry during the tail end of Jack O'Connor's second stint as manager. If Kerry do complete the job at the weekend, it will be the third time O'Connor has overseen a league and championship double in the first year of his term.
"I had Jack from 2010 to 2012. I actually had him with the club in '09. He gets the most out of fellas. He's his own man. He wants to play football. He wants the workrate and everything that comes with it. You have to do what he wants.
"He wants to kick, kick, kick. Everything on the money. Move the ball, everyone moving. At the end of the day, he knows with the team he has, with the way they're set up, if they get the performance that he wants, they should have enough.
"He's been around a long time. Everything that he's been involved with, he's nearly won it. Schools, underage, seniors, he's done it all."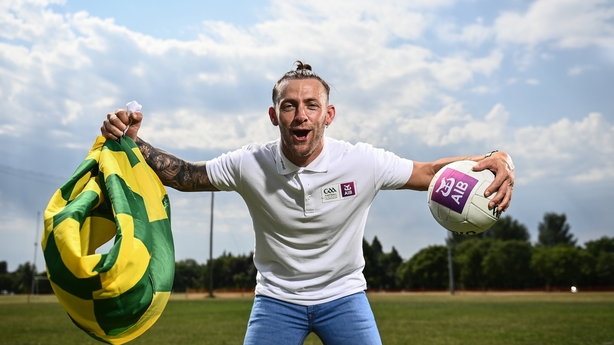 Historically, Kerry and Galway was invariably held aloft as the purists dream final, two footballing aristocrats on the Atlantic seaboard associated with stylish, attacking football. Whether these romantic stereotypes hold up in the modern era is very much in question - both sides have been highly pragmatic in recent years, in common with all other elite outfits.
Nonetheless, Keane sees Galway and Kerry as being in some way linked in style terms, the Kerins O'Rahilly's player labelling the Tribesmen as the closest thing to Kerry you'll find elsewhere.
"When I was a young fella, I loved watching Galway. Padraic Joyce, (Michael) Meehan, phenomenal. They're the closest thing I've played against to Kerry, football-wise. On talent alone. I'd still say it.
"Look at Corofin, like. Watching Corofin is just a joy. You'd pay any money, just seeing the way they're coached. I think they have that in them.
"But they never got over the line or kicked on enough. I think they've really hardened up a bit from the last two games against Armagh and Derry.
"Their back-line now are tackling very cleanly, like Kerry, and more collectively. And once they turn you over, they've the (Kieran) Molloys, the Sean Kellys, the Silkes and Dalys, they're just gone. They all can play ball, they're not carrying it up just to pass it off, they can take a shot."
Follow the All-Ireland Football Championship final on Sunday, Galway v Kerry, from 2pm via our live blogs on rte.ie/sport or on the RTÉ News app. Watch live coverage on RTÉ2 and RTÉ Player with live radio commentary on RTÉ Radio 1
Watch the All-Ireland Camogie semi-finals on Saturday, Cork v Waterford (3.15pm), Galway v Kilkenny (5.30pm), live on RTÉ2 and RTÉ Player. Follow live blog on RTÉ News app and on rte.ie/sport.
Watch Up for the Match this Saturday from 9.45pm on RTÉ One and RTÉ Player.