We genuinely have the two form teams in the final this year. While Kerry haven't won an All-Ireland since 2014, they have never stopped being contenders. Galway have always shown promise and talent.
This year however they have evolved into serious contenders. They have come a long way. They have had an excellent season under Padraic Joyce. Promotion to Division 1 of the Allianz League and five wins in championship, two them against Division 1 opposition.
I am going to outline why Kerry are best placed to become All Ireland champions.
Experience
Galway and Kerry teams will face moments of intense pressure that will challenge individual players and game plans. On field game management will be key.
The collective experience of this Kerry squad will be telling. Schools, minor and U20 success is valuable but it is the learnings from All Ireland final and semi-final disappointments over the last 9 years that will help their squad and management the most.
Their experience makes them best placed to deal with the 'clutch moments'.
Defensive unit
Their defensive transformation under the guidance of Jack O'Connor and Paddy Tally has been impressive. They concede very few goals. Two goals conceded in eight Division 1 league games and only one goal conceded in Championship in this year.
Shane Ryan, Jason Foley and Tadhg Morley are doing a tremendous on field job of coordinating their brilliant defensive plan.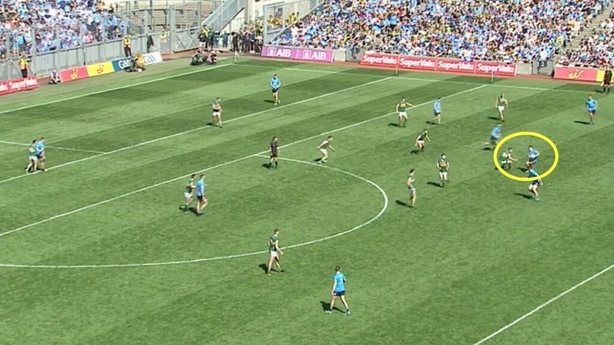 There are a few key principles that can be seen in the screen shot above:
Kerry players are touch tight on Dublin players in the scoring zone
They are close enough to players outside the scoring zone that they can see man and ball
Players filling space are mobile shifting left and right as the ball shifts, but also ready to meet a runner if a tackle is missed
Dublin ball carrier (circled in yellow) is under pressure to prevent him being able to lift his head and look for options
Kerry have numerical advantage over Dublin with a 12 to 10
Every player on the field makes a genuine contribution to blocking space, making contacts and slowing down the opposition. Paul Geaney, Sean O'Shea, Paudie Clifford chasing down the opposition is now the norm.
Kerry excel at setting up for kick-out defence. The screenshot below shows how they made life difficult for Evan Comerford. They played five in their full forward line and 12 inside the Dublin half of the field.
Excellent communication and trust is required to make this happen. As you can see from the screenshot below Kerry were brave enough to leave three Dublin full forwards (circled) covered by two Kerry players. This understanding doesn't fall into place in the middle of a match. It needs countless repetitions on the training pitch.
Conor Gleeson is a good kicker of the ball but you can be sure Kerry will make him work to find kicking options.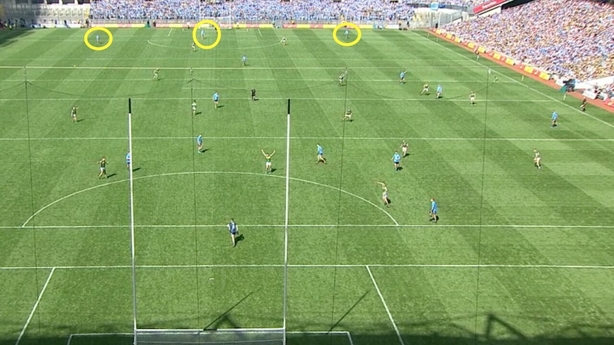 Decision making in possession
Kerry kicked only one wide against Dublin in the first half. That level of efficiency is unheard of. They have a great blend of options in possession.
Kerry are blessed with numerous good kick passers on their team. David Moran leads the way. His vision and range of kick passing is breathtaking. He is a forward's dream. He doesn't kick the ball at forwards. He weights his kicks beautifully and bounces them into space for his team mate to run onto.
Kerry's kicking skills contributes to their quick transitioning from defence to attack. Their athletic runners and ball carriers add an extra dimension. Gavin White, Stephen O'Brien, Paudie Clifford, Tom O'Sullivan and Diarmuid O'Connor seem to be powered by rocket fuel.
Kerry have the ability to be patient and not force an attack if a team have a sound defensive structure.
Against Dublin in the second half Kerry kept the ball for over three minutes in one phase, recycling, switching play, probing and waiting for a gap. Paudi Clifford then pounced and scored a great point.
The ease at which they retain the ball isn't a mystery. I recall playing a challenge match against Kerry in Fota Island (second best surface in Ireland). With five minutes to go to half time, Jack O'Connor shouted in 'Keep the ball'.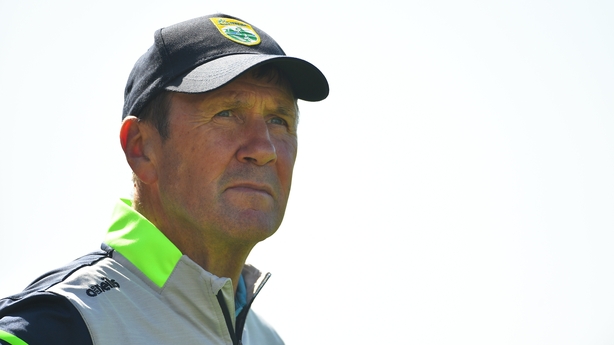 For the next five minutes Kerry made no attempt to score but played cat and mouse with the ball. No scores, no tackles, Conor Lane, the referee, had very little to do. I stood there helpless on the line.
Kerry have an array of options from kick outs. Shane Ryan is comfortable kicking short, long, left and right.
He has big men to aim for and pockets of space that runners like Stephen O'Brien and Paudie Clifford can dart into.
When under the most intense pressure in Croke Park in the semi-final they retained possession from kick-outs. The game was in the melting pot, normal time was up, Dublin's supporters were in full voice, Dublin's players were playing with renewed belief and confidence.
Dublin pushed right up on Kerry, space to kick into was limited. Shane Ryan showed nerves of steel to make brave decisions and pick out runners. Brian Ó Beaglaoich, in particular, deserves massive credit for his skill and bravery to show for and win two key kick outs in the last few minutes.
In open play and from kick-outs, Kerry are comfortable kicking long, going short, playing at a high tempo or being patient and slowing things down.
Marquee Forwards
Both teams have outstanding forwards. From a neutral's point of view, I hope they all perform and give us plenty of talking points.
Undoubtedly Damien Comer, Rob Finnerty and Shane Walsh will need watching by the Kerry defenders. Kerry have the upper hand with the consistently brilliant David Clifford and Seanie O'Shea.
Clifford is simply unmarkable for a full game. He will score - it's just a matter of how much. O'Shea offers so much in work rate, support play, kick passing and scoring threat.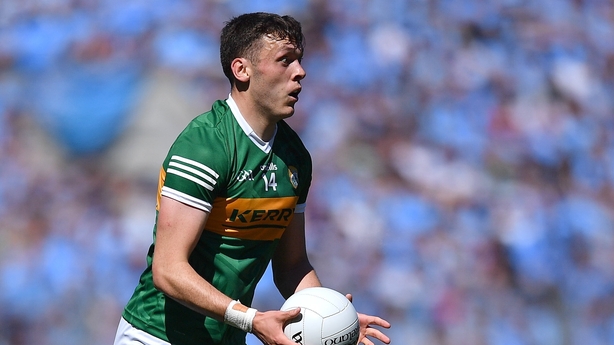 While so much has been made of his winning free against Dublin, his early goal was brilliantly taken. His accuracy from play with right and left is unerring.
Bench
Kerry have outstanding options to come into the game. Experience, skill, scoring forwards, strong runners in abundance. Jack O'Connor made two substitutions early in the second half against Dublin.
He felt David Moran and Stephen O'Brien had done their job and covered so much ground that fresh legs were needed. In came Adrian Spillane and Dara Moynihan.
O'Connor has used his bench freely this year. Paul Murphy, Gavin Crowley, Joe O'Connor, Killian Spillane, Tony Brosnan, Micheál Burns have all made valuable contributions in games.
With that kind of talent there is very little risk involved making changes. Galway's bench can't compete with what Kerry have in reserve.
Psychologically, the relief of overcoming the barrier of beating Dublin must be massive for the Kerry players.
The lingering question of 'Will this be the year we take the Dubs?' has been answered. Games against Cork, Limerick and Mayo weren't perfect, but they were stepping stones for the Kerry management to fine-tune their gameplan in preparation for Dublin.
Galway will have their moments in the game but Kerry's game management experience will see them win the Sam Maguire Cup for the 38th time.
We need your consent to load this YouTube contentWe use YouTube to manage extra content that can set cookies on your device and collect data about your activity. Please review their details and accept them to load the content.Manage Preferences
Listen to the RTÉ GAA Podcast at Apple Podcasts, Soundcloud, Spotify, or wherever you get your podcasts.
Follow the All-Ireland Football Championship final on Sunday, Galway v Kerry, from 2pm via our live blogs on rte.ie/sport or on the RTÉ News app. Watch live coverage on RTÉ2 and RTÉ Player with live radio commentary on RTÉ Radio 1