Eoin Cadogan expects Seán Kelly to be cleared to play in Galway's All-Ireland semi-final against Derry next month and said the Tribesmen captain was a "sacrificial lamb" against Armagh.
Kelly and Armagh co-captain Aiden Nugent were both sent off following the mass brawl at the end of normal time in Sunday's quarter-final at Croke Park.
The GAA's Central Competitions Control Committee will meet on Tuesday evening to establish if further disciplinary action should be taken after an eventful encounter that included several off-the-ball incidents, with Damien Comer eye-gouged by a member of Armagh's extended panel during the melee.
Cadogan described the eye-gouging incident as "despicable" but felt both Kelly and Nugent were innocent of any wrongdoing.
We need your consent to load this YouTube contentWe use YouTube to manage extra content that can set cookies on your device and collect data about your activity. Please review their details and accept them to load the content.Manage Preferences
"Unless I'm on another planet I would imagine Seán Kelly will get off," the 2010 All-Ireland winner told RTÉ Sport. "It was highlighted as clear as day.
"I reckon they sacrificed both captains because there were so many involved. It was impossible to pinpoint. You could have had ten gone.
"I know David Gough sent off four Tyrone lads earlier in the year. If that was the case you could have had ten or 12 gone and might not have been able to finish the game.
"I felt like both captains were sacrificial lambs, which was unfortunate."
Cadogan believes Galway would be successful should they decide to appeal Kelly's red card.
"For me, he tried to negate it, as did Aidan Nugent," he said. "To be fair to both captains, I thought they were the peacemakers in the whole thing."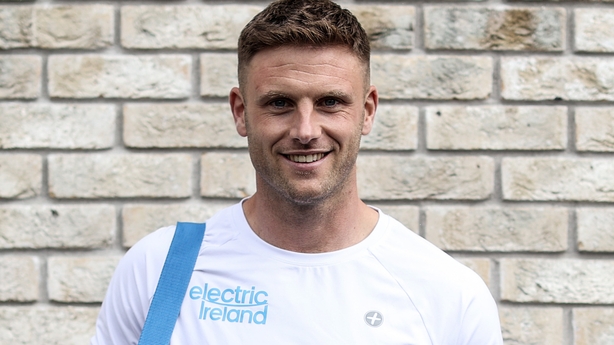 Sunday's fracas overshadowed one of the games of the championship thus far and while Cadogan admitted the GAA must do more to try and avoid repeat incidents, he was keen to stress that they are not exclusive to Gaelic football and highlighted melees that occurred earlier this year in both rugby and soccer.
"[Eye-gouging] is not something that's acceptable in any shape or form, on or off the sporting field," said Cadogan, who was speaking ahead of the Electric Ireland All-Ireland Minor Hurling Championship final between Offaly and Tipperary on Sunday.
"Do I think we could do ourselves any favours as an Association to try and eliminate those types of fracases? Absolutely. There are four changing rooms in Croke Park, I don't think it would have been too difficult to put the teams in [dressing rooms in opposing stands]. I saw Liam O'Neill saying it is possible. Why not make our lives a bit easier?
"Should players be able to control themselves? Absolutely. Are tensions, emotions, energy high in Croke Park in a game of that stature, with so much on the line? Of course they are.
"Walking down a tight space, someone gets a bump. I know people responded to me saying it doesn't happen in every sport. Absolutely incorrect.
"In January, Connacht and Munster went at it right in front of the spectators, and they're paid professionals. Is it any different to what happened the other day, taking out the eye gouge? I don't think so.
"Atletico Madrid and Manchester City spilled from the field and down a tunnel. Is that behaviour acceptable? No, it's not. Could you eliminate it? Absolutely. I know in Limerick when half-time and full-time comes, Limerick go to the top side and Cork go to the other. These are really simple things.
"Just remove the possibility of anything happening and go to opposite sides of the field. It's a real no-brainer."
Listen to the RTÉ GAA Podcast at Apple Podcasts, Soundcloud, Spotify, or wherever you get your podcasts.
We need your consent to load this rte-player contentWe use rte-player to manage extra content that can set cookies on your device and collect data about your activity. Please review their details and accept them to load the content.Manage Preferences