Former GAA president Liam O'Neill admits there is decreasing confidence within the association in its ability to deal with indiscipline and said it must "tidy up its act".
Sunday's thrilling All-Ireland quarter-final between Armagh and Galway was overshadowed by a mass brawl as the players headed to the dressing rooms at the end of normal time.
Galway forward Damien Comer suffered an apparent eye-gouge during the melee, which has been condemned by the Taoiseach Micheal Martin and Minister for Sport Catherine Martin.
Speaking to RTÉ Radio 1's Morning Ireland, O'Neill said there should be limits on the number of persons on the sideline during matches, and that only management and on-field players should be allowed into the dressing rooms.
We need your consent to load this comcast-player contentWe use comcast-player to manage extra content that can set cookies on your device and collect data about your activity. Please review their details and accept them to load the content.Manage Preferences
"We had an absolutely fantastic game in Croke Park, everything you want in Gaelic Games, yet we're talking about violence and that is a huge pity," said O'Neill, who served as GAA president between 2012 and 2015.
"In my time as president I made a huge effort to clear the sidelines down to one manager and one runner. That's more than enough. We really have to get to grips with this situation.
"We had a situation in Croke Park on Sunday where we had excellent dressing rooms on both sides of the field. We could have used one for either team and avoided this.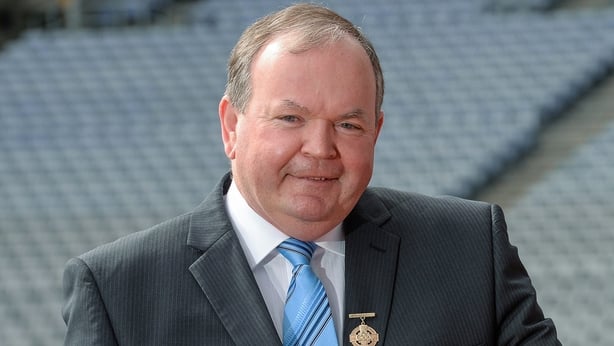 "People say it's the same around the country. It's not. In Portlaoise we have two dressing rooms and the players come out of either end of the same stand. There's never a difficulty. Admittedly it was a response to a situation that developed but we solved it and Croke Park really have to get to grips with this.
"There is no need for the extended panels to go into the dressing rooms at half-time. What do they contribute in there anyway? We should have people sitting in the stands and have the managers and selectors in the dressing rooms with their players.
"It'd be much tidier and we wouldn't have had the situation we had on Sunday."
The #SundayGame panel discuss the brawl at the end of normal time during Galway's All-Ireland quarter-final against Armagh. #RTEGAA pic.twitter.com/WtUCM3UbLA

— The Sunday Game (@TheSundayGame) June 26, 2022
Armagh's Aidan Nugent and Galway's Seán Kelly received red cards just before extra-time began, although replays suggested they were attempting to break up the melee.
O'Neill said there is a decreasing faith in the GAA's disciplinary system.
"That has to be admitted, that we have to tidy up our act," he said.
"We should move to a situation where penalties are imposed on the day. We had that at one stage where the black card lasted for an entire game, that meant people weren't doing the sort of things they're doing now. We have to get back to that.
"We can't legislate for everything that happens but the responsibility for sports administrators is how we handle those situations when they develop.
"It's up to us to address what happened on Sunday and make sure it simply doesn't happen again."
"It's totally unacceptable to lose an All-Ireland quarter-final on penalties."

Sean Cavanagh says it's a "disgrace" Armagh were eliminated from the championship on spot kicks. #SundayGame #RTEGAA pic.twitter.com/EBlLG8Mc7i

— The Sunday Game (@TheSundayGame) June 26, 2022
Former inter-county referee Pat McEnaney said a "line was crossed" during Sunday's All-Ireland quarter-final but fears there will be more unsavoury incidents unless the GAA's disciplinary process is overhauled.
McEnaney, who took charge of four All-Ireland SFC finals, said the GAA has too many avenues of appeal, which are open to abuse.
Speaking on RTÉ Radio 1's Today with Claire Byrne, McEnaney said: "Our disciplinary system is broken. There is no question about that. That is not today or yesterday and that is not this past six months or year. It has been broken quite a long time.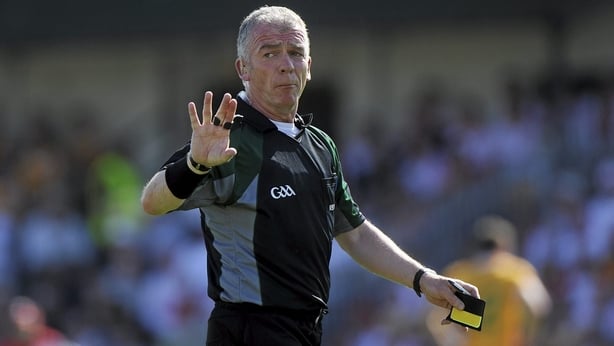 "We need to fix it, simple as. We have too many procedures, too many appeals and too many members not buying into the concept. People appeal situations where we have clear video evidence of someone striking someone - but yet we go and appeal it.
"There is a very simple solution. Matchday is Sunday, we do a video review and if a player can be exonerated by video evidence, he can also be found guilty by video evidence. We have that video review on a Monday night. Whatever decision is taken by that video review, everyone stands up and accepts that. No further appeals.
"I would make one exception - the All-Ireland final - as the one game you are allowed not to miss and you serve your suspension the following year. To me it's a very simple process.
"We don't like negativity but we can't run away from it. I am hopeful and this is an opportunity to get it right."
"Disgusting. Scandalous. We can't hide behind this. We should be talking about a great game of football, and then they went and destroyed it."

The #sundaygame panel react to scenes of striking and apparent eye-gouging in the aftermath of the full-time whistle in Croke Park. pic.twitter.com/gRWROHanpv

— The Sunday Game (@TheSundayGame) June 26, 2022
McEnaney condemned the scenes at the end of normal time during Sunday's All-Ireland quarter-final and said teams should be placed in dressing rooms on opposite sides of Croke Park.
"The annoying thing for the association I'm a member of is what a classic game it was," said the Monaghan official. "It was all taken away from us by one silly moment. That is my overriding emotion.
"There's two disappointing things. Attempting to gouge is just a no-no. A Gaelic footballer will tell you a box is a decent thing in a football match, even though that is unacceptable as well. But they will tell you that.
"Eye-gouging and spitting are two things which there is a line. A box is decent compared to those two items.
"The Armagh County board and Kieran McGeeney will be very disappointed that line was crossed on Sunday.
"The other disappointing thing is there was a lot of subs and a lot of people who weren't directly involved in that game that got involved in a situation they shouldn't have.
"Full credit to the players because a lot them were seen pulling people away. There's a lot of respect on both management sides. That respect was very evident trying to break up the row. It was very evident when the game was over because everyone shook hands.
"We have four dressing rooms in Croke Park and the simple solution, as learning from what happened on Sunday, is we need the two teams leaving the field on opposite sides."
Galway beat Armagh 4-1 in a penalty shootout after the teams remained deadlocked at the end of extra-time, but Tribesmen boss Padraic Joyce said it was a disgraceful' decision by the GAA to have spot kicks to decide a championship match.
"I don't like it, but we legislated for that," said O'Neill. "People got into a room at some stage and voted for it. We have to accept that if it's in the rules, that's what happens. It's not our way of doing things.
"We were frogmarched into this split season - getting the championship over early - by the media and people saying we had to look after the clubs. It hasn't really worked.
"We were told this was the way it should be, and responded and thought it was good to go along with it. We've given away August and September to other sports.
"I thought we had a very good system and somehow we changed it and it hasn't worked. We have to admit that now."