While his side did prepare for the prospect of a penalty shootout in their All-Ireland SFC quarter-final against Armagh, Galway manager Pádraic Joyce has hit out at the 'disgraceful' decision by the GAA in having spot kicks to decide a championship match.
All games, bar the All-Ireland final, have penalties has the last resort if things are still level after extra time, in this now condensed season.
It was the Tribes who held their nerve the best when seeing off their Ulster rivals 4-1, in what was an absorbing last-eight clash at Croke Park, a contest where some unsavoury scenes were witnessed as both teams became embroiled in a brawl before they headed into the dressing rooms after 70 minutes.
Two late goals from Armagh at the end of regulation time brought about the two extra periods of ten minutes but in truth the Connacht champions should have sealed the deal when six points up approaching the 70.
Speaking to RTÉ Sport after the game, Joyce had some sympathy for Armagh by the manner in which they exited the 2022 championship.
"It's a horrible way to lose it and that's not the fault of the Armagh players, it's the fault of the GAA and the condensed season," he said.
"My heart goes out to Armagh. Kieran McGeeney and the boys have put in a savage effort; they have been the form team and their supporters brought fantastic colour down here today. The roar when Rian O'Neill levelled the game in normal time was deafening.
---
Spillane condemns 'disgraceful' Armagh-Galway brawl
---
"It beggars belief as to why we couldn't have had a replay next weekend. That might sound simple for me to say because we won the game, but that was my over-riding feeling at full-time.
"It such a hard way to lose a game after putting in such an effort over the last couple; Kieran has put so much work in with them and we've also put in the work over the last two or three years, training Tuesdays and Thursdays, and at weekends. To decide the outcome on a penalty shootout.... we're not soccer, we're GAA. To me it's disgraceful it had to happen."
On leaving no stone unturned in having the five penalty takers ready, the Tribes boss added: "We put a lot of work into penalties, we were expecting them at some stage during the championship.
"Shane (Walsh), Rob (Finnerty), Mattie (Tierney), Damien (Comer) and Kieran Molloy were our chosen takers and they practiced them every night. Conor (Gleeson) is a good shot-stopper so I felt confident going into the shootout. We had the game won several times so you don't know how penalties are going to go."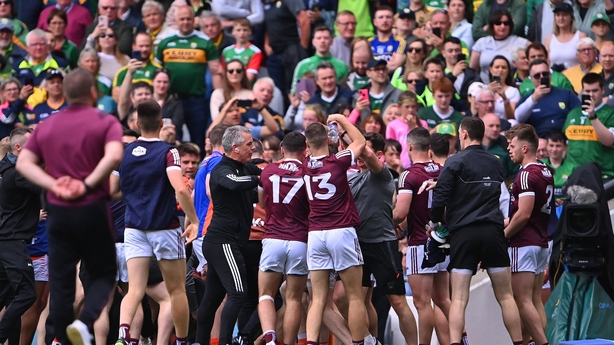 On the subject of the ugly brawl that no doubt will garner much more discussion in the coming days, Joyce said "it has no place in the GAA", while being frustrated that his captain Seán Kelly saw red before the start of extra time.
"They were ugly scenes and Armagh will condemn it as much as I will. You had kids looking at it; it has no place in the GAA. I'm sure the incident will be dealt with during the week."
And so Galway will now face Derry in the semi-final on 9 July. Their manager was pleased with the composure they showed in coming through such a see-saw battle.
"I spoke to the boys at half-time in normal time. We were level at seven points each and we we weren't playing that well. I knew we'd could come out and push on, we got the goal, but we should have scored more goals. We turned over the ball five or six times but still got ourselves six points up.
"Then they get two quick goals and at the end of the 70 it felt like a loss for us. I said to the lads if we keep playing the way we were playing and get composure back in the game, we'd be okay. Then we conceded a sucker-punch of goal. In previous years we would have wilted but we stuck at it. Cillian (McDaid) kicked a fantastic equaliser.
"Overall I was impressed with the boys; they showed great character, and finally Galway have won a big match in Croke Park."